Pitiful in Pink
This was a beautiful piece of lingerie that unfortunately didn't work out for me. The cups were not kind to my DD breasts, the straps offered little support and I feel the chemise itself didn't hug me in the most flattering ways. Sadly this is a product I would not recommend to fuller women, or women with breasts larger than a B or C cup.
Published:
Pros:
Pretty, soft, feminine
Cons:
Small cups, no support, some pieces of fabric frayed upon arrival
Seven til Midnight's Pink Temptation Chemise was a lingerie item I was eagerly awaiting. I have purchased other Seven til Midnight products and I have been totally satisfied. However, this chemise was very disappointing in its sizing and quality. I purchased this item in size XL.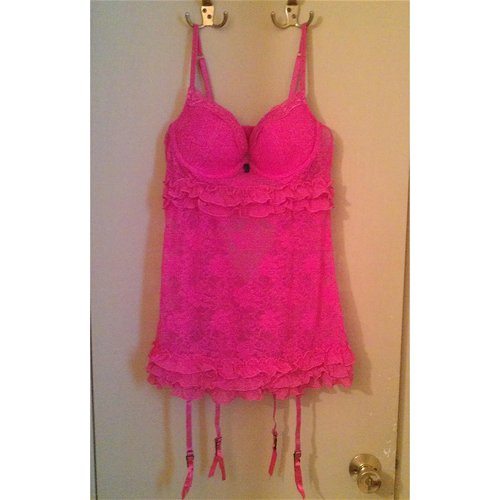 Quick Measurements:
Armpit to bottom: 18 in.
Across bottom: 16 in.
Below breast: 16 in.
Straps (at longest adjustable length): 16 in.
Straps (at shortest adjustable length): 11.5 in.
Each bra cup (across): 6 in.
Thong (across): 16 in.
**My apologies for not getting measurements on the removable garters. I measured this item prior to giving it to my sister who lives 1,000 miles away in Florida.**
My Measurements:
Bra: 34/36 DD
Hips: 42 in.
Waist: 33.5 in.
Height: 5'5"
Weight: 173 lbs.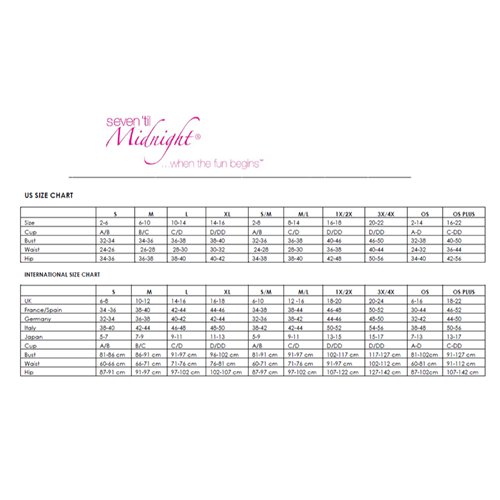 The Pink Temptation chemise is made of 90% Nylon and 10% Spandex. Its care instructions are to machine wash cold, do not bleach, and line dry. I cannot attest to how well it holds up after washing as I gave this item away. As long as it's cared for in a delicate fashion, I do not foresee any problems.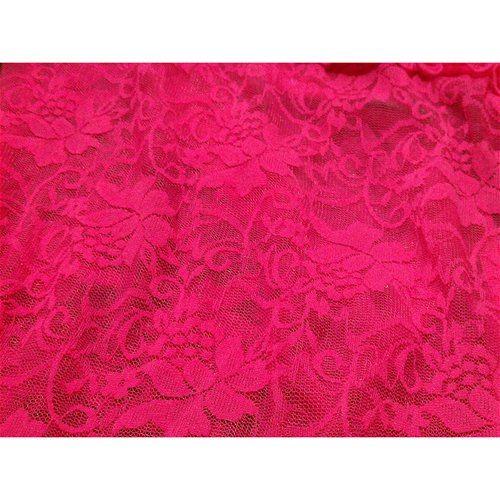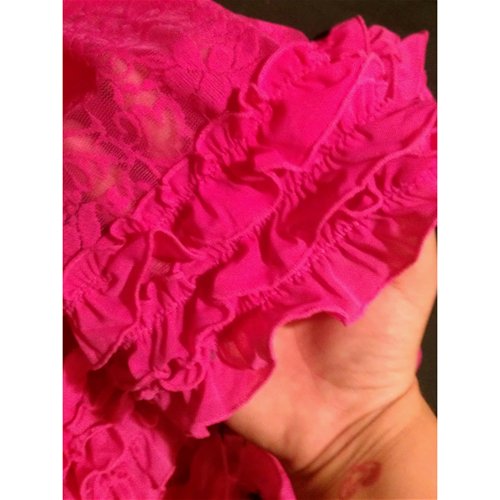 The material itself is a super soft, feminine pink floral pattern. It's got beautiful ruffles on the bottom that accent this lovely piece. In addition, there are four removable garters. I am very pleased with the fabric. It is soft and not at all itchy.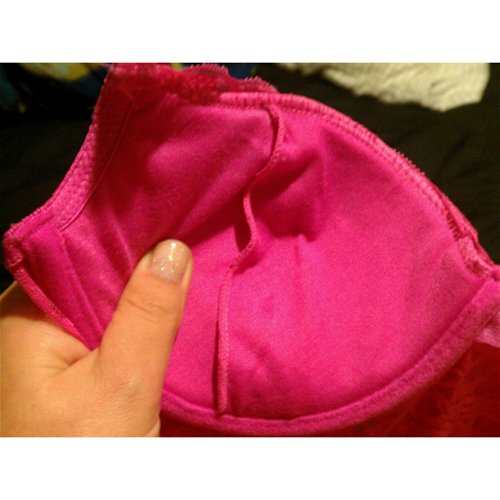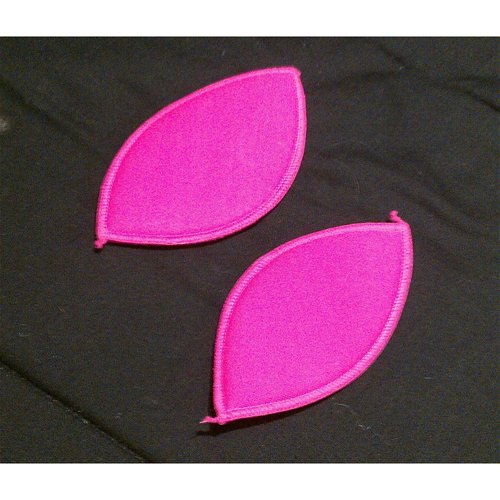 I was super excited for this item, but as soon as I pulled it out of its clear plastic packaging, I knew it wasn't going to fit. The cups are ridiculously small and my breasts did not fit. There is even a removable push-up pad in the cup, but it didn't even make a difference when I took it out.
I put this chemise on to show my mom and best friend, and we all laughed at how silly my boobs looked. They spilled out of the top, sides, and bottom. What a mess! Not to mention, one of my boobies flopped out when I bent over... talk about sexy. Not.
If you look closely, you can see my breast is actually under the cup. The cup may as well been a set of pasties because they only covered up my nipple and then a little bit of the boobage around it. Not flattering by any means.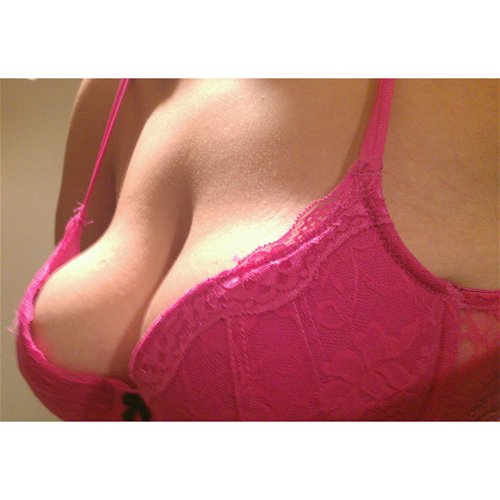 Here is a sort of side view where you can see how my breast sits in the cup. I had the straps adjusted to the shortest length. My breasts are not heavy or dense; many people have told me they are "light and fluffy" - so a woman with heavier breasts would definitely want to look elsewhere if support is important to you. Women with large breasts should also proceed with caution. I passed this chemise on to my sister, who has smaller breasts than me. She is somewhere between a B and C cup, and even her boobs didn't fit right. The bra portion has three adjustable hook and eye closures; I also had these as tight as I could get and still no improvement with my results.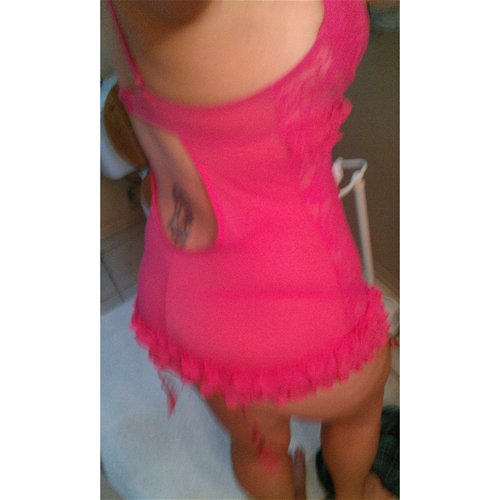 I think the back of the chemise is the only flattering view. It sits nicely on my bum, and the open back is perfect for showing off my seahorse tattoo. I think the ruffles look really cute on my butt.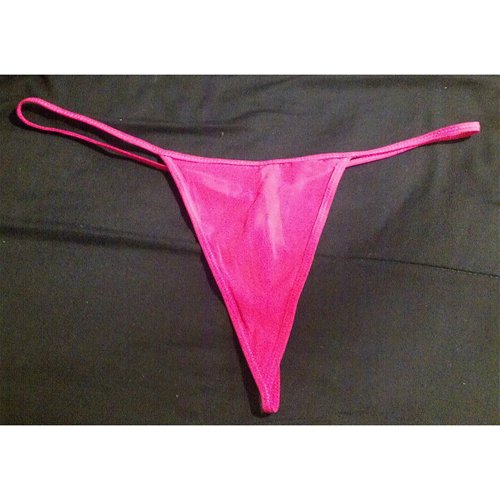 The matching thong fit my XL frame just fine. As a matter of fact, it may have been a little loose in the crotch area.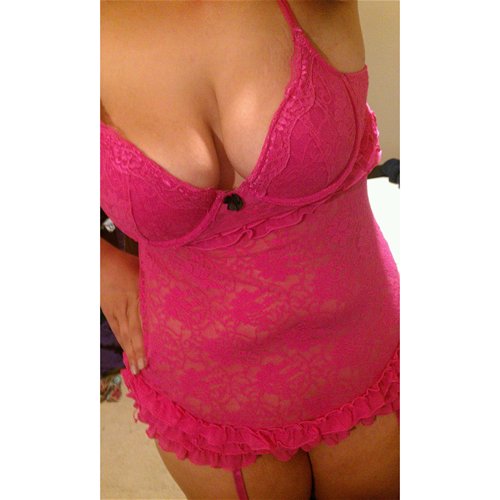 Here is a front view of the outfit on me. My boobs look saggy and I don't like how the see through fabric shows my tummy in all its flabby glory. I guess it could be worse, I could look like the Michelin man, but I still did not feel very sexy in this.
Even I had to laugh at myself in this. Like I said, it could look a lot worse, but I was not impressed with the garment at all. Maybe it'd work better for a really thin girl, but this definitely isn't the piece for me. I'm glad I bought it on sale and did not pay full price for it, because in that case I would've been even more upset.
Follow-up commentary
2 months after original review
Unfortunately, even with breasts smaller than mine, my sister was unable to fit into this chemise properly. My 15 year old niece tried it on, to which my sister told her... "in your dreams!" (By the way, it DID fit her. She's tiny!)

So, this is still a no-go and I'm quite unimpressed with the quality and fit of this piece. Boo.
This content is the opinion of the submitting contributor and is not endorsed by EdenFantasys.com

Thank you for viewing
Pink temptation chemise
review page!