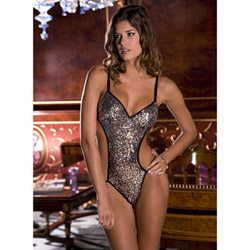 Sparkle mesh teddy with sequins
Teddy by Rene Rofe
Pleasantly surprised, but I'm not swept off my feet...
If you're looking for something fun and sparkly that can easily be removed for bedroom fun, I'd recommend this. If you're looking for something that will last, then look elsewhere.
Published:
Pros:
Cute, affordable, longer length, adjustable straps and back
Cons:
Mildly itchy, quality seems questionable
I initially liked the looks of this teddy, but I was a little weirded out by it at the same time. After accepting it as my monthly free assignment, I started having second thoughts and almost kicked myself...but I was wrong! I'm very surprised and happy with this teddy, though I know it's not for everyone.
To me, teddies tend to be either cute and look like a bathing suit, or be ugly and look like female wrestler attire. This is the first I've ever tried that just feels sexy, and not like a bathing suit. A little glitz 'n' glam is something a girl always needs.
Now, let me also say that this teddy surely isn't without its flaws. But hey, you win some, you lose some.
Packaging: I really liked the packaging for this. I'd never heard of the brand Rene Rofe before, though they have quite a few other products available on Eden, now that I look. The teddy arrived bagged and in a paperboard container (see picture), which contains the care instructions, so I was wise enough this time around to take pictures before I shredded the packaging in excitement.
The photos on the box are the same stock photos available on EF. Inside the box, the teddy is placed around another piece of paperboard and folded, not crumpled up like some brands, and not carelessly thrown in. I like seeing my items packaged with care like this, but it's not a dealbreaker if they're not. Either way, Rene Rofe, your packaging was great!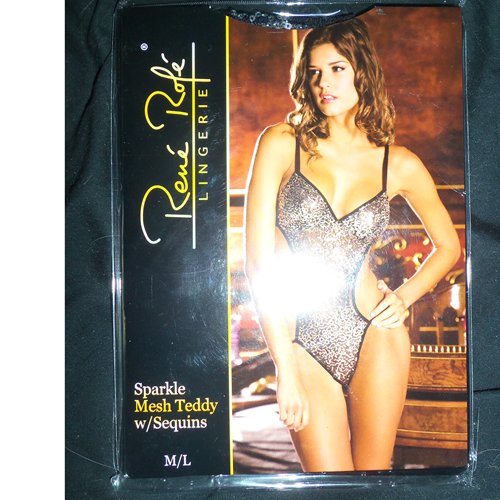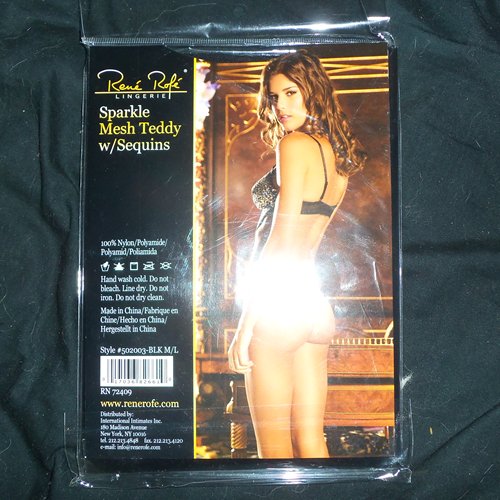 Material & Care: The packaging lists the teddy as being 100% Nylon, which, as you can imagine, gives it quite a bit of stretch. The care instructions read as follows: Hand wash cold. Do not bleach. Line dry. Do not iron. Do not dry clean. No surprises there, as this teddy is quite delicate due to the sequins and mesh.
Size/Fit: Available in both sizes S/M and M/L, I ordered this in the latter size (M/L) because I've had bad experiences with teddies giving me painful wedgies due to my long torso. I feel like I would have been fine with the smaller size in this case, though, because I've got a little bit of extra room around the stomach, and the strings of the thong part are a little loose. The bust area fits my 34D chest perfectly, though that's probably due to the awesome adjustable straps and the hook-and-eye bra closure. The teddy has a lot of stretch, but not so much that it could fit a variety of sizes - moreso to make it comfortable.
I'm always a little anxious that sequined articles of clothing will be itchy, and sure enough, this one is in places. The bust isn't itchy at all - must be because the liner is a little thicker there. The lower abdomen area is itchy, but only when I move against it just right, so it's nothing ridiculous that will drive me crazy.
Appearance: The teddy looks exactly as pictured, sheer in almost all areas. Because the lining is a little thicker in the cup area, my nipples can't really be seen, even with the flash from my camera. I hate when lingerie shows my nipples; I feel like it takes away half the fun, so that's another plus for this piece.
Quality: Sadly, the quality on this seems pretty questionable. I almost think this might not survive being hand washed more than once or twice. No sequins have fallen off since I've put it on and handled it, but they almost seem on the brink. The mesh seems like it could be ripped easily if not handled extraordinarily gently. Though this teddy is cheap enough that it isn't really too big of a loss if that happened, it could be easily replaced. Nothing is wrong with the quality of the piece I received, I just feel like this won't have a very long life.
Overall thoughts: I like the looks of the teddy, and it's remarkably comfortable for what it is, but I'm giving it only 2 stars. I really just feel like the quality isn't there. That doesn't put me off to try anything else by this brand - it could be chalked up to the fact that it's on the cheaper side, has mesh, and is sequined.
Follow-up commentary
12 days after original review
This has become my boyfriend's favorite piece on me, even though I'm still a little torn. Nothing bad has happened to it so far, but I've been very ginger and gentle with it to ensure a longer life. Overall, it's still cute and fun, if you're careful...!
This product was provided free of charge to the reviewer. This review is in compliance with the FTC guidelines.

Thank you for viewing
Sparkle mesh teddy with sequins
review page!