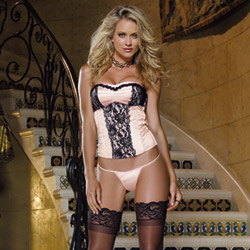 Anastasia corset and thong
Corset by DreamGirl
Poor, Unfinished and Short
This is a definite pass-up. Even if you do have a torso that would find a 12" top fitting, you would be very displeased with the half-finished corset. It is unlined, itchy, and has frayed threads. While the thong is decent, the corset is all wrinkly and extremely disappointing. It fits, but it is terrible quality I wouldn't pay for more than $15. If you must have it, you've been warned.
Published:
Pros:
nice color, good for really short torsos, thong is nearly fitting
Cons:
cinched on only one side; wobbly boning; 12" long; itchiest thing I've ever worn
Presentation

This corset came sealed in a plastic bag, on a plastic DreamGirl Hanger, with a pink thong. From the moment I opened my package, I knew that this corset wasn't going to impress me. It already looked wrinkled, and I'm pretty sure the shipping didn't do that to the piece (the box was plenty big).

I got this because it looked cute- flirty, light pink (not TOO pink for me), easy to dress up or down. Oh, and looking at the product page, the last thing that sealed my decision on purchasing it was the promise from manufacturing that this piece is 19" in length. Perfect for me, at 5'9", since I am usually wanting better fitting lingerie.


Materials and Care

Materials: 55% Polyester, 25% Cotton, 20% Spandex.
There is plastic boning, which is definitely not very strong or form fitting. There are 7 pieces of boning total- 4 on the front, 1 on the side without hooks/eyes, and 2 in the back.
Feel: Horrible, itchy, irritating, cheap feeling. Wrinkled from the start, won't let out with hanging up or putting it in the bathroom while you shower (my steamy trick for when ironing is out of the picture).

Care: Hand wash cold; line dry. Don't try ironing this one, though you will be tempted to.

Quality

Whoa there, tiger. DreamGirl has totally failed with this corset. For such a beautifully named piece of lingerie, they sent me something that is barely worth the "Ana" in "Anastasia." It seems terribly unfinished.

There is NO lining on the inside of this corset, and it needs it terribly. The boning is sub-par- it awkwardly bends to create weird tummy jut that I don't have. The hooks and eyes are frayed. The inside of the corset also includes the itchy lace finish from the outside.
There are more itchy threads and poor finishing on the breast portion than any other place. It is terrible. You absolutely cannot wear this without a bra. There is no padding or support, which may not bug some women. However, the 6 areas of ITCH along the chest will deter even those who don't mind the pad-less bra.

There is elastic along the bottom hem which is nice.. But it also means that it won't cinch in anything along your hips. And with the height of this corset, you'll want something a little more smoothing.
Experience
Sizing
The biggest lie about this corset is that it is 19" in length.
Not even close! From the top of the armpit to the bottom hem is 12". The longest part of the corset, from the center of the chest to the tip of the triangular hem, is 14".
What happened to the other 5"? I need at least 3" more to look decent.
I purchased the size 36, which I assumed would be like a size large. I wear a 36C bra comfortably, my under bust measurement is 32.5", my bust is just about 39". My waist is 30", and my hips are 40"-ish.
Sizing is pretty accurate, though there is no size guideline to compare it to.
Under the bust, it measures about 32" across, 32.5" if you use the bigger clasp.
The waist is also 32".
The hips are 33".
There is elastic along the bottom, so it does have a bit of give. I personally wear it on the tighter clasp.
The thong is 26" around the band, with limited stretch. It is 8" in length, though, which I'm pleased with.
There are 12 hooks and eyes down the side of the corset, and this is the only way to put it on and fasten it. The hooks and eyes are the frustrating part, because they are the type that constantly fall out as soon as you do them up. You can see in my photos that random ones came undone with my simple movements.
Photos
I am lumping all of these together with captions to let you know what's going on here.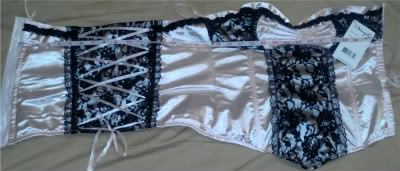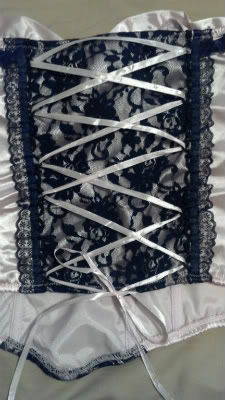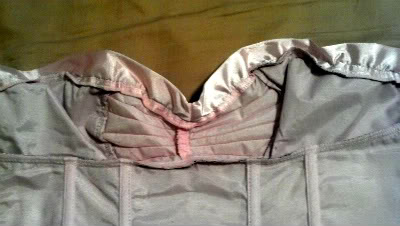 AWFUL. Just awful. Hell for your precious bits.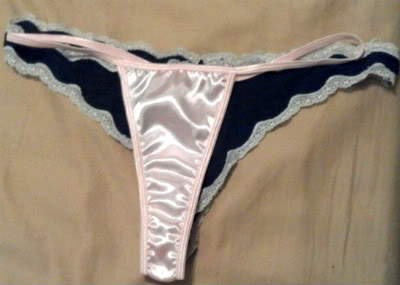 In comparison to my most comfy thong, a VS size large.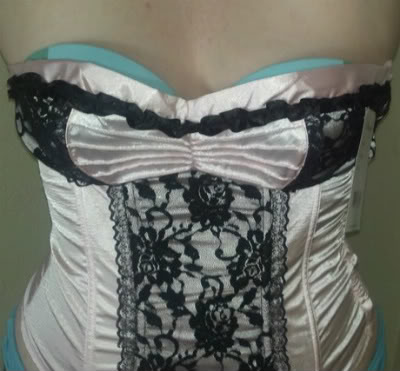 Picture of it on. You can see it is unflattering. My breasts just kinda.. chill out there.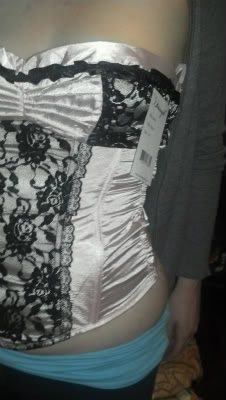 The hook side is definitely bunched. You can see this isn't going to flatter the muffin top look.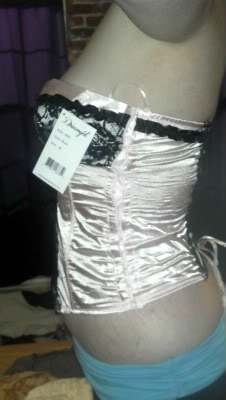 This is the area my pants rest on average. I could never wear this out like that. My hips and lower tummy are completely exposed.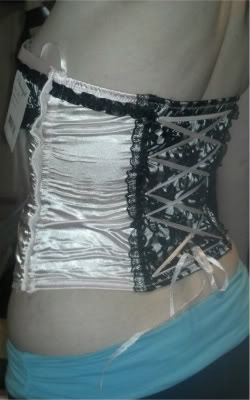 View from the back, it's not bad, but you can see the crooked laces.
There are 14 eyes for the cheap ribbon to be laced through. However, the eyes are sewn on and made from thick embroidery which are not equal in size and shape. This is why the laces are permanently crooked.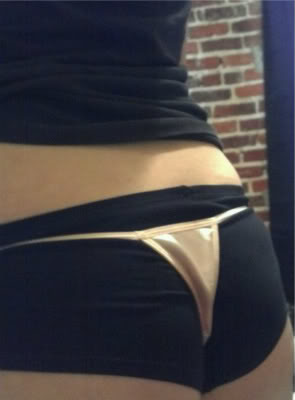 I knew this would be going back to EF. So I tried these on with booty shorts. They pass my length test, as they actually go up to the top of my butt (without losing the front entirely).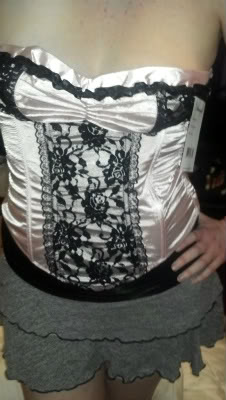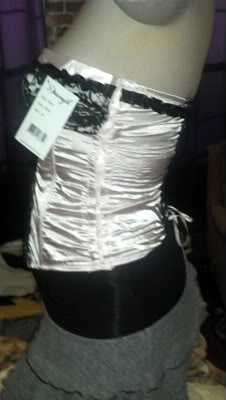 My only suggestion if you decide you just HAVE to have this awful corset. Wear it with a stretchy, generic skirt that you can pull up to your belly button. It can sort of disguise the shortness.
This product was provided at a discounted price in exchange for an unbiased review. This review is in compliance with the FTC guidelines.

Thank you for viewing
Anastasia corset and thong
review page!