Pretty, but not for me.
For someone with an hourglass shape and/or large breasts, this body stocking would look stunning. However, it just didn't fit me quite right, which was upsetting. The pattern on the stockings was beautiful and the gloves made the whole thing look even better, but it honestly looked and felt like the top and bottom were made by two different people. This one is definitely worth a try, but be warned that it might not fit you quite how you think it should.
Published:
Pros:
Sturdy, pretty design, well made, love the gloves.
Cons:
Fits weird, strange definition of plus sized, straps aren't adjustable.
Opening the Box/First Impressions
The Mini daisy lace body stocking comes in a simple cardboard box with a picture of a model wearing it on the front. While it's a very clear picture, and it shows off the pattern of the stocking quite well, she doesn't exactly look plus-sized. The back of the box has all the information about materials and washing the body stocking with a full length picture of the model from the front. Inside the box, the stocking is packed in a simple plastic bag with a sticky strip on the top. The bag and box is sturdy enough to use to store the stocking and gloves when you take them off.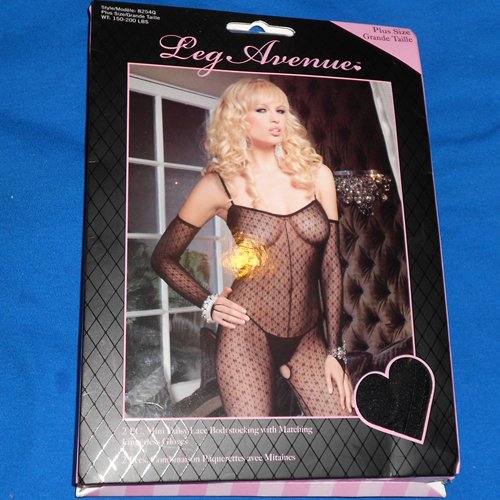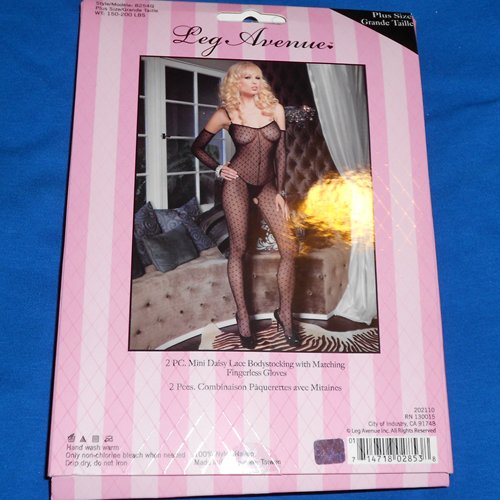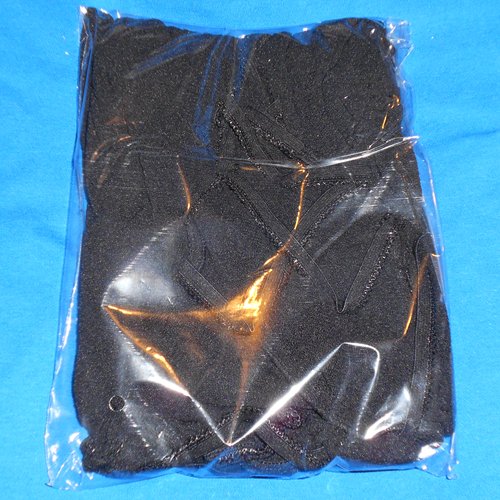 Size/Fit
When I first got the package for this body stocking, I was a little worried. While it's listed on the website as being "Plus-sized", the package said it fit 150-200 lbs. Considering I'm 5'5" and wear a size 22-24, I wasn't sure if it'd fit. Straight out of the package, the suit itself is 58" from toes to shoulder, and 10" wide at the waist. The gloves, unstretched, are about 18" long from end to loop. Fortunately, it's nylon, and it stretches a lot. With a bit of pulling and stretching, I got it over my thighs and hips just fine. Admittedly, I felt like I was stuffing a sausage in the process, but I did manage to work the excess fabric to the top of my thighs without too much trouble. However, there didn't seem to be anywhere for the fabric to go. The stocking felt snug (almost too snug!) and smooth against my bottom half, but seemed to hang from my top half.
The main thing this body stocking is missing is adjustable straps. I could easily grab the shoulder straps and loop them around my ears if I'd wanted to. I constantly felt like my breasts were going to fall out the top of the stocking because there was no support whatsoever. I wish they'd used stronger elastic or provided some way to adjust them. I ended up tying small loops in them and may end up cutting them in half so they can be tied together at the shoulders instead of being pre-looped pieces of elastic.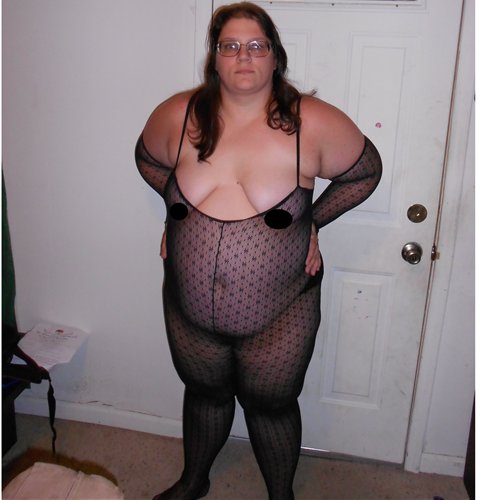 The criss-crossed elastic strips in the back were too loose as well. They too would've been better if they'd been heavier elastic or slightly smaller. I have a large stomach, large hips, and a large butt, and my partner could take the straps across the back and wrap them around his hands with room to spare. They may be meant to be that loose, but the difference in fitting between the top and bottom is jarring.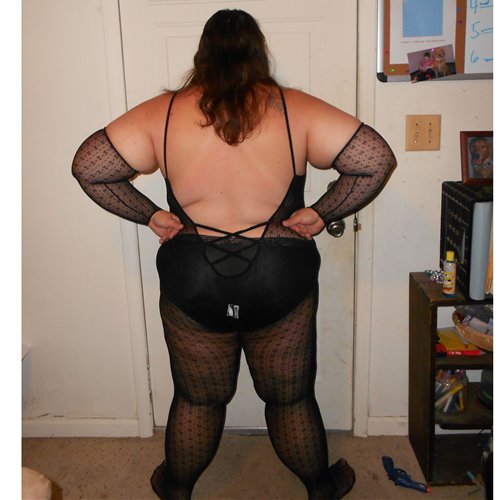 In general, I don't think this was made for anyone pear shaped or with a short torso. Maybe it's just because I don't have big enough breasts to hold the top up? Or maybe I'm too short? I don't know. I just know that as nice as it looks, the fit just feels weird on me.
Material/Care
Although this body stocking is made of nylon, it did not invoke my childhood nightmares of itchy pantyhose. It was surprisingly smooth, even with the fishnet texture. My partner likened it to very fine sandpaper, and I was pleased to note that the stocking really made it feel interesting when he stroked my arm. It's a little bit itchy in places, but I have to wonder if that's mostly from unfamiliarity. While there are classic, heavy seams, they aren't noticeable while wearing the body stocking.
The box says that this stocking should be hand washed and left to drip dry, just like any other lingerie.
Comfort/Use
Once this body stocking was in place, I had plenty of room to move around. I could squat, sit, bend, or do almost anything else I wanted without feeling like I was trapped in nylon. The hole in the crotch was big enough to go to the bathroom or have sex without removing the stocking.
The Gloves
This body stocking comes with a pair of long, fingerless gloves in a matching pattern. The gloves fit me well and really made the outfit complete. The only complaint I have with them is that the tops of the gloves kept trying to roll down my arm back towards my elbow. I don't know if a thicker elastic band at the top would've helped that or if it's just due to the shape of my arms. Even if they rolled down a bit they still looked fine, and were very comfortable, so it wasn't that big of a deal and they probably wouldn't have any problem on someone without my large upper arms. I may wear them even without the body stocking.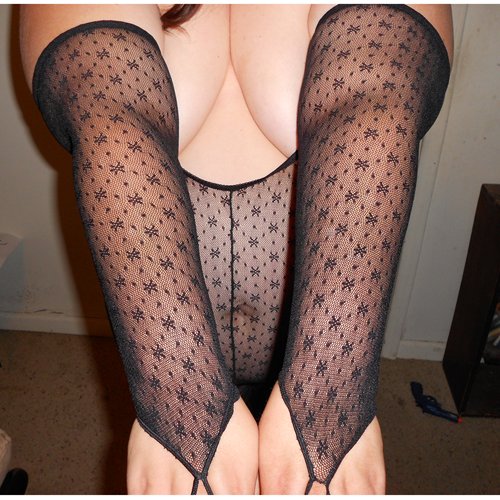 Experience
As previously mentioned, the top half of this body stocking is huge. Here's a couple of pictures to prove it.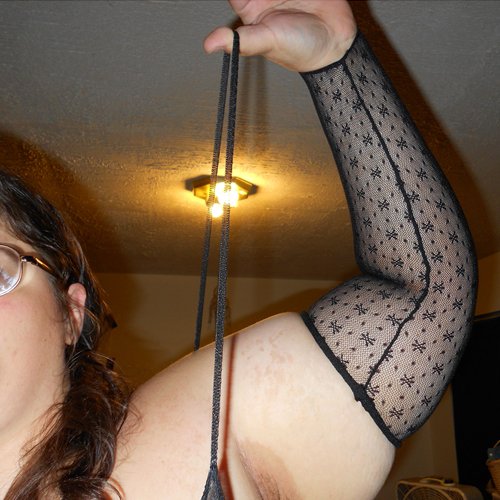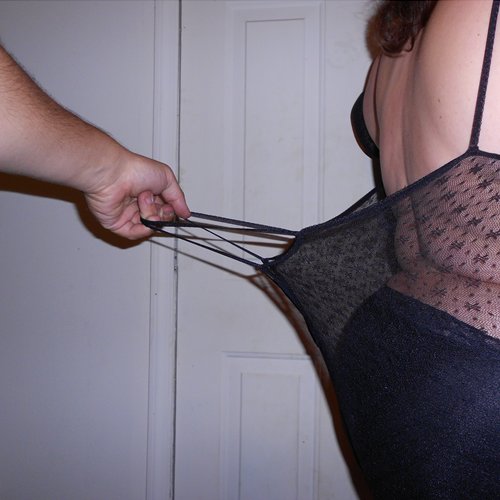 This product was provided free of charge to the reviewer. This review is in compliance with the FTC guidelines.

Thank you for viewing
Mini daisy lace bodystocking
– crotchless bodystocking review page!