Pretty, but so Fragile!
I will forgive a multitude of sins if an article of clothing is long enough to actually fit me, so on the whole, I like these stockings; they work well on taller frames and they're cute. If you don't need the extra length, though, you may want to look for a more durable pair of thigh highs, since these are extremely thin and prone to running and fraying.
Published:
Pros:
Pretty design, surprisingly long
Cons:
Very thin, elastic frays easily, bows don't seem sewed on securely
I have a huge weakness for bows, so I was very excited about Leg Avenue's sheer thigh highs—so excited, in fact, that when I discovered that the order had been mixed up (I ordered white stockings and got black instead) I didn't return them; I just wanted to wear them RIGHT AWAY. Besides, it's not like I don't use black stockings.
Anyway, the stockings arrived in cardboard and plastic wrapping. There's a picture of the tights on the front of the packaging, so the box is only as discreet as decorative thigh highs themselves are—which is to say, not very. The box doesn't tell you a whole lot about the product—they're only stockings after all—but it alerts you to the fact that they are 100% nylon (except for the bows, which I assume are sateen) and should be hand-washed and drip-dried. Given how delicate these stockings are, I would heed this advice—but more on that later.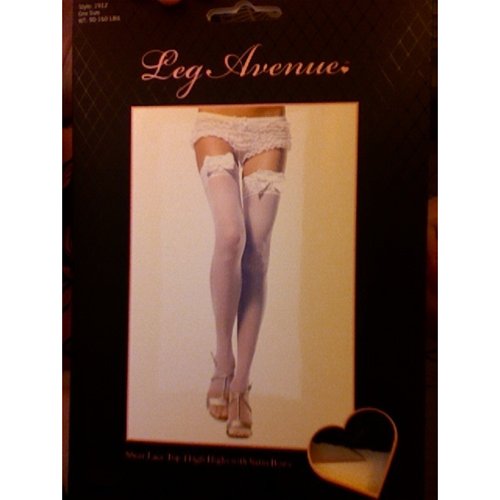 Front of package (back is pale pink).
It's difficult to measure stockings, but I'll do my best. Laid flat and unstretched, they're about 22" long, and the lace band is about 7" wide (or 14" in circumference, I suppose). When I wear them, they easily stretch to about 29" in length and 20" in circumference, give or take an inch or two depending on just how high I pull them. They could easily be made to fit longer legs—mine stretch to at least 32"—and should be okay for fuller thighs. Measured flat, the band stretches to about 12 1/2", so let's say that 25" is the maximum thigh circumference these stockings will accommodate (although they may create a muffin top if you're in the upper range). Regardless of your measurements, however, be warned that the elastic in the band will fray when stretched.
True to their name, these stockings are quite sheer when worn, so don't get them if you prefer a more opaque look. I was pleased that the lace pattern shows up quite well against my skin, but I imagine that this may vary according to skin tone. The bows are suitably cute, although I ignore the product page's pictures and wear them in the back rather than the front. They do, however, have a tendency to go a bit cockeyed when worn, as you can see in the picture below. This isn't a huge issue for me, since I sincerely doubt that anyone I wear these for is going to be paying much attention to bow placement, but it's something to bear in mind if you're a perfectionist.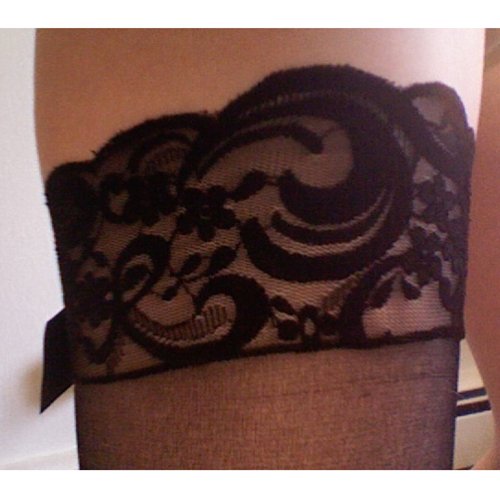 Lace band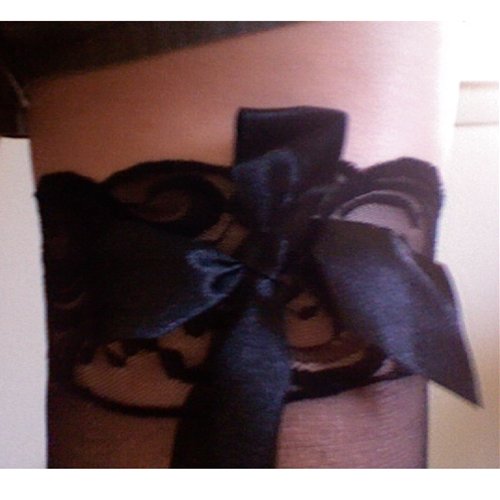 Slightly crooked bow
So far, these thigh highs stay up on their own, but a day will definitely come when the elastic wears out. Wearing garters with lacy stockings makes me a little queasy—the lace just looks so fragile—but so far I haven't had a problem. I have, however, only paired them with garters once, and the clips were made of a sort of soft plastic.
Experience
Okay, I know that stockings aren't exactly the most durable article of clothing—I probably go through four or five pairs of fairly sturdy black tights every winter. Still, I'd like to think that even lingerie stockings could hold up to more than a few uses, and I'm not sure that will be the case with these.

First of all, they are very, very thin. They're not the flimsiest stockings I've owned, but they're close. I sort of like the look of sheer black fabric against skin, so it's not the aesthetics that bother me—it's the impracticality. I'm afraid to do anything more than recline seductively while wearing these tights, for fear of them snagging and tearing.

Now, to be fair, I'm probably harder on my stockings than the average person. Years of dance of one kind or another have more or less turned my feet into two huge calluses, so I have major problems with threads catching. Plus, there's no sort of reinforcement in the feet of the stockings, which makes them even more likely to run. Others may find this less of an issue. A word of caution, though: if your nails aren't perfectly manicured and smooth, you'll need to exercise extreme caution while handling these tights.

Plus, the elastic in the lace border started fraying after just two uses (and one wash). If the stockings were stretched to the max while I was wearing them I could maybe understand this, but they're not, as you can see in the pictures. You can obviously wear the stockings with garters if the elastic wears out, but that won't make the fraying look any better.

Finally, the bows are sewed on very, very loosely. I'd feel a little better if the entire "center" of the bow were tacked down, but it's not, so the bows sort of flop around. This shouldn't be a huge issue if you can sew at all, but it's still worth mentioning.

It's a shame that these stockings are so delicate, because there's a lot about them that I like. The design is lovely, and the patterns in the lace are unique. Most of all, though, I like that they are actually long enough. I am so used to having to stretch my tights as far as they'll go length-wise that I habitually put these stockings on this way, only to find that they reach all the way up to my butt. I actually have to rearrange them so they're a little lower, which is something I'm pretty certain I've never had to do with any other tights. Keep in mind, though, that I'm 5'9" and usually wear pants with around a 34" inseam (though this varies with style—my skinny jeans are usually shorter). In any case, I believe that "normal" pants have inseams around 32", so petite women may find these stockings too long.
This content is the opinion of the submitting contributor and is not endorsed by EdenFantasys.com

Thank you for viewing
Sheer lace top thigh highs with satin bows
review page!