Pretty Flowy For Me!
The Naughty Nymph Gown is a refreshing hemline for those who don't want every piece of lingerie cut just below the bum. This gown has adjustable straps to support a variety of busts and can flatter many figures. If looking for a gown, give this a go!
Published:
Pros:
Long and Flowing, Pretty, Adjustable straps offer support.
Cons:
Uneven seam.
What a cute gown! Tell me about it, Mwar.
I shall! The Naughty Nymph Gown and Thong (simply gown or Nymph Gown from now on) is a cute piece by Dream Girl. It's a long gown ending around the ankles depending on your height. It flows instead of hugging each and every curve. It's harder to find a piece of lingerie that has a hem that is loose and flowing instead of hugging around the bum. This was a refreshing silhouette and I was willing to give it a try.
The gown comes in one color that is fuchsia. The bust is done in a floral lace pattern. This is probably the most delicate part of the gown. If you have long or uneven nails, beware! The bust has straps that can be adjusted for a fit that can give you a lift. While there is no underwire, the straps can be adjusted so that you have some support for the girls. The neckline is an open V shape.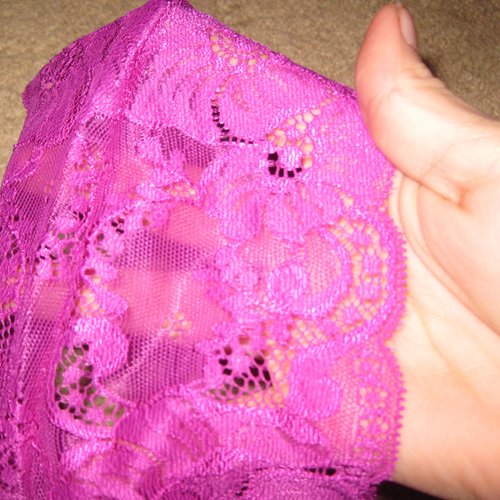 The cut is an empire style; there is elastic below the bust and then the gown flares out. The back is a bit open in a scoop fashion. The gown is simply done and doesn't have any crazy adornments. Honestly, the lack of adornment is refreshing, simple, and clean. There are some lines that run down the length of the gown. They can make the figure look more streamlined and give the gown the look like it has panels. The bottom of the gown has varying lengths with a tatters or petal affect.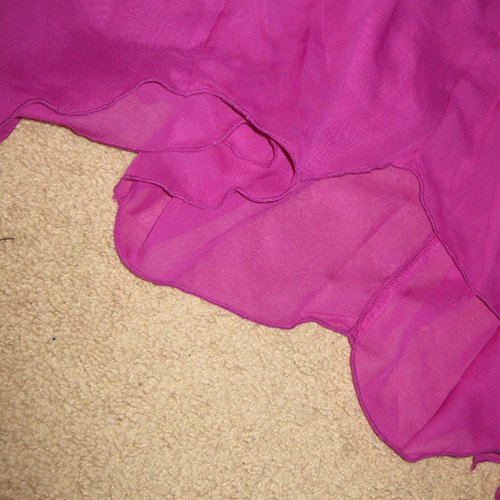 The quality of the gown is nice. There are no lose threads or seams. The hemline is finished well, so while it has the tattered/petal style, it looks finished and not like a hasty mess. There are seams that can be felt inside the gown that run down it. It's present but not irritating. Some might be able to sleep in it, but it might be a bit restricting in the bust for some. The elastic below the bust would probably bother those trying to sleep in it. Still, it's a great option for trying to seduce a partner or to wear during fun times.
There is only one thing that bothers be about this gown. There is a seam that runs down the length of the gown that starts in the center, front. The seam is not symmetric. In fact, it veers off to one side. You can't really do anything about it since it is sewn that way. If you try and adjust for this seam, the rest of the gown will look twisted to the side. Here's a picture of it on the inside of the gown. You can see how the seam veers off.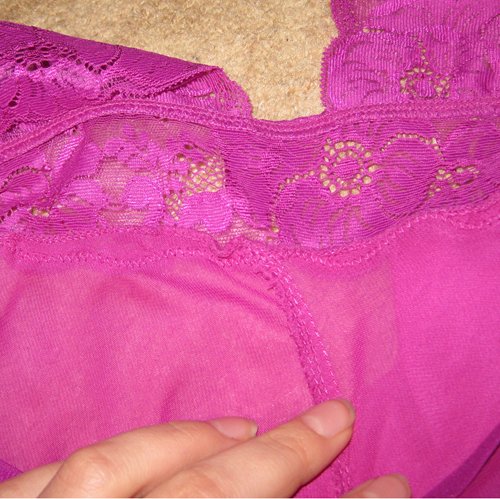 Still, this is a small issue, especially if it is a tool of seduction.
All right, how did it fit?
When deciding on a size, I went with a medium. The size chart says that a size small is typically size 2-6, but only an A or B cup size. While I hover around a size 4-5 and am around 135 pounds (plus or minus 5 given the season), I chose a medium for my cup size. It was a good choice since the cups are a tad small but not comedically so. What helps is that the straps are adjustable. This way, you can set the elastic below the bust and adjust the straps so the band doesn't ride up and give you double boob. The straps do give a good amount of support, so I wouldn't write this one off even if you're more endowed.
Once adjusting the straps, this gown fit well. It's easy to get on. You can either step in it or put it over your head. It has some stretch, but it doesn't stick to you. It is comfortable to wear. Because it doesn't bunch or grab, it won't showcase areas around the middle. Depending on your height, the gown could either hit the floor or be around your shin. I am 5 foot 4.5 inches and the gown falls a bit above my ankle. If you are shorter I would recommend a heel or wedge shoe if flaunting this gown. If taller, I think it'll still look flattering, just know it won't hit the floor for you.
Overall, I feel this will work for many women. It's a pretty gown and gives great results without trying too hard (the result to effort ratio is awesome).
Experience
Okay, how do I take care of it?

The gown is made out of polyester. The instructions say to wash on cold and line dry. I wash mine inside a pillowcase on cold. This keeps and other clothes from damaging the lace on the bust. Once washing, I let it dry over a chair. Dry it away from sunlight to maintain color. The gown has held up.

Anything else you want to add?

I forgot about the thong! The thong is the same color as the gown. It is simple; it is polyester and sheer. The waistband is elastic and has some serious stretch. Also, it's important to note that the gown has a few levels of sheer. The floral pattern of the bust does a decent job of concealing nipples. However, if you have a darker nipple they might not conceal as well. The material is sheer but not completely transparent. The light also changes how see-through the material is. Some things are left to the imagination though.
This product was provided at a discounted price in exchange for an unbiased review. This review is in compliance with the FTC guidelines.

Thank you for viewing
Naughty nymph gown and thong
review page!