Pretty in pink straps
I would have given this Teddy 5 stars, but I gave it 3. The front and the way the black lace criss crossed, but it was messed up on the left cup which makes it look bad. Also, I didn't like how the cups fit my breasts; it felt like the cups were off and even with the under wire I didn't feel they were getting support; hubby thought they were getting smooshed. Even with those 2 malfunctions, I still recommend this because it's a sexy piece to have in anyone's collection
Published:
Pros:
Beautiful Lace, Open back, sexy design, panty liner, stretchy
Cons:
criss cross lace in front is off making it look funny, cup sizes are off, 2 sizes M/L, No PLus
Use
- This Floral lace teddy with cross straps on back by Music Legs is designed to wear as lingerie and can also be worn under clothing as a surprise.
Material/Texture
- The teddy is made of 90% Nylon & 10% Spandex. The teddy's texture is the soft lace.
Design/Shape/Size
- This teddy has a sexy see-thru pink floral design. The main color is pink with some black trim and ribbon detailing. I'll start with the 1/4" by 18" solid pink fully adjustable straps, which attach at the top of the cups and top of the bra band in back. These straps are 9" up and 17" down. The cups are a solid pink with the see-thru pink floral lace over lapping it, you can pull the lace away from the cup. At the top of each cup is a black lace trim and elastic band that is 1/2" by 7". The cups are 6" by 5", and they are shallow, almost flat, and have no padding, but they do include an under wire. Holding the cups together is a 1/4" by 1/2" solid pink elastic band, and on it is a 1 1/2" by 2 1/2" non-removable black bow. Then there is a 3" by 10" see-thru pink floral bra band which closes with eye hooks. There are 3 sets of 2 eye hook closures and a set of 2 eye hook clasps. Where the bow is in the middle of the cups 1 1/2" on each side plus 1/2" on the bra band, is also a 2" by 3" opening. This starts the V shape which is a see-thru pink floral lace. The V is 4" by 7 1/2" and starts at the bottom of the cups. Inside is a black ribbon, same length 7 1/2", it starts from the bottom of each cup and criss cross through out the middle of the V. Also outlining the V is solid 1/4" by 9" pink elastic bands with pink ringlets, outlining the inside and outside of the bands. In the middle of the V is a 4 1/2" ringlets. Finishing off the V is a 1 1/2" by 2 1/2" non-removable black bow. Next is see-thru pink floral lace g-string panty which is 14" unstretched, 22" stretched, and 27" whole way around. There are 1/4" by 6 1/6" solid pink bands outlining the panty. The g-string part is 1/4" by 5". There are 1/4" by 4" bands at the top of the panty. The back has a upside down triangle patch of see-thru pink floral lace and 1 1/2" by 2 1/2" non-removable black bow. The back of the teddy is two 1/4" by 10" solid pink straps, from bra band to panty, that cross at small of your back. This teddy is form fitting and comes in two sizes M and L, I have the L.
Music Leg:
Medium 6 - 10 B - C 34 - 36 26 - 28 36 - 38
Large 10 - 14 C - D 36 - 38 28 - 32 38 - 40
Me:
38-B Waist 27" Hips 37" Torso 13" Weight 155 lbs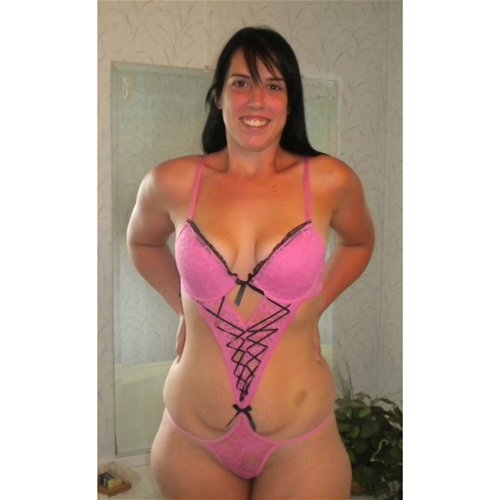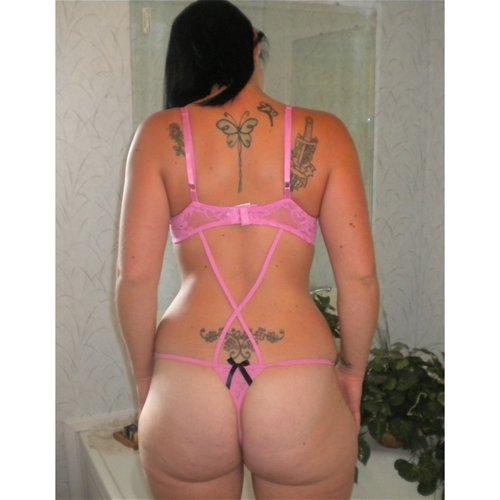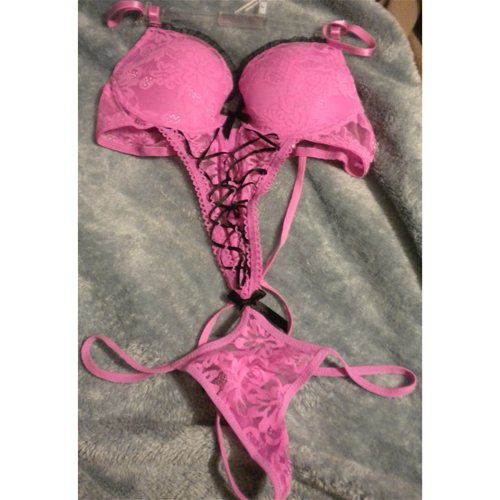 22"long unstretched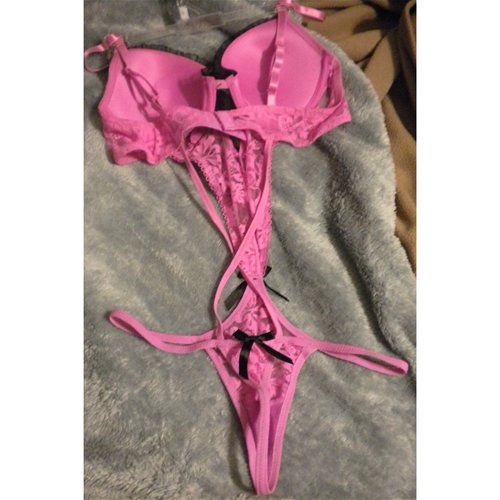 27"long stretched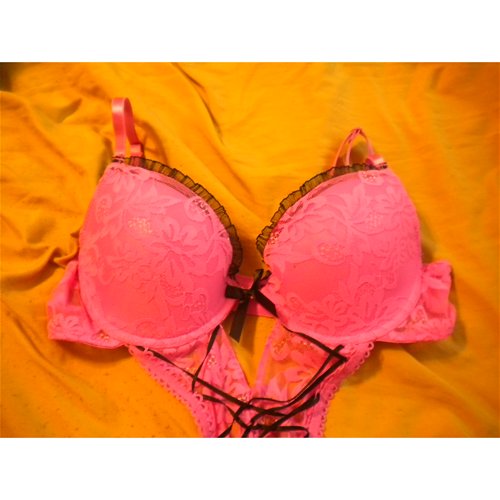 14"unstretched 19" stretched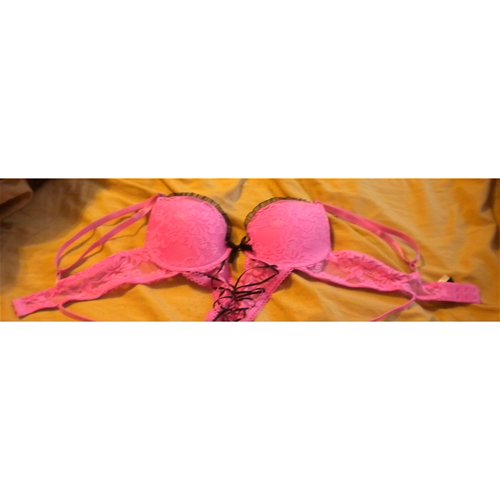 30"unstretched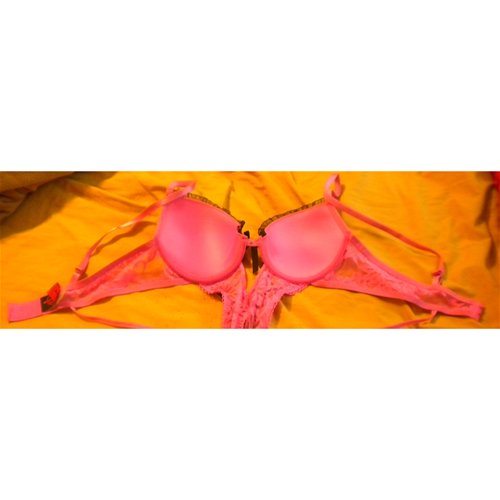 40"stretched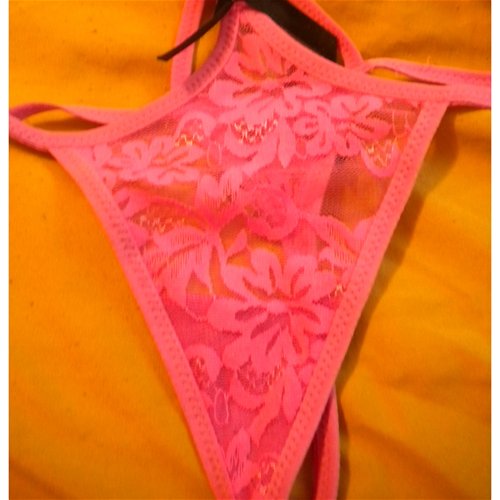 5 1/4" by 8 1/4"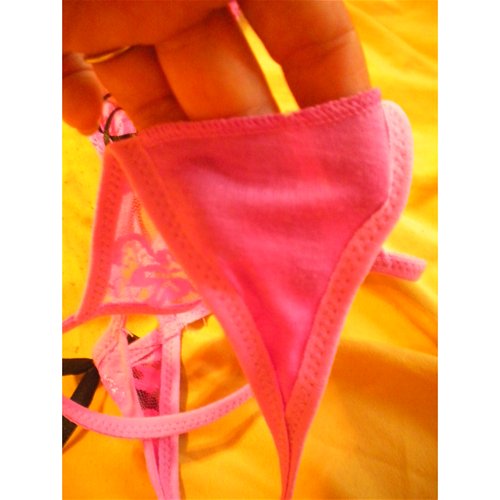 2 1/2" by 3 1/4"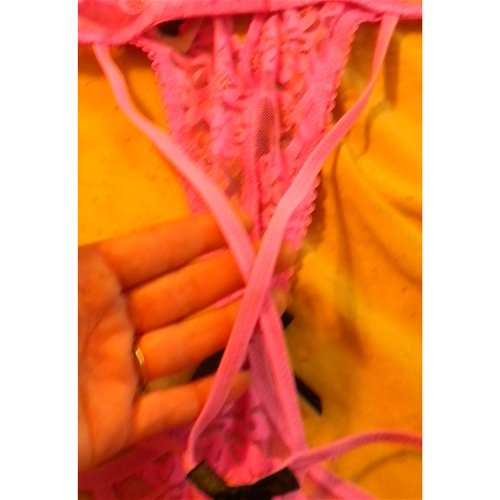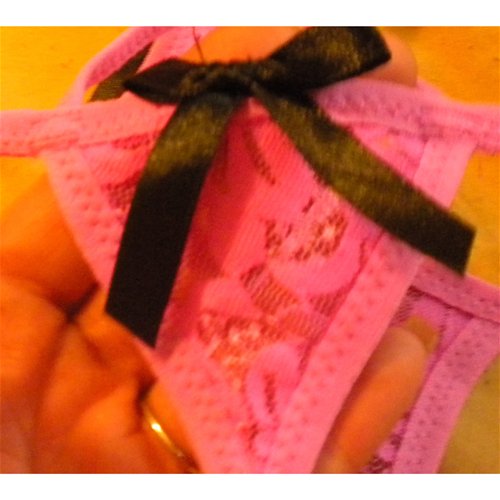 Functions/Performance
- Functions are the adjustable straps and eye hooks. This teddy is pretty stretchy. Unfortunately the cups are off; I'm a small B and this should fit a C-D, but they fit me nicely and don't give a lot of room. Like I have mentioned, the cups are shallow and almost flat, so bigger breasts may feel smothered. Another problem was the ribbon that criss crosses in the V shape on the left side is messed up. This was the first thing I noticed when I pulled it from the package; it isn't crossed right; the first two sections are off, but then the rest is fine including no tearing, ripping, or bad stitching.
Care/Maintenance
- On the tag for this piece all I found were pictures that mean hand wash and hang dry. This piece is delicate and will snag if not careful since it is lace. I recommend placing it back in the sealed bag it came in.
Packaging
- I like what Music Legs did with this teddy. They took care of it. It was on a hanger in a clear plastic sealed bag. There was a cardboard picture of the model wearing the teddy with the size and different views. I like that I didn't have to rip or cut anything off; Instead I just had to pull the cardboard and teddy out. Packaging is suitable for storage, shipping, and is recyclable. There was no bad smells to the teddy, just the new clothes smell.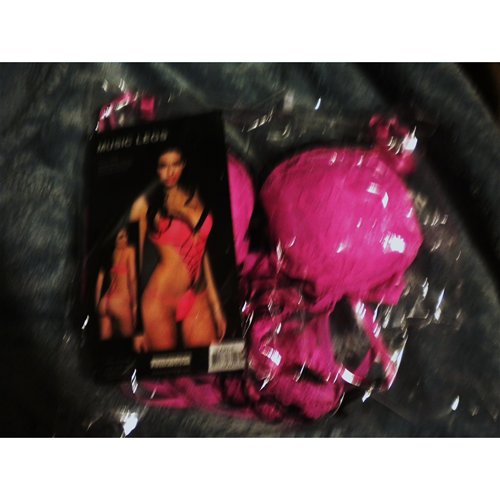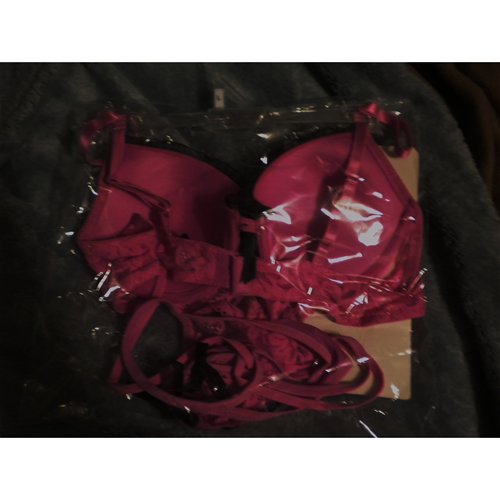 Experience
So, there isn't really any type of lingerie I don't like except teddies, but lately I have been looking at the new ones Eden Fantasys has been carrying. Looking around I got this one for my free assignment. I liked the lace criss crossing in the front as well as the 2 crossed straps in the back. When I got it, I was a little hesitant on actually putting it on due to the nature of these pieces. Teddies, well, there really is nothing there, and you can't hide anything. I decided to put it on anyways because I needed to. I found that I actually like it; they're different from what I normally wear. For me, it's edgier and actually sexier. The hubby, he's not to sure how he feel about it, though he says I look sexy in whatever I put on even if it was a paper bag; men, they are so easy to please, but he didn't help when I really need it. This Floral lace teddy with cross strap back is sexy and pretty revealing. Plus it has me thinking twice about teddies. I want my collection to be ever growing of new designs and different styles of lingerie. So this is a keeper for me, and I can't wait to try more thanks to this sexy little teddy!
Follow-up commentary
2 months after original review
I've had this teddy a little over two months and I still very much like it. Even with the odd and messed up criss-cross detailing in the front, it's still a sexy teddy. Also after a few hand washes, line drys, and wears the lace hasn't lost it's softness. For me this teddy is a keeper and I and almost forgot the hubby will continue to enjoys this. So I do still recommend this teddy for those who want to try something pink, sexy, daring, and very open.
This product was provided free of charge to the reviewer. This review is in compliance with the FTC guidelines.

Thank you for viewing
Floral lace teddy with cross straps on back
review page!