Pretty in Polka Dots!
This is an absolutely beautiful 2-piece set that is definitely worth the price tag. The only real downside is that it does not come with a matching thong, though it is easily replaced by something in black, and that it only comes in one size. Soft, sturdy, both sweet and sexy. Definitely something to consider!
Published:
Pros:
Well constructed
Comfortable
Super sturdy garter clips
Cons:
Does not come with matching thong pictured
Color may be unflattering on some skintones
One size
Presentation
This set came to me nicely folded up inside of a pretty box packaging displaying the model photos on both sides. There is a cute little heart-shaped window at the bottom right corner that lets you peak in at the piece. I thought this was a very nice presentation.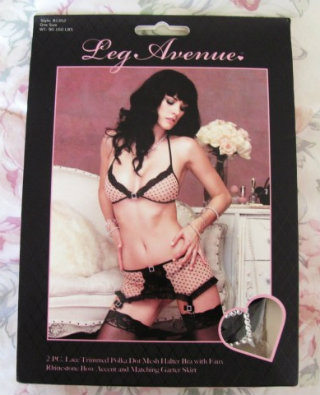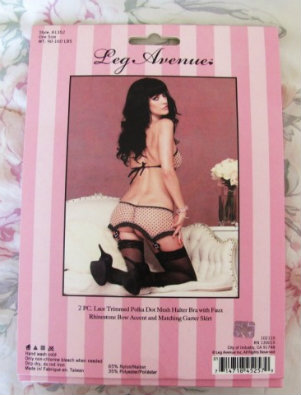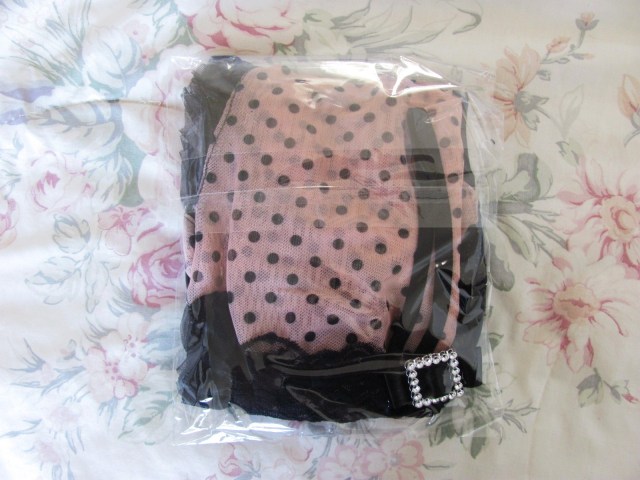 Material, Construction, & Care Instructions
The materials used in this piece consist of 65% Nylon and 35% polyester. The main fabric is a thin, peachy pink mesh with black polka dots. It is considerably smooth in comparison to other mesh pieces I have had in the past. The lace used is stretchy, light, and comfortable as well. The elastic straps on the halter top are thin, but very soft and very durable, while the elastic on the garters are wide and strong. The garter clips are actually metal (gasp) and not plastic. I was impressed by this.
The ruffle along the bottom of the garter skirt is ruched black mesh, which is not as soft as the main fabric, but unnoticeable while being worn. The "bow" decoration are made with shiny black ribbon and are adorned by a "rhinestone" buckle. There are no actual rhinestones on this; the shiny silver plastic is merely concave and shaped in a way that causes an illusion of there being rhinestones. Looking at it from only a few inches away, this is a very convincing illusion, however. I didn't look close enough until this very moment to actually notice it.
I'm actually not sure why they bothered categorizing this as pink when it is actually closer to nude. I found that this did not flatter my skin tone very well, as I have a sort of peachy undertone. With the drastic contrast between it and the black, I felt washed out when I looked at myself in the mirror. This might just be my lack of confidence shining through, though, because I don't have a pretty model body to show it off. If you have a cooler undertone, especially those of you with porcelain skin, this will probably look stunning on you.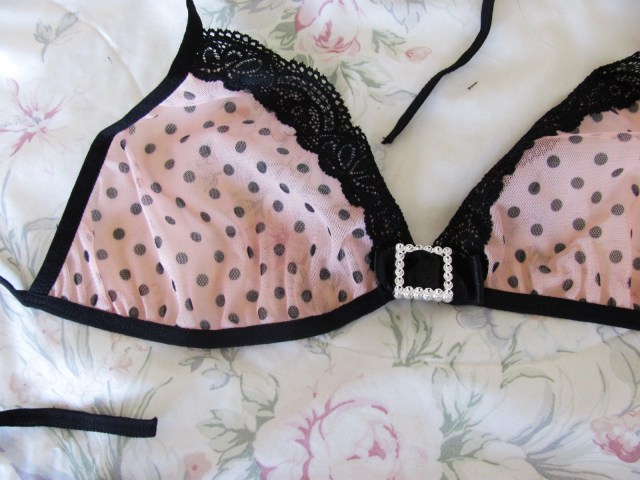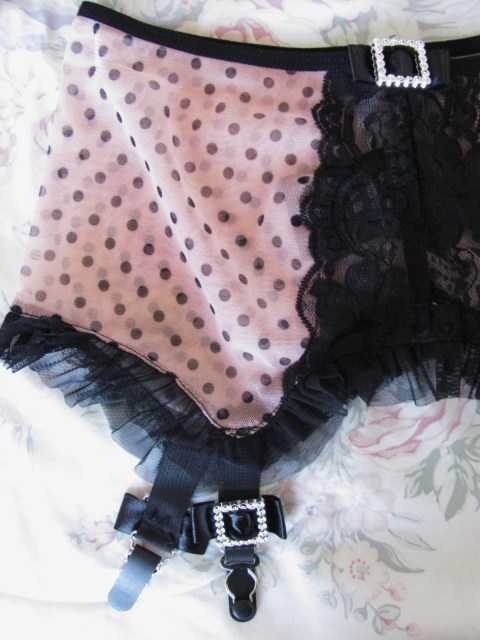 The construction of this garment is very pleasing. Not a stitch was out of place, no lopsided-ness, though I might have just gotten lucky. Sure, it is thin and in that regard could be considered delicate, but I could tug on this thing in any which way without fear of damaging it. The pretty ribbon and "rhinestone" detailing makes it look high quality. I know my photos don't do it much justice, but I hope you all believe me.
To care for this piece, it is advised to hand wash in cold water and hang it dry. Only use non-chlorine bleach if needed, and do not take an iron to it.
Sizing
This only comes in one size, claiming that it should fit those between 90-160 lbs. Of course that isn't the most useful form of measurement, but the size chart provided by Eden tells you that "One Size" should fit those between A-C cups, 32-38 inch busts, 23-29 inch waists, 34-40 inch hips. This is more or less pretty accurate, but you might as well call it a Small/Medium.
Because of the thin nature of both the fabric and the straps, this will not provide very much breast support. Each triangular cup measures 6-1/2 inches at the base, and 6 inches on both sides. It comes ruched in its natural state with room for the breasts, and will straighten out when stretched. While stretched to its fullest potential, the triangle measures thusly: 11 inches at the base, and 8-1/2 inches to the sides. Unfortunately, if you are above a C cup, you will probably end up spilling out of this in all directions. Unless you have super firm breasts and don't need the support, then I sadly suggest passing on this piece.
The straps that tie behind your back can be easily stretched up to 70 inches around; obviously nothing to worry about there. The straps that tie behind your neck can both be stretched up to 22 inches, which should be well enough for anyone within the appropriate cup size range.
The garter skirt measures 23 inches around in its relaxed state, and will stretch up to 36 inches around. It widens out at the hips, allowing between 30 to 40 inches total. The garter straps are quite short, only measuring to about 4 inches apiece, and stretch a little over an inch in addition to that. Because this is meant to sit below the waist and navel, this should not pose much of a problem. The skirt also measures 6 inches down the middle, and 8 inches where it dips down and connects to the garters.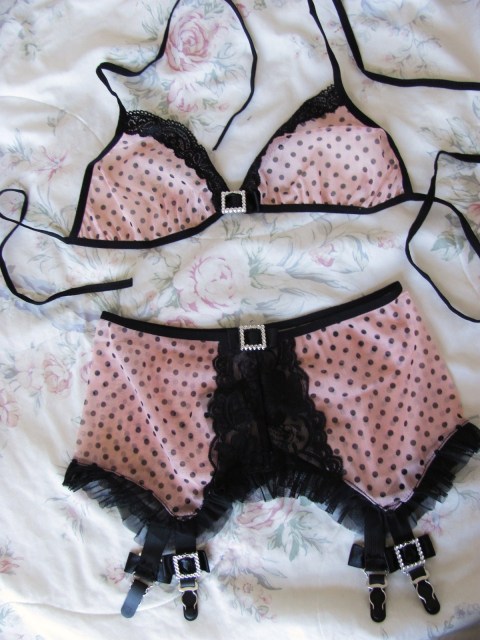 Experience
I really, really love this set. I'm very impressed by the quality and how cute it is. It was a disappointment to find out that: 1) It did not come with the matching thong that the model is wearing in the photo, 2) That the cups were too big for me, and 3) I felt as if the peach color kind of washed me out. Of course I can't fault Leg Avenue for the cup or color issue, but for the price, it would have been nice to receive the matching thong. However, it does look good with a plain or lacy black thong or bikini panty instead.

I'm very sad, but it's okay. I still highly recommend this set: it is comfortable, sexy, well-constructed, and very, very pretty. I have to admit I'm very taken with particular Leg Avenue model and I kind of want to buy everything that I see her wearing - I just wish it looked as good on me! I'm very tempted to give this a 5-star rating, but part of me thinks I should deduct a star for the reasons listed above. I went into this knowing I would not receive the thong since I read the product description page, but I know this may mislead others.

If this sounds like your size, definitely get it!
This product was provided free of charge to the reviewer. This review is in compliance with the FTC guidelines.

Thank you for viewing
Lace trimmed polka dot bra and garterbelt
– bra and panty set review page!