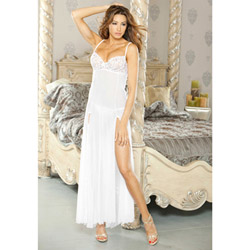 Honeymoon sweet long gown
Gown by Fantasy Lingerie
Pretty Pretty Princess!
I really like this piece of lingerie. I love long gowns anyway and this was perfect. It has features that can flatter almost any shape, but is missing plus sizes. The construction leaves something to be desired as do the rather cheap materials, but the design is pretty and made me feel like a million bucks, even if the gown isn't constructed with such high quality.
Published:
Pros:
Pretty, simple design, supportive underwire,
Cons:
Bows come off easily, not the best materials and construction, white is easy to discolor
Let me begin by saying I am partial to long gowns and this makes me love this product more than I would similar construction on a shorter piece. I am in love with this design. It's sweet, simple, flattering and overall a pretty piece of lingerie. As much as I like this, there is much room for improvement.

Let's begin with the design itself. (I got this in a size Large)

This is a fairly simple design with a general sundress base. It has thin straps, an underwire bust and a straight body with a flowing bottom. There are princess cuts that encourage even more flow and allow for a little bit of leg to peek out. Top to bottom, the straps are cute, but not really comfortable for a girl with a bigger bust. Part of this is due to the thin straps digging in and part is due to the fact that my breasts were really too big for the cups anyway. I would think a DD would have a hard time fitting into this, but a D just might be able to make it work. I could GET IT ON, but not without intense spillage. It also took me FOREVER to get the top in place and to squeeze my breasts into the cups. Once in, it was okay, aside from the straps digging in. That said, taking it off was just as bad as getting it on. My suggestion is to just do what you're going to do IN THE GOWN! The body of the gown fit like a glove and the flow of the bottom flared a bit lower on me because I am super short. I think this wouldn't matter on taller women as it looks gorgeous either way. It's super comfortable, as are the panties (will go into more detail later). I can actually say I felt pretty confident wearing this, even though I hate my mid-section. The dress is sheer, but not so much that you feel super exposed. The comfort would be improved by a better fit, but I do think the size is true in the product. It doesn't seem to run small, I really just needed a bigger size for my bust.

The material really wasn't anything to write home about. It's a polyester blend of sheer fabric on bottom with a lacy top. It's not luxurious or silky, but it's not uncomfortable or itchy, either. It looks nice on the body and feels nice, but I'm sure a higher quality fabric would feel better. The visibility of the skin is just enough to make it sensual without insecure girls feeling too exposed. It's perfect if you have stretch marks or any other skin imperfections to hide. The lace is actually a little more see-through than the photo on the site indicates which is fine. It leaves a bit to the imagination, but keeps him straining his eyes to see more.

Overall, the construction and materials of the garment could be improved. As much as I like it, the struggle of putting it on is partially due to feeling like I might accidently rip the material or a seam. Also, one of the bows that highlight the princess cuts fell off. I've since used white thread to stitch them all, but I expect for this price in a product, I shouldn't lose bows so quickly. Aside from that, I have no real complaints. I love the design; I just wish the gown were a little sturdier.

As far as maintaining such a thing, it's easiest to wash by hand and hang to dry. It's a delicate piece and requires some work to clean it. As far as the panties go, they are not any easier to work with for cleaning, and should probably be treated the same way. Also, regarding the panties, they are not really functional. These are really designed as lingerie panties and are fun to wear to give him something to remove later. They don't really serve well in daily use and although they aren't uncomfortable, they just don't feel like regular underwear.
Experience
My experience with this product is %90 amazing. I loved it, he loved it. It's simple, pretty, sensual and made me feel sexy. The length was perfect on my body, flared in the right place and brushed my ankles rather than dragging the floor. He loved that so much was technically covered, but if he looked hard enough, it wasn't. It's a perfect blend of sweetness and sexyness. It's a bit of a pain to get on and off, but so worth it for the use.
Follow-up commentary
13 months after original review
This is such a pretty piece of lingerie and I really don't wear it often because I like it so much. Lingerie like this isn't really made to go through a lot of wear and tear, so it's for those special occasions where I really want something LIKE THIS in particular. I still love it, though! It has lasted so far, and never ceases to make me feel pretty.
This product was provided free of charge to the reviewer. This review is in compliance with the FTC guidelines.

Thank you for viewing
Honeymoon sweet long gown
review page!