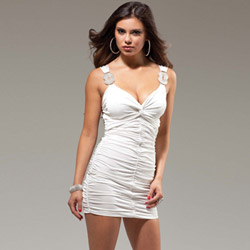 White Novak mini dress
Mini dress
by Forplay Lingerie
Princess Novak
What's not to like about the Novak dress? I'm in love with it! I seriously would love to own all four colors. Many women of all sorts of sizes and shapes will be complimented by this dress. Just make sure you have the correct undergarments, otherwise you'll steal the show in the wrong way!
Published:
Pros:
So comfortable! Ridiculously soft/silky, Sizing, Will accommodate larger chests, Stretchy, Pretty
Cons:
Some see through issues
Normally, I'd stay away from white in anything covering more area than a t-shirt, but I thought the white looked really pretty. It's a good fit for me, if anything, it is actually a little big in certain spots. This dress comes in other colors, and while the white is really pretty, it's not the best for modesty. The shape of the dress is great, but the fabric allows for things to be seen through, like the tag and the included padding. I do really like this dress, I just had to find underwear that perfectly matches my skin tone! Thankfully, I don't HAVE to wear a bra at all.
*Contents/overview:
One piece
The Novak Dress is from ForPlay. It's a single piece with no adjustable parts or removable pieces. The chest area has no underwire and slight padding for modesty. The torso is rouched for a flattering amount of coverage, and the neckline is a daring V. There are faux rhinestone adornments on the straps. This dress comes in indigo, white, black, and red. It's also available in sizes XS, S, M, L, XL. I chose the white in L.
*Material:
Smooth, silky, thin
The dress is made of 92% polyester/8% spandex. It's very silky and smooth, sort of feels like bathing suit material. However, it's much thinner. Being white, it isn't good at hiding other colors underneath it, especially dark and very light. Nude colors are best to be worn underneath it. The material is stretchy but also durable. It doesn't feel cheap and it isn't at all scratchy. It feels amazing against the skin and keeps the skin cool by being very breathable.
There are also metal adornments with faux rhinestones. I expected the stones to snag the material easily, but they actually are very smooth and won't do any damage to the material!
*Design/craftsmanship:
Well designed and totally flattering!
The Novak dress has an all over rouching which is extremely flattering to many figures! It hugs the body, but the rouching helps to hide cellulite etc. It smooths things out. The bust doesn't have any underwire, but it does have a bit of padding. This padding is not for support, however. It might make you look a tad bigger, but it doesn't shape and likely won't push up. It's mostly for modesty since the material is very thin.
The neck line is a V, but it is flattering and will show a good amount of cleavage without letting the ladies runaround too much. Unfortunately, the straps on this dress, and all other parts for that matter, have no adjustments. Looking at the seams, it doesn't look too difficult to shorten them up if necessary. Speaking of the straps, they are thick! They're about 2 ½" across.
In between the cups is a pretty twist. The cups are about 8" across which is plenty, and 6" tall. From arm pit to pit, the dress is about 16" across. The faux rhinestone embellishments are gorgeous! Their shape reminds me of traditional Celtic knots. The size isn't as bad as I thought. They're 2" wide and 2 ½" tall. They don't look or feel like what I thought they'd be up close. The rhinestones are very secure and small. The piece is also flexible. It'll bend with the curves of your body and not be scratchy on the skin.
Right below the bust is a doubling of fabric. It drapes a bit and connects to the sides of the dress. Staring from the sides, right under the arm pit, is a thin piece of elastic sewn in. The front back and sides are where the rouching comes to. The dress is 21" long from the bottom of the cleavage to the bottom of the dress, 26" from the top of the cups to the bottom, and 31" from the top of the strap to the bottom. The waist is only 12" when laid flat and the bottom is 17" across.
*Care and packaging:
The dress comes in a plastic bag on a plastic hanger. It has a cardboard tag attached to it. It's made in Hollywood, California. The tag says to hand wash or dry clean only.
*Sizing/fit:
A little big for L compared to other companies, Accurate to chart
I decided to get L because of my experience with my other ForPlay dresses. This one actually runs larger than their other L ones I have. I have a lot of extra stretch room. According to their sizing chart, the L should fit a size 10-14 dress, C-D chest, 36-38" band, 28-30" waist, 38-40" hip, and 135-155 pounds.
Experience
At the time of this review I am about 145 pounds, size 8 in most jeans, 8/9 in dresses, 36 D or DD (on occasion) bra, 34.5" under bust, 41" bust, 39" hip, and 30 1/2" waist.
Note my measurements have changed. I hadn't retaken them in about a year!
It is very accurate to the chart. If anything, it runs a little big. If I weren't concerned about length, I would have gotten the medium and been fine, especially in the other colors. But for white, less stretch is best. The fit is very comfortable on me. While it is form fitting, it doesn't feel too tight anywhere.
My Re-done chart/BEST fit:
For large
Dress: 10-12
Cup: C-DD
Bust: 39-43 (around the fullest part of your breasts)
Band: 34-40" (underneath your breasts)
Waist: 30-33"
Hips: 38-42"
Weight: 145-165 lbs
*Possible accessories:
A sparkly bangle or bracelet would be a great pairing. ForPlay actually sells one very similar to the one below.
And for shoes, I'd go a little more simple than what I usually suggest. This dress has a lot going on with the rouching and bedazzle, so a lower strappy heel would be hot. I found two from Pleaser.
Chic 14
Jewel 27
I don't have silver shoes, so I opted for beige ones. My cashmire cover up is a light baby pink.
Loves curves and is so comfy, even without a bra!
Here are some more pics I found...
*Conclusion:
★★★★ 1/2
I LOVE this dress! My boyfriend loves it too...wink! It fits really well and is super comfortable. The main downside is the see through nature of the material, but with the right undies, you're fully equipped. I can't wait to get this in other colors as well! The purple is gorgeous. I think this dress will work for a lot of women and because I like it so much, I'd venture to say it's worth the price.
Follow-up commentary
3 months after original review
This dress is just as gorgeous as ever. The material has not stretched out and I've been very careful to not let it get snagged. Be careful with what kind of jewelry you wear, like rings or bracelets. They can catch the material and cause pulls.

I still totally want to get this in the other colors!

This product was provided free of charge to the reviewer. This review is in compliance with the FTC guidelines.
Thank you for viewing
White Novak mini dress
review page!