Purple Leopards are Sexy
This bustier can definitely spice up an evening. It looks incredibly sexy and fits well, stretching and adapting to the woman's shape to make her feel and look sexy. There are a few minor flaws, but overall this is a great piece that can certainly be good for mixing things up in the bedroom.
Published:
Pros:
Comfortable, looks good, fits well, good support for breasts.
Cons:
Stockings not the best, eye hooks could be closer together.
Escante's Purple Leopard Bustier and Stocking Set is something we were excited about trying. We have another purple leopard set from Escante, and you can read that review
here
. We are fans of Escante products, though we didn't think we would be at first. Most of the items we have tried have fit my wife well and been very flattering. This piece was no exception.
Included in this set:
-Bustier
-Thong
-Thigh High Stockings
I will go through each piece individually so you can get an accurate idea of each item within the set.
Packaging
The set arrives in a clear plastic bag on a black plastic hanger. The thong hangs on the hanger with the bustier and the stockings are attached to the bustier and are inside a small clear plastic bag wrapped around white cardboard. You could use the hanger to hang the bustier and thong, but we discarded the bag and hanger once it arrived. If I were to give this as a gift, I would discard the plastic bag and put the garment in a gift box.
Sizing/Materials Used
Escante sizes were a little tricky for us to figure out at first, but now I think we've got the hang of it. Many of their items are made out of a combination of nylong and elastane/spandex, which is very giving. In the first leopard set that we ordered we probably should have ordered a M instead of a L. With this set I ordered a L again and this fit well, if a little big on my wife.
My wife is a size 10 in dress and jeans, a 38C cup size and weighs 150 pounds. The bustier fit fine, but was a tad bigger than we were thinking. I think the M would have been too tight, but there is a lot of give in the fabric.
The bustier and thong are made out of 92% nylon and 8% elastane/spandex. The stockings are 100% nylon. Included below is an Escante sizing chart: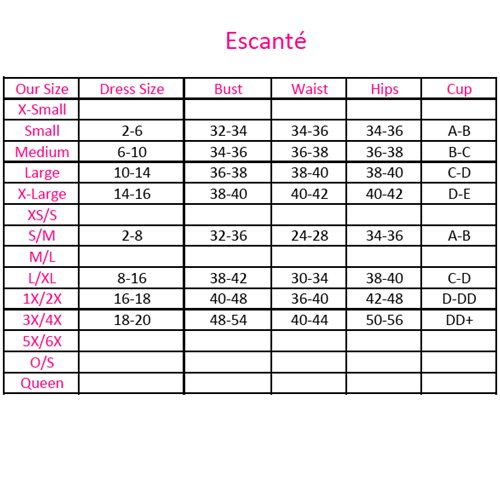 Bustier
The bustier looks great. It is a rich purple/lavender color with a black leopard print all over the garment. Along the bottom of the bustier is black lace as trim, also the black lace is around the top of the bust and a little black lace triangle on the back of the bustier for accent as well.
There is underwire support for the breasts and my wife was pleased with the support provided. The bra strap is also adjustable and easy to move, unlike some other adjustable straps. There is a hook and eye closure on the front of the bustier for the bra, it is black, unlike the rest of the hooks on the front of the bustier.
The bustier closes by metal hooks, which are silver. There are fourteen (14) of these hooks running along the middle of the garment. They are relatively easy to open and close, but my wife was also able to just slip the garment over her head to pull it on without any difficulty. My only complaint with the bustier is that the space of the hook is a little large and you can see a good bit of skin peeking through the metal hooks. It draws the eye there and breaks the line of the bustier overall and perhaps if the hooks were a little smaller that wouldn't be a problem. A small quibble to be sure.
There are four (4) garters at the bottom of the bustier to hold up the stockings. They are black and feel like satin, though I can't confirm that. There are small purple bows on each of the garters which is a cute touch. NOTE: These garters are not detachable from the bustier. You can certainly wear this without stockings, but the garters will still be visible.
The bustier is very comfortable to wear and my wife has worn it several times already and had no complaints. The lace trim is not scratchy or itchy at all and the nylon/elastane combo feels great against her skin. The stitching is also very consistent for the price of the garment. I did see a few wayward stitches, but overall this was really well made and should hold up for a long while with proper care.
Thong
The thong is also in the purple leopard print, with black trim. There is a black cotton liner which my wife always appreciates. She hates panties/thongs that don't include a cotton liner and was very pleased that this did. It is very comfortable for her to wear and stretches easily for a good fit.
The stitching is consistent on the thong as well, if not a little better than on the bustier.
Experience
Stockings

I like the Escante includes stockings on some of their designs that are made to have stockings worn with them. It's a nice touch and makes me feel like I'm getting a little more value for the money. But having said that if they're going to include the stockings ones of somewhat better quality would be appreciated. It is said that these stockings are thigh high on the product description but I will tell you that you will definitely need the garters to hold these stockings.

The nylon is very thin and can run easily. The pair that came with out previous Escante set lasted a few wears before running and being discarded. These stockings lasted three wears, one out to dinner before a snag ruined them. A little thicker nylon would be great so that these would last a little longer. And also changing the description to just stockings instead of thigh highs would eliminate any confusion one might have.

Care

On the small tag that is included with the bustier set it indicates that this items should be hand washed in cold water and hung to dry, but we have washed this in our washing machine, in a lingerie bag on the gentle cycle with cold water and had no problems at all. I would not recommend putting this in the dryer as I suspect it would do damage to the garment. But we have seen no fraying or damage from the two times that we've washed it thus far.

Experience

Overall we are quite happy with this piece. It is flattering and a good value. It looks fantastic on and can be worn underneath a dress like my wife did when we had to go to a party recently and no one was the wiser. I wouldn't recommend wearing this on its own outside of the bedroom as it would be very revealing, but pairing the bustier with a cardigan or shirt with some jeans wouldn't be out of the realm of possibility.

I'd like to give this 5 stars out of 5 but will go with 4. The stockings are a bit irritating and the silver hook closure is a little gaudy. Changing the closure color to black and reducing the size of the hooks a bit would make this a truly fantastic piece to have.
This content is the opinion of the submitting contributor and is not endorsed by EdenFantasys.com

Thank you for viewing
Purple leopard bustier and stocking set
review page!