Purple what girl ? ? ?
A sexy addition to your collection. Can be worn in the bedroom or for a night on the town. The vibrant color is sure to brighten your look. But be prepared to explain what a soda pop girl is if you are going to use it for an actual costume.
Published:
Pros:
• Vibrant Color
• True to Size
• Seams help with shaping
• Can be worn as an outfit
• Sexy
Cons:
• What the hell is a soda pop girl?
• Rear view
The Purple Soda Pop Girl costume is brought to us by Leg Avenue. I would call it more of an outfit than a piece of lingerie. Possibly something you could wear during a night on the town. I chose a medium size for myself. The set seems to be true to size. My measurements are 36" - 26" - 36" with a B cup. The medium seemed to fit everywhere perfectly, except for the bust. This seems to be a trend for me. Granted my cleavage seems to have gone MIA and my breasts, overall, aren't where they were 10 years ago. So as a tip to anyone that isn't built like a Barbie doll, you might want to either get a strapless push up, be prepared to take in the chest, or buy it just for the skirt. Which in all actuality is quite adorable, but definitely not something I would wear out of the bedroom being as my only nights on the town these days tend to be to the PTA or the playground.
The Purple Soda Pop Girl costume set includes a zip front halter top and belted mini skirt. The set, as you can tell from the pictures, is a very vibrant purple. The material is
Polyester
and is amazingly comfortable.
The top is an open back halter top. It boasts a cute collar and a full zipper right up the front. The seams are done right up the breasts to give a more shapely, sexy look that works if you have the breasts to fill it. If not, you would need to compensate for the void. I am personally getting used to taking the breast in on fitted clothing, a talent that I have perfected at about the same pace as the sagging of my breasts.
The bottom is a rather short, but not necessarily
too
short mini skirt. It has a cheap plastic buckle attached to it that surprisingly doesn't ruin the look. It actually kind of raises the cuteness factor on it. The seam runs right down the front, in line with your legs giving more appeal to the look. From the front, with the seams in line with the fitted body shape, the whole look just seems to work.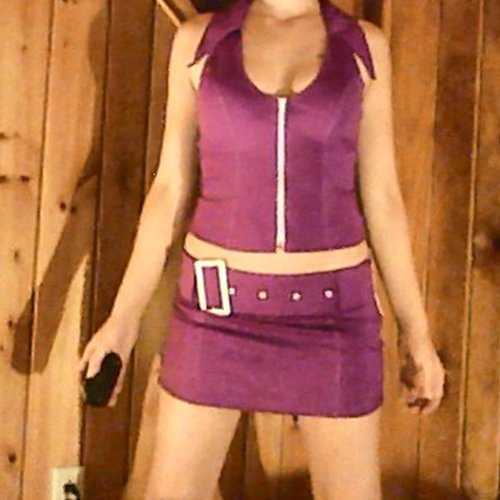 Yes, I was wearidng a bra in that photo. Cut me some slack, or cleavage, whichever works just fine for me.
But I must say, from the back. With no seams to be found. It made my body look rather shapeless. My back just kind of fell into my hips which looked as if they were at one with my ass.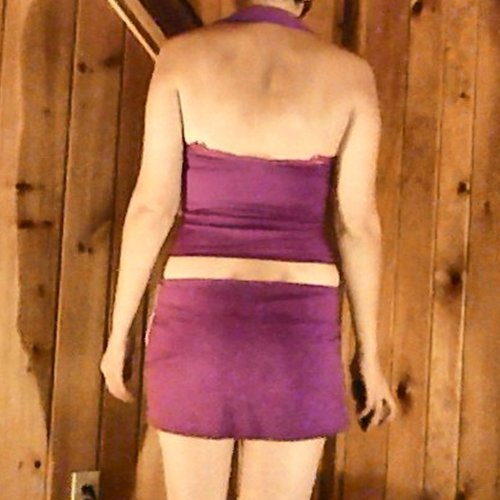 Now I don't deny the fact that I have a personal and quite intimate relationships with not only Cheetos and Oreo cookies. But that is not my ass. Or atleast it wasn't the last time I hid in my bedroom in the middle of the day taking rear facing pictures of myself.
So, moving on. The sizing is as follows:
Small 5 – 7 A – B 32 – 34 23 – 25 34 - 36
Medium 8 – 11 B – C 34 – 36 25 – 27 36 - 38
Large 12–14 C 36 – 38 27 – 29 38 – 40
Care instructions are simple, hand wash and hang dry. With something that is fitted and needs to hold its shape, it is never worth the risk of tossing it in the washer. So far I have hand washed 3 times and it looks just as vibrant and intact as the day I opened the package.
Experience
Now, explaining the title. Imagine, if you will, standing in front of a webcam, getting your sexy face on for your next camming session with a man with way too much time and money on his hands and not enough female attention. You walk on cam with your sexy new outfit on, strutting like a peacock, shakin what your momma gave ya, you strike a pose.
BAM!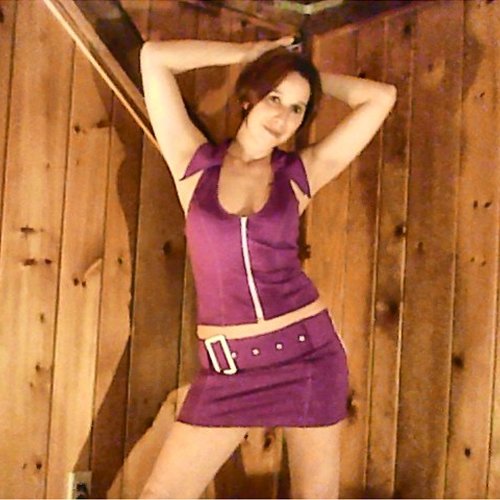 The dude then examines your look and says, " I thought you were going to wear a costume, what are you?" So of course you promptly tell him you are a Purple Soda Pop Girl.
Duh!
And proceed to put on your sexy face.
Tee hee hee!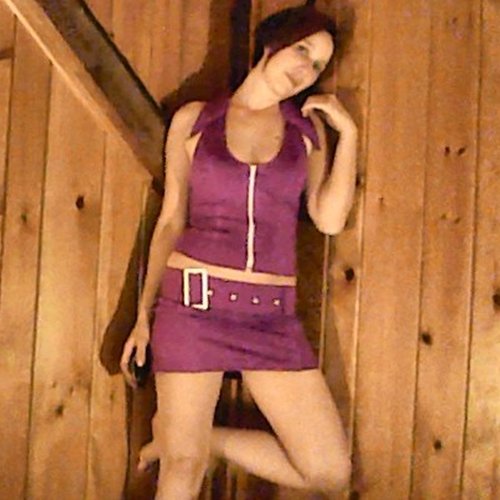 But all this guy can say is, "Purple what girl?". So of course, right on cue, I extend my finger and show him what else my momma gave me. For some reason this guy hasn't left even after teaching him my 1 finger sign language. So I just ask, " Work with me man, what do you want?" and of course he says, "Just take it off".
So that was my experience with being a Soda Pop Girl. Now, if I wear it. I just tell people I am a chick wearing a purple mini skirt and that goes over well enough. I might try to transition it into a different sort of costume. One that is a little more recognizable. As far as a Purple Soda Pop Girl, no thank you.
Follow-up commentary
29 days after original review

Though I haven't attempted to be a soda pop girl lately. I have found that this top is adorable with a pair of jeans. Overall, I love the set and will continue to wear it piece by piece.

I am not a mini-skirt kind of gal of camera, but the skirt gets plenty of use on cam. The top will continue to be used on camera and off!
This product was provided free of charge to the reviewer. This review is in compliance with the FTC guidelines.

Thank you for viewing
Purple soda pop girl costume
review page!