Quality Far Exceeds Expectation
Overall I have to say my partner and I were pleasantly surprised by this set. The material is quite comfortable while still being very sexy. While the free dvd might be a little bit basic for some it has some handy hints for couples. I would recommend this to anyone who wants to pick up some great value lingerie.
Published:
Pros:
Value for money, Free dvd included
Cons:
Non removeable chains on pants
-Packaging-
Having previously gotten another item from the "Dreamgirl" range my partner and I were excited to be receiving the Flyaway Babydoll, G-String and Dvd. The set arrives in a somewhat unusually shaped cardboard box. It curves in at the sides. The front shows a topless man next to a woman wearing the babydoll itself. Happily the image is just nice; it's not over the top with overly made-up models or sleazy phrases. The back of the packaging shows the same image with some text relating to the free DVD included with the set. Overall it actually feels like better quality than many of the boxes lingerie comes in. Inside the box the set is contained in a plastic bag and the DVD disc is in a sealed cd envelope.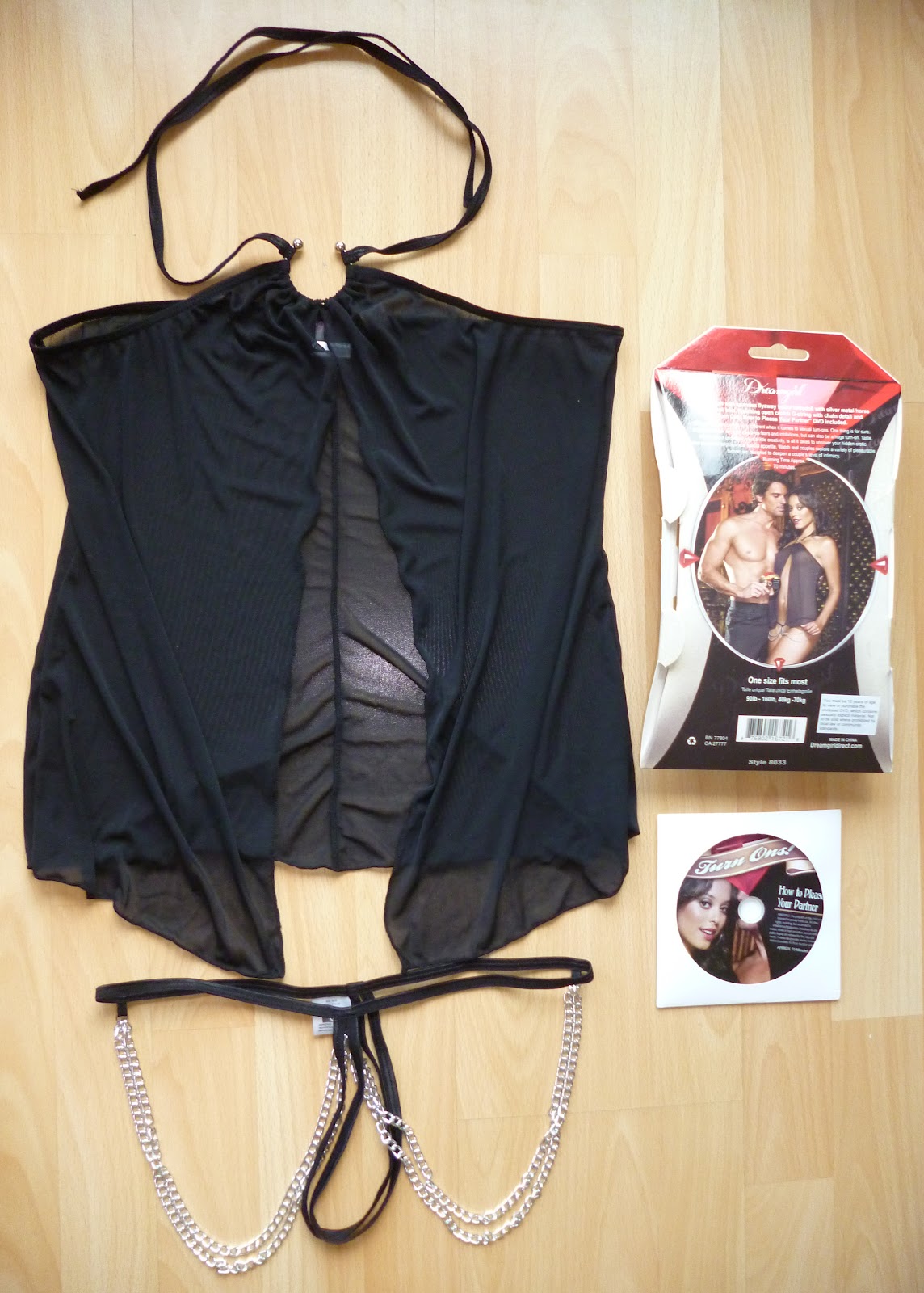 -Specifications/Material-
The item is described as a "One Size Fits Most". It measures 30 inches around the chest without being stretched. The two strings that form the halter-neck are made from spandex and are quite stretchy, they measure 20 inches each without stretching. They are connected to the main garment by means of a steel ring that is almost like a giant circular barbell ear-ring. This unscrews and can be removed easily for cleaning. Not including the steel ring the upper garment is made from 90% polyester and 10% spandex. It is mostly black mesh and is actually fairly soft to the touch. It has 3 labels at the back on the main seam. One giving the country of manufacture, one with the "Dreamgirl" logo and one with material and care information.
The lower portion of the set is composed of very little material. It consists of stretchy elasticated black straps that form crotchless pants with two chains attached for decoration. They measure in at 26 Inches on the waist but there is some serious stretch so they would accommodate several sizes up. The chains are attached by means of tiny loops similar to those used for removable garters. While they could be removed easily by cutting the loops they can't be reattached if you do so.
-Care-
I had to laugh when I read the care instructions as this set is dry clean only. I could only imagine the look on a dry cleaners face if you brought in a pair of crotchless pants with chains dangling from them! Being that it is made from mesh and quite a delicate item if you want to wash it at home then take care to remove the steel loop at the front and be careful of the chains on the bottom as I think they might rust if you get them wet. For cleaning I recommend you hand wash it in cool water and leave to drip dry. Do not wring it out or use a dryer.
-Use/Wearing-
While we didn't really know what to expect from this item when we ordered it I have to say both my partner and I were surprised and pleased by what we got. The item goes on quite easy and the elasticated strings that form the halter-neck mean it is quite secure but comfortable. My only qualm is that it wouldn't really do for someone who is plus size. It fit my partner pretty well and she is a 34 D. While it would be possible to go larger than that the open front would leave more and more space. The size guide on the back says it would weights from 90-160lbs. This is largely depending on your frame and the size of your bust.
Once actually on I have to say it looks amazing. The black mesh is somewhat see through but still definitely leaves something to imagination. The steel ring in the middle actually adds to the look in a way I can't define. As described by my partner it is quite comfortable to wear, the elasticated strings and seams mean it holds tight to the skin without being too tight.
The pants (if you can call them that) are actually quite sexy. While they cover nothing they just look really nice. To be honest we will likely remove the chains but this is a personal preference.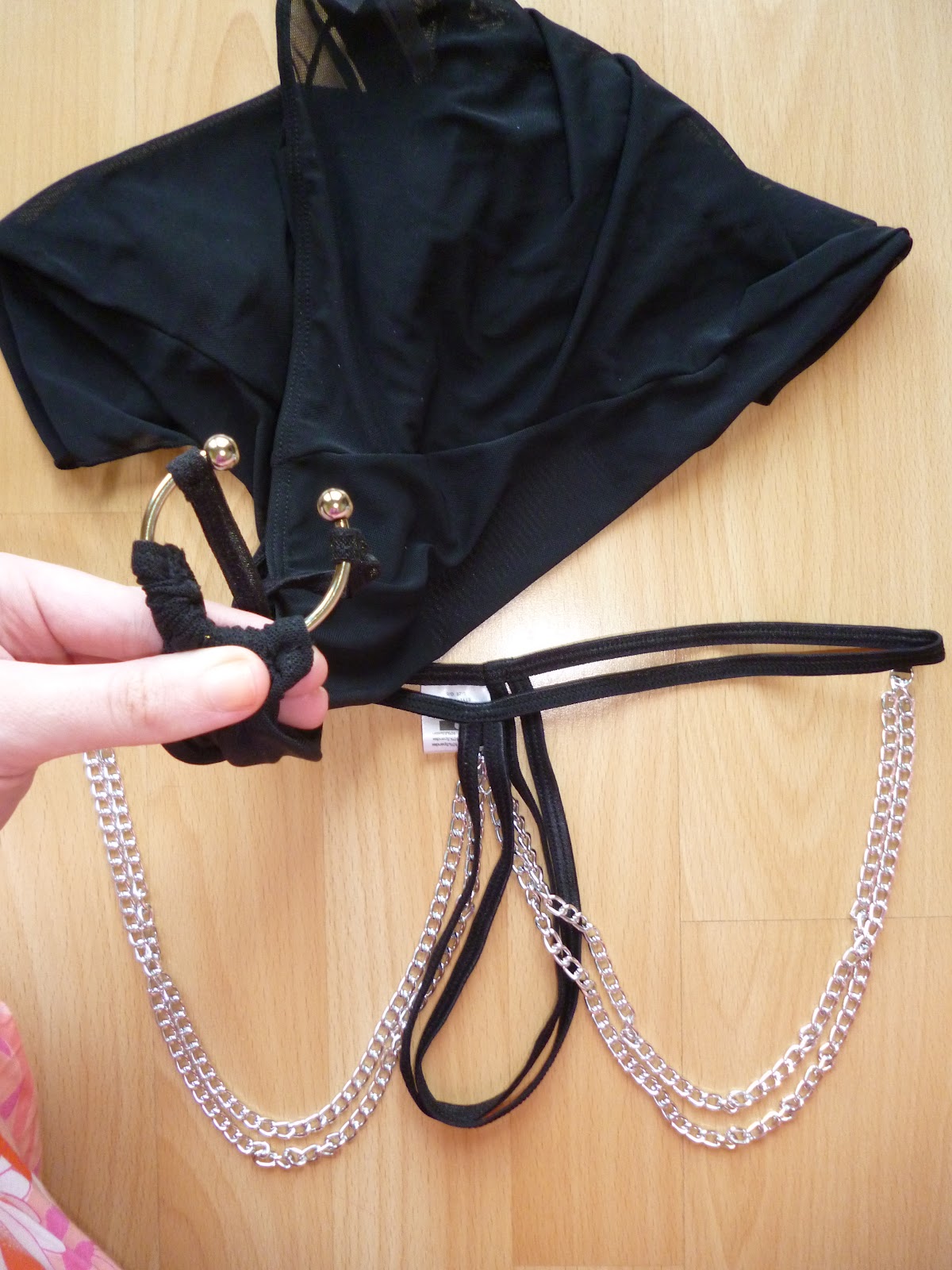 Experience
-DVD-
As I mentioned above this set comes with a bonus DVD entitled "Turn Ons! How to please your lover". The disc has a runtime of 70mins and despite its title is actually split into two programs. One is 23 different sexual positions the other deals with a few tips on different things to please your lover.
The one that shows sexual positions have people acting them out while a voice over explains why they work and how they stimulate her or him in what way. Overall it is pretty decent. They don't have porn star actors in it so it has more of a fun feel with real people, which is nice.
The second deals with various things to please your lover. It shows how to perform Cunnilingus
, Fellatio, anulingus and 69'ing amongst other things. There is even a section on using sex toys albeit a little bit basic. This section shows couples who act things out as well as discussing their views/experience with the camera. Overall the presentation is a little bit naff or maybe its just a bit basic. It is not actually as bad as I expected. While the advice is a little bit basic it would be very helpful to a couple looking to explore their sexuality together.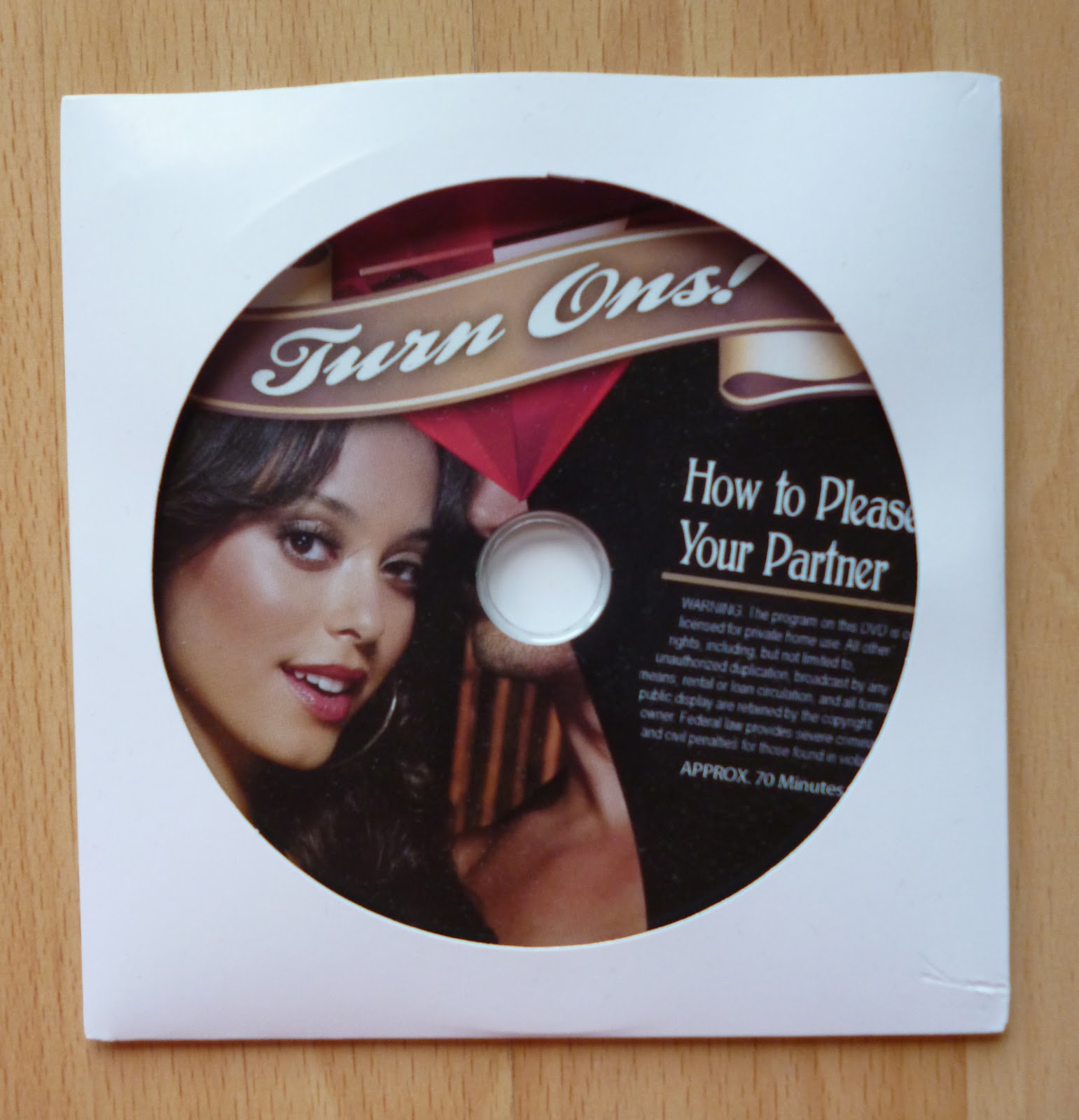 -Summary-
Overall we were very pleased with this item. Given its realatively small price tag we weren't really expecting all that much. But this set more than surpassed either of our expectations. The top is nice and while it will not fit a larger size woman it certainly looks well on those it does fit. The bottoms while lacking in any real substance are still nice to look at. Added to this the free instructional dvd then I have to say you won't do better for the price you pay.
This product was provided free of charge to the reviewer. This review is in compliance with the FTC guidelines.

Thank you for viewing
Flyaway babydoll, g-string and dvd
– babydoll and panty set review page!