Rawr! (S)
This set is a winner--it's not often that you can find a three piece set in which no piece is a dud. The robe is soft and modest while also sheer and the bra and boyshorts are comfortable enough for daily wear while also maintaining sex appeal. You really can't lose with any of the pieces to this set.
Published:
Pros:
roomy robe, soft, comfortable, interchangeable, well designed, variety of sizes
Cons:
static-y robe
The Exotic Affair Kimono set by Dreamgirl caught my eye immediately. I have never really been a leopard print person, but for some reason I loved it. When it came time for my assignment, I was assigned this, and I was really excited! As it was coming in the mail I wondered if I would like it, if I would regret requesting it instead of something else, but when I opened it and put it on, it was wonderful! All the pieces are equally sexy and comfortable. None of the 3 pieces in this set is a loser.
When I saw it online, the stock photo made it look like the lace was a brown color. However, it is definitely black, as can be seen in my photos. I like it this way because it can be mixed with other things even though all these pieces are great.
The set arrived on a thick black Dreamgirl hanger. I really like these hangers and use them to hang my regular clothes because they are so thick. However, it could be used to hang the set, especially since the boyshorts have little ribbons attached to hang them.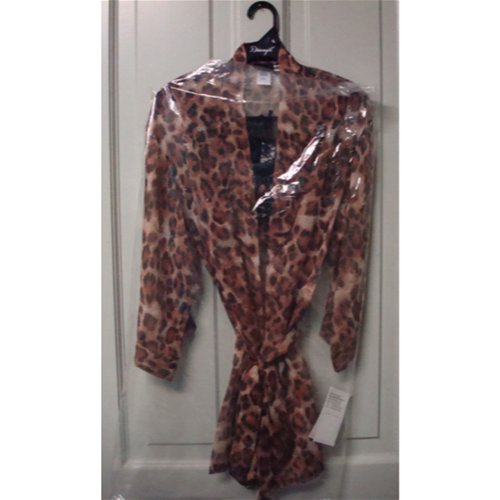 Bra and boyshorts:
This set is made of 100% polyester, including all trim, mesh, and lace, and of course elastic for the waist and bra band. It is to be hand washed in cold water and line dried. There is a very long cotton liner that is 9" long, because it lines the entirety of the leopard printed area. This should be sufficient for anyone's needs.
The boyshorts are soft, non-itchy floral lace on the front with a small black bow on the front center and a very soft mesh on the back with a leopard print crotch that extends up the back as well. At first I wasn't sure how I felt about it, but I think it's a really creative way to get it to match with the rest of the set and to set it apart. There was a lot of attention to detail on this piece. I guess these aren't really boyshorts, but more of a hybrid between boyshorts and a thong. Either way, they are very comfortable, even as someone who does not wear thongs.
The bra is similar, with the same floral lace for the cups and a very stretchy leopard print band that is less than an inch wide, and ends with a three-hook closure. There is no underwire.
Measurements of the bra:
Band - 26.25" long unstretched, 35.25" stretched
Triangles - 5" long outer side, 6.25" inner side, 5.25" bottom
Measurements of the underwear:
Waist, across - 12" unstretched, 17.25" stretched
Sides - 4" long
Leg hole - 9" diagonal
Liner - 9" (covers entire leopard printed area)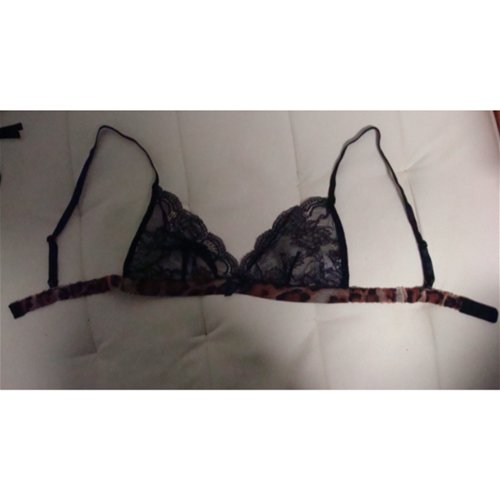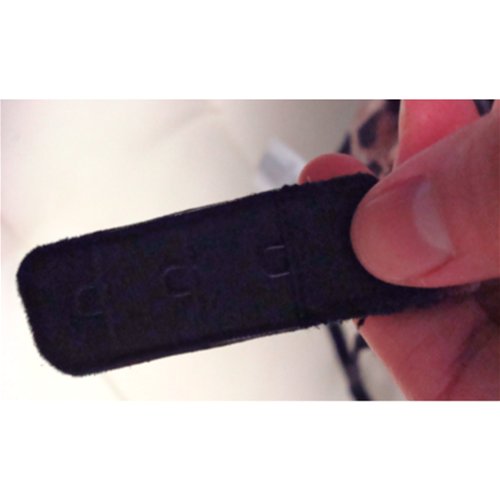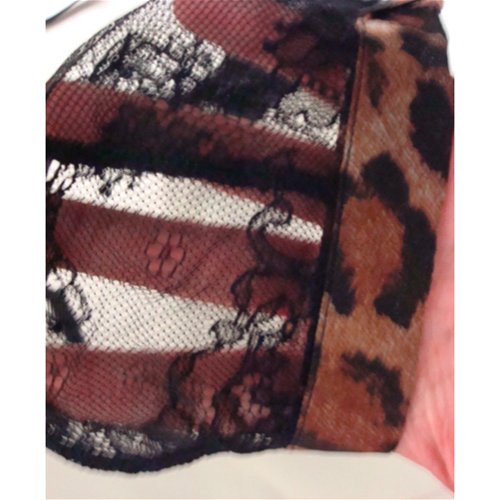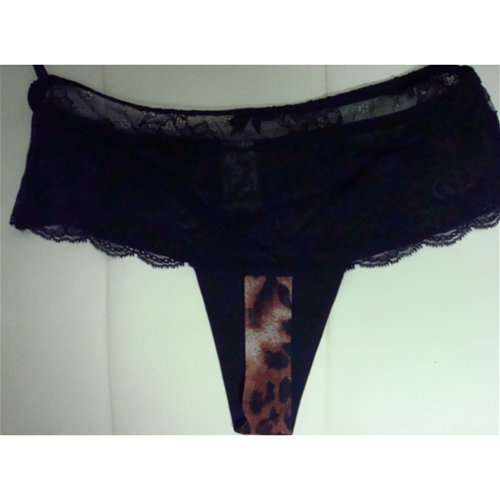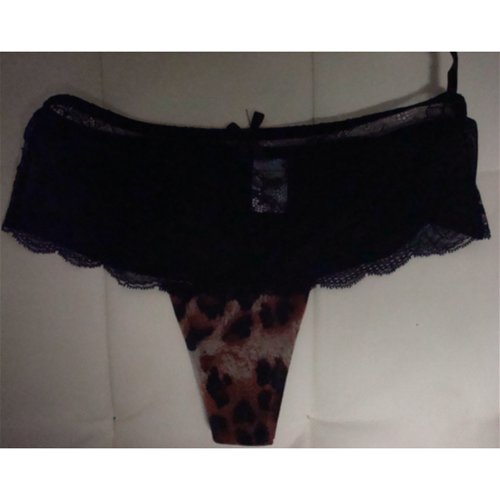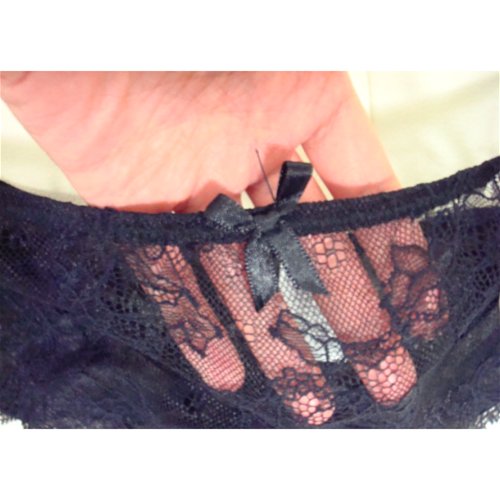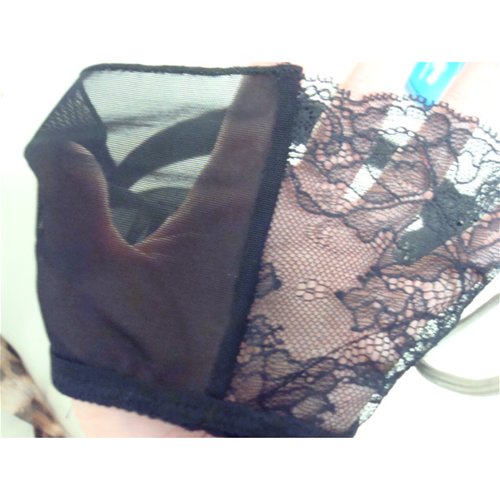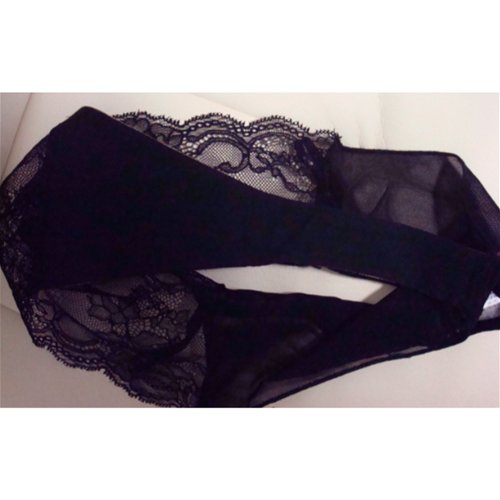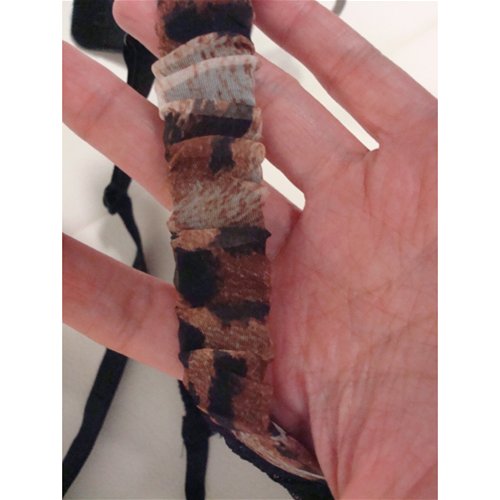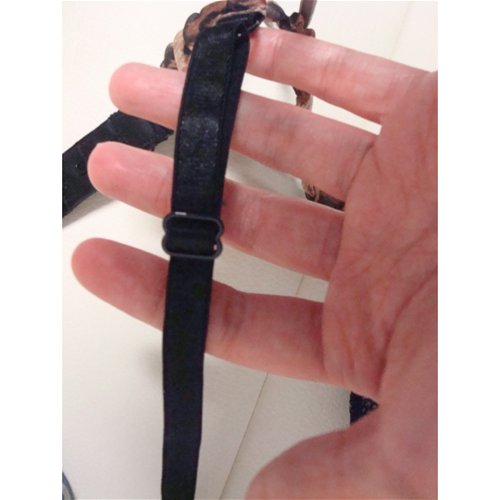 I think these are true to a small size. I am 5'2"ish, 26" waist, size 0/2 dress, and 32C cup, and everything in this set fit me exactly as I wanted it to. I think that other C cups, as well as B cups and even an A cup would work with this bra as well. It does have darts in it to help make it larger, so very small A cups should be wary of the bra.
Robe:
Don't order up to have a flowier robe. I worried about this since I own a size small Dreamgirl robe in another style and it was not flowy at all, but just barely closed. This robe is meant to be loose and ties very nicely. It is modest in what it covers, but is also pretty sheer. Darker things are harder to see through it, but as you'll see in pictures, bright red can very easily be seen through it.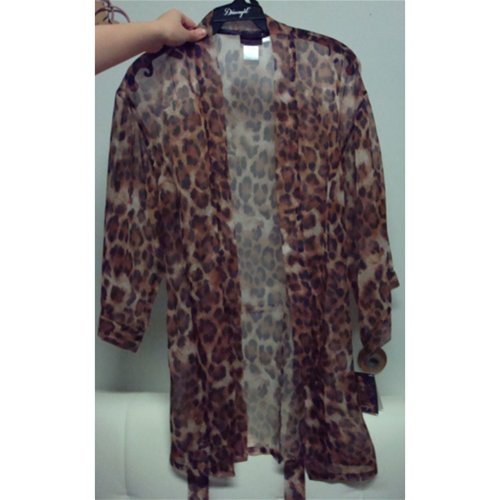 It's very soft and comfortable. It's well sewn. I haven't found a single loose thread. I've been wearing it for a few weeks now and it's much more comfortable than any other robe I have worn. Sometimes the softness of the material can make the tie come looser, but it never comes undone. I love that its semi-sheerness doesn't look frumpy but is modest. I hate having part of my butt exposed when something is just too short, but this covers it.
The robe also features a black ribbon to hang the robe on a hook. I use this as opposed to hanging it on a hanger. The tie is not attached to the robe. There are two loops that hold it in place.
Robe Measurements:
Bottom of robe, length - 42.5"
Sleeve width - 8" bottom, 10" where it attaches
Sleeve length - 11" bottom, 15" top
Robe length - 28"
Tie length - 71"
Experience
My partner and I love this set. It's comfortable, I've worn the boyshorts out and about underneath of clothing and I love them. I love the long liner. It's so nice that no one has to worry about it being in the wrong place. Everything fits perfectly, true to size. The robe is incredibly soft. My only problem with this set is that in dry heat of a house in winter, it gets SO static-y, and that drives me nuts. It's the only downside.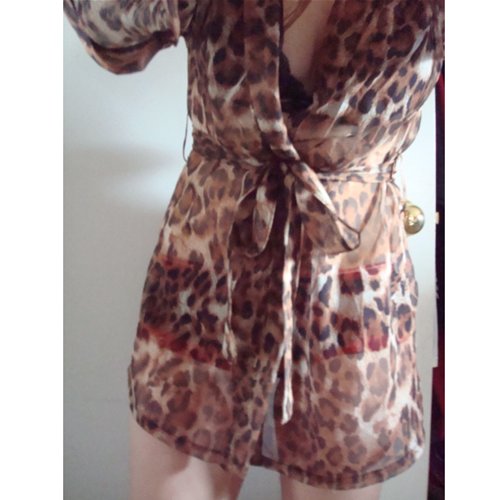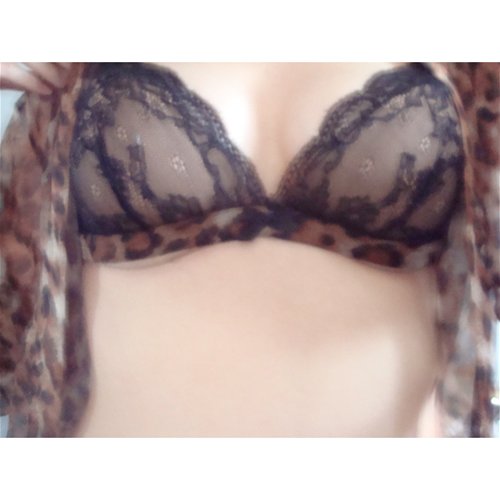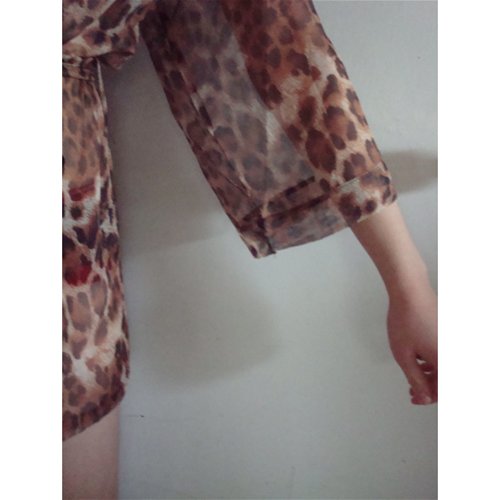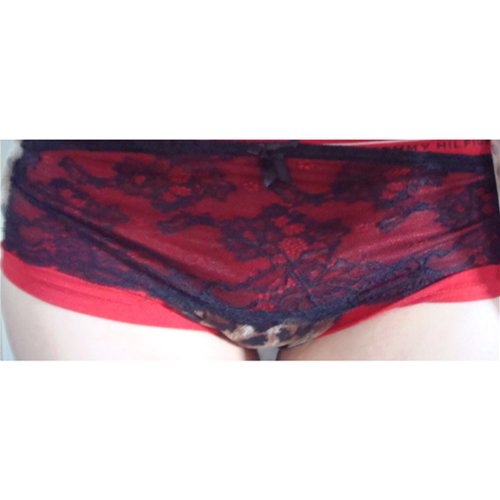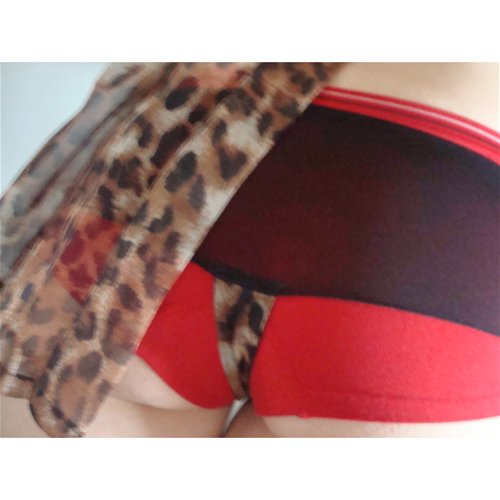 I love that part of this set can be worn under clothing, and therefore it will get so much use. The robe can also easily be paired with other things. Although I will be careful what I wear the bra under, I will wear it under thicker dresses, things with ruffles, and so forth, whatever won't let my nipples or the lace show through.
I'm giving it 5 stars, because the static-y thing is only seasonal and may not affect people in other climates at all. It's a three-piece set that can be relied on to provide three good pieces, not just one or two.
This product was provided free of charge to the reviewer. This review is in compliance with the FTC guidelines.

Thank you for viewing
Exotic affair kimono set
– peignoir review page!