Sexy & Sheer (3X/4X)
This sexy set includes the kimono robe, bralette and panty. The set is very lightweight and comfortable.
Now seriously, don't laugh about what I'm going to write below.
The robe feels and looks like my old curtains that I used to have. This is not a bad thing because everyone always commented on how pretty my curtains were. You just can't beat this set with it's comfort and style. I'd like to see the set in solid black. The lightweight feel makes me want to wear the set all the time!
Published:
Pros:
-Lightweight
-Sexy
-Flowy
-Comfortable
Cons:
-Some people may not like the animal print
I ordered the Exotic affair kimono set in size 3X/4X by Dreamgirl. I ordered larger because I felt that the robe would be easy to wear if it was bigger. I'm glad that I got that size because the bralette fit me, although the robe and panty were giant on me.
My size of XL or 1X/2X would have never fit me in the bra area so I tried this size.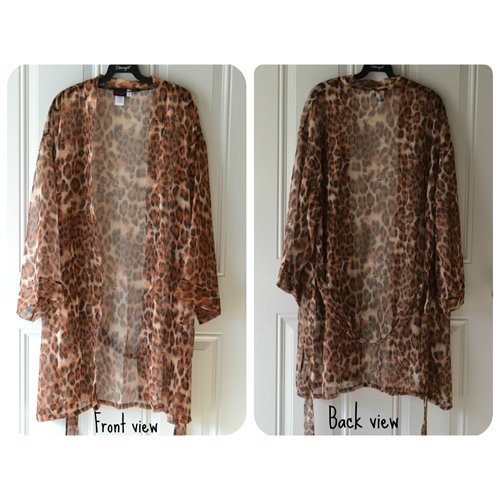 The set arrived on a plastic hanger. There was a clear plastic on top of the set to protect it from the elements.
The Exotic affair kimono set comes in several sizes such as:
-Small
-Medium
-Large
-XL
-1X/2X
-3X/4X
Care Instructions
Care instructions suggested for the set is to hand wash and line dry. Do not use an iron or do not place in a hot dryer. To keep it wrinkle free, hang the pieces on the hanger that it arrived with or if you have an unused padded hanger, that would be nice. I like to use my lingerie wash on these items that are a little more sheer and thin. It keeps them softer and longer lasting. You can find some
Here
The robe is big as expected and the panties are big but I'm sure I can shrink them to fit me, since they seem to be well made. The set does run true to size. Below, I've listed the Dreamgirl sizing chart.
Cup Bust (in) Waist (in) Hip (in)
Small 2 - 6 A - B 32 - 34 24 - 26 34 - 36
Medium 6 - 10 B - C 34 - 36 26 - 28 36 - 38
Large 10 - 14 C - D 36 - 38 28 - 32 38 - 40
Sm/Med 2 - 8 A - B 32 - 34 24 - 26 34 - 36
Med/Lg 8 - 14 B - C 36 - 38 28 - 32 38 - 40
1X/2X 16 - 18 D - DD 40 - 48 36 - 40 42 - 48
3X/4X 18 - 20 DD 48 - 54 40 - 44 50 - 56
O/S 12 - 14 B - C 32 - 38 24 - 32 34 - 40
Q- O/S 16 - 20 D - DD 40 - 54 36 - 44 42 - 56
Here are the measurements of the pieces-
Robe
Full width horizontally across waist area- 58"
Full length -Top to bottom- 41"
Sleeve length from shoulder seam- 17.5"
Robe tie length-83"
Bralette
Bra cup diameter at fullest part- 9 1/4"
Bra straps longest length- unstretched- 19-1/2"
Bra straps longest length- stretched- 23"
Bra straps shortest length- unstretched-9"
Bra straps shortest length- stretched-11-2/3"
Total length of bralette waist band- unstretched- 37"
Total length of bralette waist band- stretched-42"
Cup size will fit Large C-DDD best.
Panty
Waist measured across unstretched- 18- 1/2"
Waist measured across stretched 26- 1/2" Can fit to a 53" round waist
Top front to top back unstretched- 23- 1/2"
Top front to top back stretched- 26"
Length of cotton crotch panel- 12- 1/2"
My Measurements/Sizes
Height- 5'2"
Shirt size- L or XL
Panty Size - 7
Waist- 37"
Hips- 42"
Bra size- 38F
Robe
The material is super sheer on the robe. It's very thin and would be best worn in the summer time as it's not very warm. The robe isn't itchy whatsoever and the material is not stiff. It's definitely flowy and moves well with the body. The robe seams were sewn with a commercial Serger, the seams are sewn very well.
Before I put this on, I thought it would rip easily but I've worn it around and sat down with it on and it holds up well. The polyester material used for the robe is not stretchy. There is no give to this fabric. Like I mentioned above, it feels like sheer pair of curtains. The sleeves are long on me because I'm short. The sleeves come to my wrists. On someone taller, the sleeves should hit mid-forearm like some other Kimono robes do. If you are over 5'4", this shouldn't be as long. The robe wrinkles with wear but not to an extreme amount. I just tested this out by sitting in it and then putting it in a ball and placing on the table. I picked it up about and hour later and there were minimal wrinkles. There are 3 tags in the back of the robe. The bottom tag is white and gives the care instructions and there are two tags on top of that one. The black tag is the branding tag. It has Dreamgirl in cursive lettering on that tag. The last tag is a small white tag that reads- Made in China in 3 languages.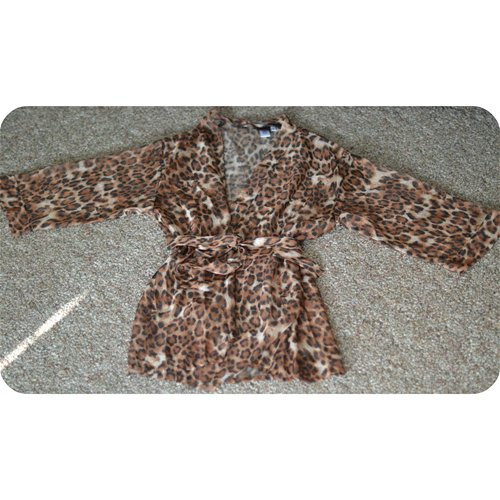 Experience
(Continued)
Bralette
The bralette is made of 3 types of materials. Polyester, lace and elastic are used in the making of the bralette. On the front of the bralette breast band, there is a small black bow made with satin ribbon; the ribbon looks to be 1/8" width. The band on the breast is animal print and the full front portion of the band is not stretchy. The bands sewn onto each side of the front band are stretchy and the bands are basically elastic covered by the animal print. The back of the bralette closes by the usual hook and eye system. There are 3 rows of eyes to help make for a wider range of fitting. I wore it on the tightest fit. The cups are lace only. There is no lining inside. The bralette doesn't have underwires. There isn't a ton of support in the cups but it's still sexy looking.
For lace to be used only, it didn't itch or irritate me. I was surprised. The lace is a rose pattern and it is see through. The straps on the bralette are basic bra straps, very stretchy and elastic. They didn't dig into my shoulders, even with the boulders that they were holding. Larger breasts will cause the back to come up higher because of the weight. I have to keep adjusting it when I'm doing a lot of bending and so forth but It's comfy and I like it.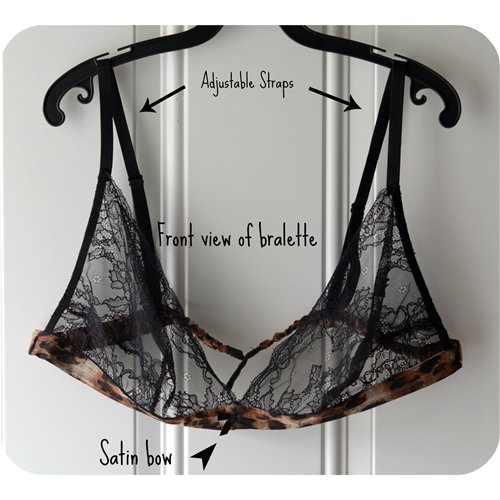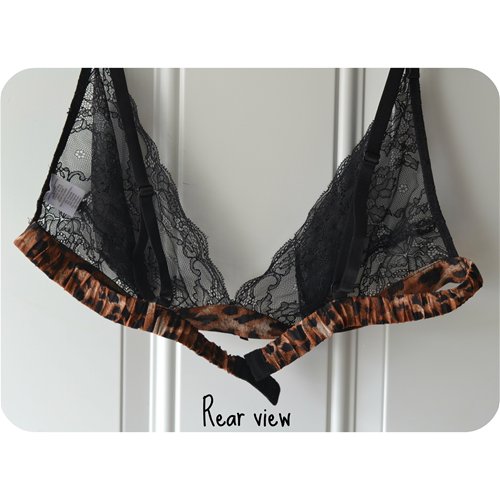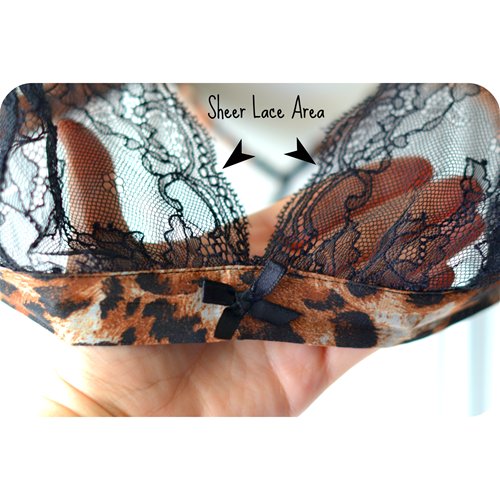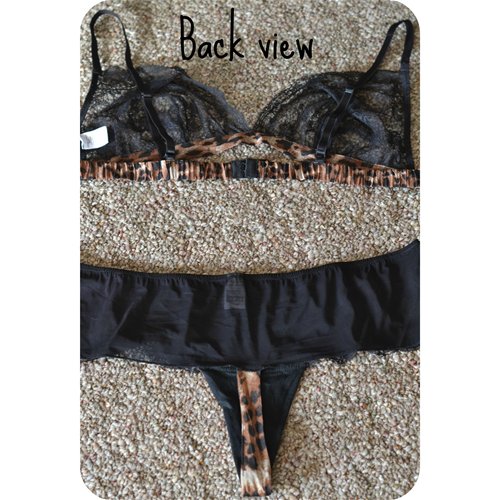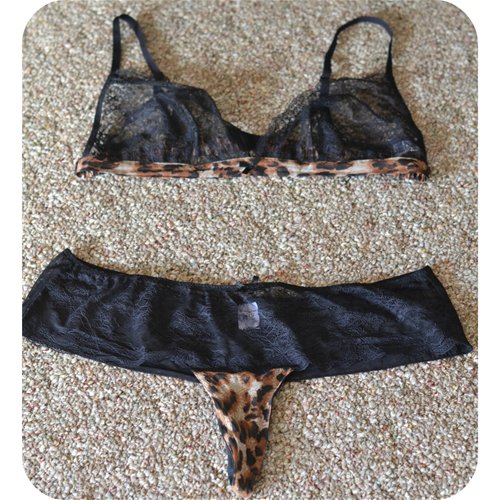 Panty
The front of the panty is all lace. It's the same lace as used on the bra cups. The full waist of the panty is a thin elastic and it's very stretchy. It didn't cut into my waist. There is a small black bow on the front of the panty. It looks to be the same one as on the bralette. The back of the panty is a black mesh that is sheer and stretchy. The mesh is soft and not itchy or irritating. The crotch area that runs from the front to the back is the same animal print as on the bralette and robe. For the full length of the animal print on the panty, there is a black cotton lining that runs all the way for the crotch. I really liked this idea because I usually get a small cotton lining in other panties, but this works great to fit any size pubic area and can work for both genders. The panties have a cheeky look to them. There are satin hanging ribbons on the inside of the panty on both sides. These are helpful for hanging the panty on hangers. Even though these weren't a bother to me; I will probably be cutting them off. There is a single tag in the top of these in the back. It tells the care instructions which are to hand wash in cold water and line dry. The size is also included as well as the material used which is 100% polyester.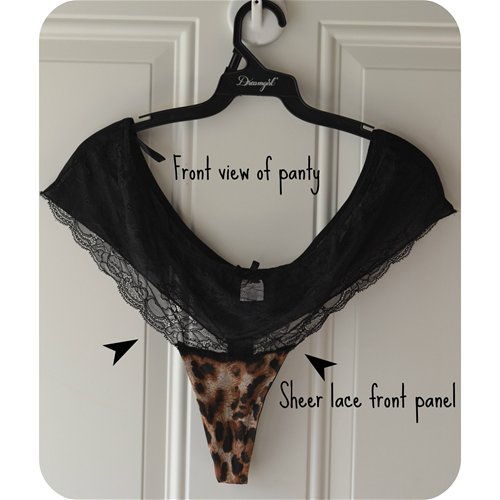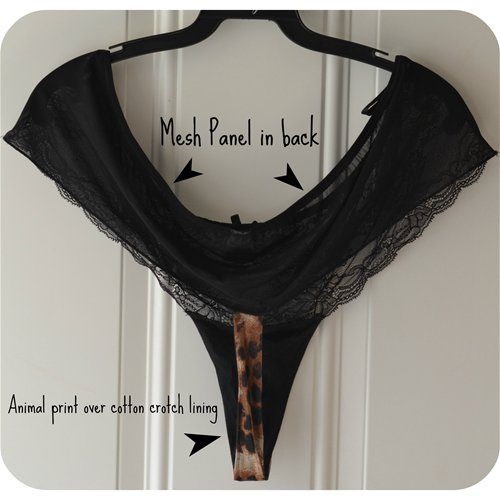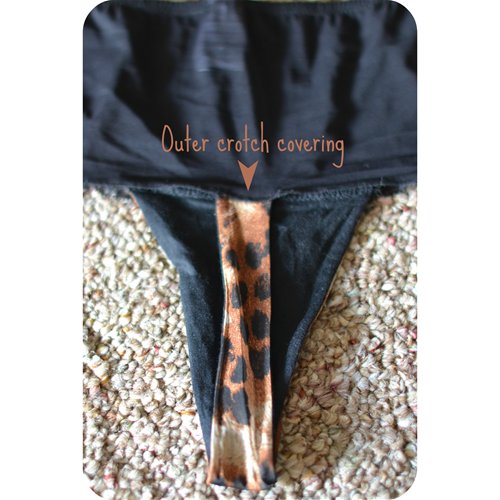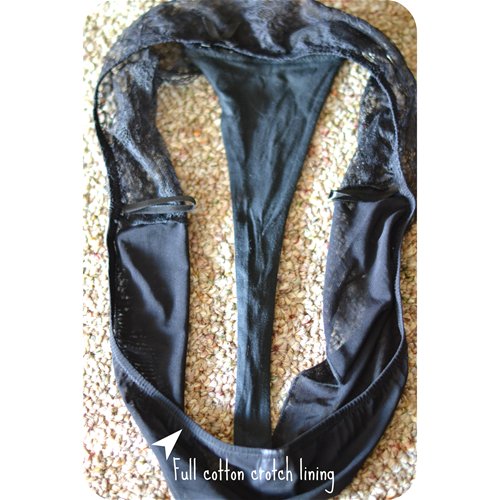 Follow-up commentary
27 days after original review
This is still a nice set. Since it's winter now, I'll find myself wearing this more in the summer time. I think it would be perfect for those warm summer nights. I especially love the bralette.
This product was provided free of charge to the reviewer. This review is in compliance with the FTC guidelines.

Thank you for viewing
Exotic affair kimono set
– peignoir review page!