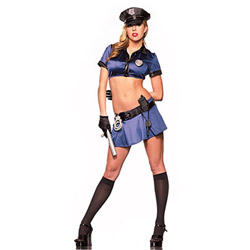 Sexy officer costume
Costume by Fantasy Lingerie
Ready to Cop a Feel?
If you have to pick one cop costume, this one takes the cake for convenience. It's got the sexy appearance of much more complicated outfits without as much finagling. It does exactly what it is supposed to do and nothing more: show off your hot body.
Published:
Pros:
Comfortable, easy to put on and take off, cute, well made accessories, shows off the goods
Cons:
Snap buttons may bust, sleeves may make you a little sweaty.
I've worn more than a couple (dozen) cop costumes in my day and this one ranks up there in comfort, cuteness and ease of wear. What it lacks in sturdy construction, practicality and verisimilitude it more than makes up for in its ability to sexily frame a chiseled torso and long legs.

Easier to get into and out of than most costumes, the Sexy Officer Costume is one of the simplest, most intuitive and comfortable get-ups on this entire site. If you can handle three buttons and the concept of pulling on a skirt, you're set. What you do with the resulting look is up to you.

The top covers the shoulders, chest, upper back and breasts. It stops just below the bra line so you can wear a padded bra for a bustier look or let the girls free and they'll be safely contained without fear of nip slippage. It's a cute piece, very easy to move in and flattering to anyone who dares to go bare on the midriff.

The first time I removed the top, though, the bottom snap button broke free of the fabric, staying affixed to the other metal snap instead. It's not the end of the world, since I do own safety pins, but it would have been more encouraging to have it last at least one wear without damage.

I was also a little annoyed by the short sleeves, but this may be a matter of personal preference. I find it silly how revealing an outfit can be, yet the armpits are covered, resulting in the sensation of being much warmer and sweatier. Arguably, this just gives you more impetus to go ahead and strip down, but for those who want to wear this costume to a lengthy party, consider putting sweat shields in beforehand.

The skirt is adorable, with sweet seams that emphasize the curves of the butt. But that accentuation is a little unnecessary, since your actual butt will be entirely visible. The skirt, in actuality, is a mere homage to a real skirt. It covers the front like a loin cloth and the back like a size-able belt. I was completely fine with this, since it meant my money makers were highlighted, but I just didn't want you to be surprised. Throw on a pair of boy cut shorts for more modesty if you like.

Accessorizing the outfit are some really cute extras: a cop hat, night stick, handcuffs and belt. The hat is well-constructed and far more durable than many cop costume hats. It's actually one of my favorites. The night stick is also well made and should last longer than most novelty accessories. There is nothing but good things to be said about the belt: it's got notches all along its length so that any size of girl can wear it perfectly and the quality is far superior to most costume belts. Don't expect the handcuffs to replace any of your metal pairs in your S&M play, but they'll do the trick as a lightweight alternative locked around your belt loop. What they lack in strength and quality, they more than make up for in convenience and mobility: they won't weigh down your skirt like a real pair of handcuffs would.

Notice that this list of accessories DID NOT include a walkie-talkie or gloves as pictured on the package. You won't miss either of them. You may want to go ahead and add a pair of thigh high hose to finish off the ensemble. At minimum, wear some black shoes to make the look symmetrical from top to bottom.
Follow-up commentary
28 days after original review
Wore this again for a night of semi-public debauchery. Everyone loved it. I paired the outfit and accessories with some giant gold aviator sunglasses and the look was complete. I looked super cute, felt entirely comfortable and able to move freely and despite my initial concerns about the sleeves, they never became bothersome as I got warmer.

Word to the wise: Keep the handcuff keys handy, cause the handcuffs will actually remain locked to things, even though they're simple and plastic.
This product was provided free of charge to the reviewer. This review is in compliance with the FTC guidelines.

Thank you for viewing
Sexy officer costume
review page!