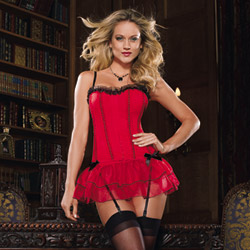 Lace trimmed corset with skirt
Corset
by DreamGirl
Really Pretty But Not What I Expected For My First Corset! (Size L)
The Lace trimmed corset with skirt and thong is a very beautiful piece. You get three pieces for a decent price. Have you ever seen something so pretty and just wanted to grab it? Well this was one of those outfits for me. It was out of stock and when it came back in I jumped on it.
Published:
Pros:
Beautiful, 3 pieces to the set, Easy to get on
Cons:
Plastic boning was bent up, I have a batch of thread in one spot that I don't want to even touch
The Lace Trimmed Corset with Skirt by DreamGirl is a really pretty piece. The color of this is what really drew me to it. It is red & black, and hot. This outfit can be worn two ways. One is with the corset and thong alone and the other is the corset, thong and skirt. I like the variety of being able to do that.

This corset has hook and eye closures in the front. I counted 17 to be exact. In the back there are two lacings to lace this outfit up. One is on the top part of the corset and the other is on the bottom. I thought it was one lace up string to it until I put it on.

The corset has two bows on the bottom of it that are really pretty and lace trim on the top part of the corset where the boobs are. I thought it would look a lot better than it did. There are removable straps that you can take off if you do not want to wear them. The same goes for the garter straps if you don't want them on you can remove them. I found them irritating so they will be coming off. There is plastic boning that was kind of bent in one spot when I received it. There is no under wire in this corset at all.

There is a thong and it is comfortable to wear. The shape of it is different than most thongs. The skirt that comes with it is red and black as well it is split into two frilly parts. Hopefully I am explaining that right.

All three pieces of the outfit are 100% Polyester. To care for them you have to wash it in cold water and put it on the line to dry. Do NOT ring the corset out. It also says not to use a dryer. Who would want to mess this gorgeous piece up?

This corset comes in S, M, and L. The cup size says (one size fits most). I went with the larger size to be on the safe side. On the size chart Large is meant to fit Size 10-14, Cup C-D, Bust 36-38, Waist 28-32, Hip 38-40, Inseam 35 1/2 in, Rise 8-8 1/2, Weight 140-150.

My sizes are Size 9-10, Bust 38b, Waist 40-41, Hip 42, and Weight 146 lbs. I don't know the inseam and rise for myself. I am off on a little bit of things but it did not feel tight on me at all as a matter of fact. I don't know if it is because my neighbor did not tie it tight enough and I know they are supposed to be pulled in tight to help with the shaping of the body, but it just did not feel that way and I was kind of disappointed.

This top would look nice with a pair of jeans if you want to take the look out the bedroom.
Experience
I was so excited about this outfit, but the excitement changed when I finally got a chance to try it on. I had my neighbor help me because I knew the back would be difficult to do on my own for the first time. I am glad I had her help me. The first thing I was upset by was the batch of thread in one spot. I won't try to do anything with it because it looks like it would fall apart if I did. The second thing that upset me is that the skirt did not lay down in the back like it did in the front. The corset also did not give me any type of cleavage on the top, it flattened my chest instead. I had high hopes for this outfit but the search goes on.
Here are pics of the outfit. I will explain each part to each pic I took.
This is the part I mentioned with the batch of thread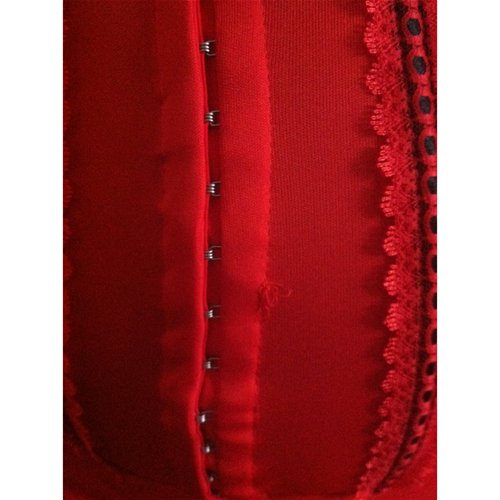 Full shot of front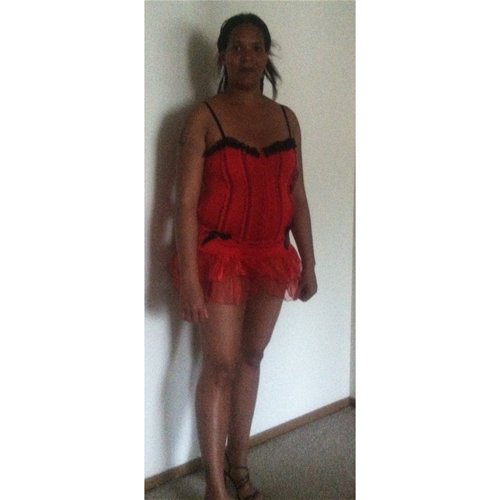 Not too much of uplift on the boobs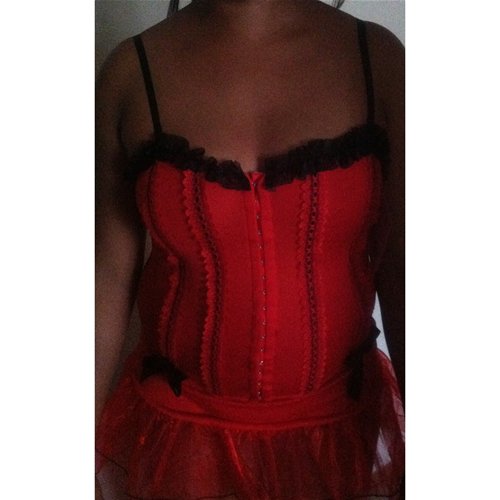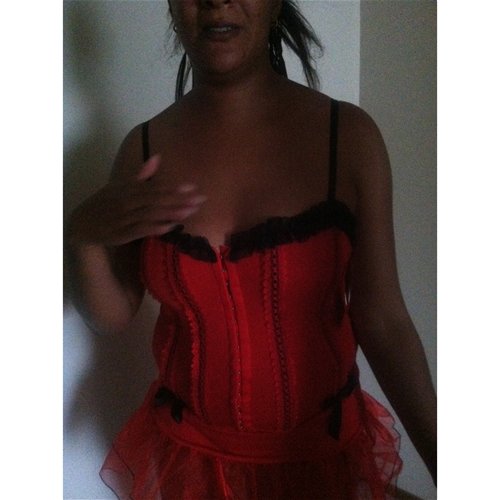 Trying to get the frills on the skirt to show the difference in front and back also how it looked in the back; weird and one side was in and the other was not. Can't explain just look.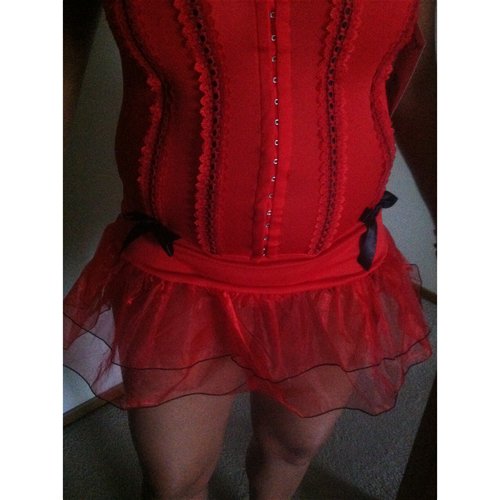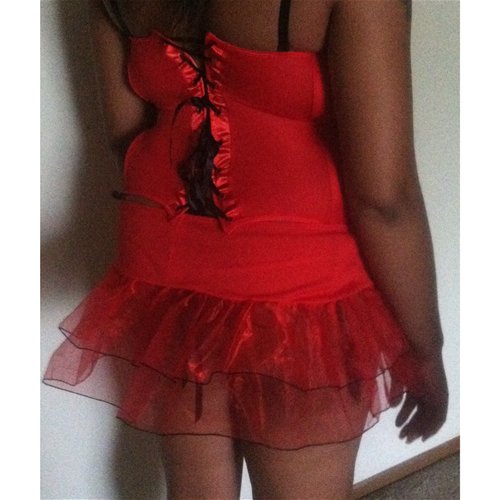 Showing the garters off I did not put on thigh highs and clip them since I won't use them.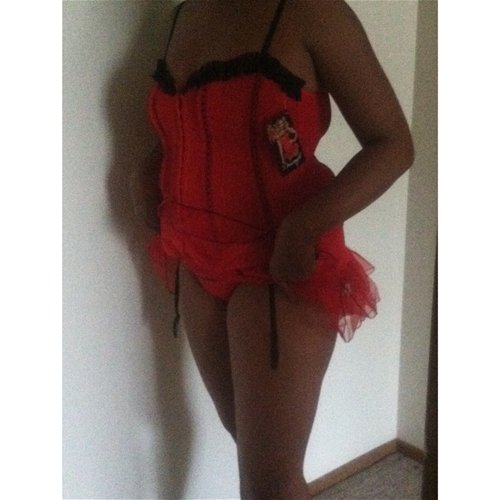 Follow-up commentary
1 month after original review
Since I have got this Corset it sits in my closet. I will not wear this out anywhere or even cam in this outfit. It was such a let down. I have moved on to bigger and better ones now.
This product was provided at a discounted price in exchange for an unbiased review. This review is in compliance with the FTC guidelines.
Thank you for viewing
Lace trimmed corset with skirt
review page!