Red Extreme Thigh Highs, I roll you up. Let's have a party. . .oh wait you fell down again.
These truly are 'wonder stockings'. They will leave you wondering what is so extreme about them, how to get them to stay up, and if you even got the right ones! With the wonderment aside, you will get a soft and durable pair of stockings that are comfortable to wear. The only issue with them staying up.
Published:
Pros:
Soft material, Durable, Lace tops are stretchy enough to fit a variety of thigh sizes.
Cons:
Stockings fall down and roll, Doesn't appear to have any silicone
I thought for sure when I ordered these stocking I was getting "Extreme Thigh Highs with Silicone Stay Up Lace Tops". Now, I'm not disputing that I got Extreme Thigh Highs, or that they have lace tops, but there certainly is seems to be no silicone inside these beauties. I took the time to submit a support ticket to be sure I had in fact received the right item, and as it turns out I did. Apparently the silicone is in the hem where the lace meets the sheer part of the stocking. I'm just going to have to take their word for it because I have yet to see, feel, or experience its benefits.
The packaging these stockings arrive in are, to be blunt, they are boring. They are what you expect stockings to come in; an envelope with a model wearing the stockings on the front with the name of the hosiery, and another picture of the model from a different angle and size information on the back. You can also find the washing instructions and material makeup on the back. On the inside the stockings are wrapped around a thin piece of cardboard. You could use this to store your stockings if you are picky or worried they may get tangled up in your drawers, but they will do fine without it.
You get a selection of 5 sizes when you order these stockings ranging from small to 2X. I went with the 2X which was said to fit someone who is 5'3"-5'10" and 200-245 pounds. I have no issue with the way these fit, and judging based on my fit and size alone. I would say they are pretty accurate. The lace is plenty stretchy enough to fit a variety of thigh sizes. Once it is stretched out, it doesn't go back to the original size.
These stockings are made of 100% nylon and are some of the softest I have personally ever felt. Usually when wearing any kind of hosiery I find myself reaching down my legs constantly to scratch the various itchy spots all over my legs eventually leading to them being destroyed by my fingernails. I thought this was the normal, but since wearing these stockings I have not have a single itch That means I have actually been able to wear them several times! Even the lace tops feel pleasant when worn. While the stockings are not very thick feeling, they do seem to be very durable. Even with some vigorous pulling, tugging, and rubbing on things they have not had a single run or snag. I definitely feel pleased with the quality and believe they could withstand a good bit of abuse. To keep them in tip top shape it is recommended that you hand wash the stockings in cold water and drip dry them.
Even with all the great qualities these stockings have. They still have one fatal flaw, they don't stay up. If these stockings do in fact have silicone in them, the silicone certainly is slacking on the job. I don't always want to wear a garter belt, but this doesn't mean I want to spend every other minute pulling my stockings up either, but I don't really have that luxury with these stockings. I was a bit shocked to see that even without the silicone bands I thought would come with these stockings, they still had a tendency to roll down a little.
This is the hem where the silicone is supposed to be located, but I don't see it.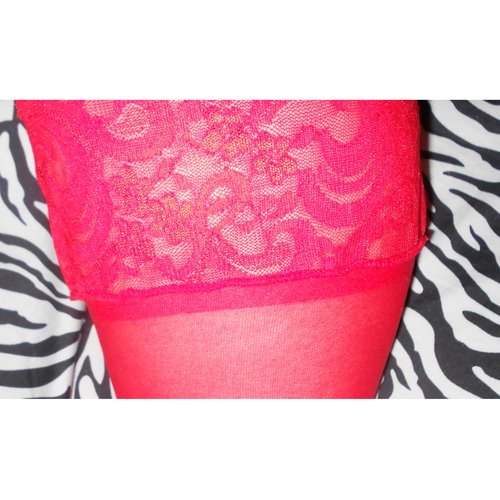 Overall, you are getting a great pair of stockings quality wise. However, the falling down factor takes away from the experience when wearing them. If you don't mind wearing a garter belt, these will probably work just fine for you. The only other issue I have aside from the falling down and slight rolling is the question I'm left with.. What is so extreme about these stockings?
This product was provided at a discounted price in exchange for an unbiased review. This review is in compliance with the FTC guidelines.

Thank you for viewing
Extreme thigh highs
review page!