Red sheer thigh highs with back seam
I purchased these for less than the price here on Eden, which is suprising because EF is generally ALWAYS cheaper than other stores. Even though I've worn these over a dozen times without snagging them and causing any runs, I wouldn't pay anymore than $7 bucks for these. I have millions of pairs of thigh highs and these are some of my least favorite just because they are high maintenance keeping everything lined up and where they should be.
Published:
Pros:
soft, available in two sizes, can be worn with or without garters
Cons:
can cause muffin top on thick thighs, back seam is hard to keep straight
I purchased these red sheer thigh highs around Christmas time to wear with a red and white candy striped chemise I got, but I have found that they are a great pop of color with my all black items when I want to change up the look from time to time.
Dreamgirl made these sheer thigh high's with a back seam in three different colors. Those being red, black, and white. Even though they're different colors, they all have the same design. That being simple with a semi-thick band at the top of each where it opens and sits on your thighs, and a thicker solid, nylon colored seam that runs down the back of your leg. This seam can be quite frustrating to get lined up to the middle of the back of your leg and once you do it is a pain to get it to stay like that. Either way that one detail gives these thigh highs a step up from being a plain pair. There is no toe reinforcement in these either. Which is fine because unlike fishnets where you have to worry about your toes sticking through, these are solid. The only thing you might have to worry about is if you have long toe nails then they might snag and cause a run in them.
These are listed as sheer but as you can see in the pictures I would more list them as semi-sheer. Sheer to me is when there is just a hint of color, and these are alittle more than that. Compared to the black opaque thigh highs they aren't quite as solid in color but you can see my tattoo through them just about the same.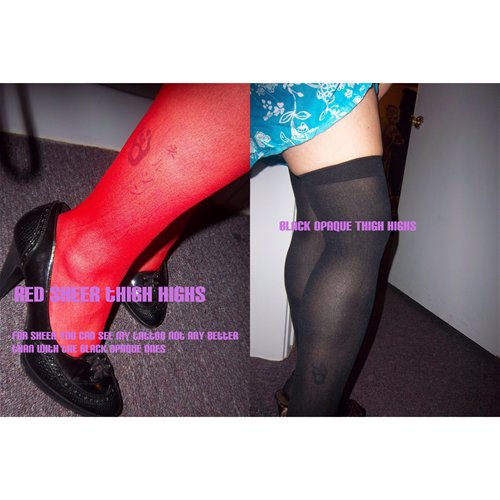 Being made from 100% nylon these can be fragile and catch on things easily, as with most nylon products. Something I have noticed about these as I hope you can tell in my pictures, is in certain areas there are thicker lines of nylon which are brighter in color than other spots. Runs of color? Either way it is really noticeable in the red and makes it so I will only wear these in the bedroom where it's darkly lit.
Dreamgirl makes this style thigh high in two different sizes:
one size fits most: from 90lbs. - 160 lbs.
plus size: from 165lbs. - 265 lbs.
I had purchased the one size fits most as I fall just below the top of the size range, and even though I have thick thighs the rest of my legs are small. They fit me fine besides for having to wear them just above my knees to avoid an extreme muffin top because my thighs are so thick. Even at my knees when worn without garters, they often roll down on me. Please note though, I am 5'4 and when these are stretched to the farthest they can go they reach to right under my cooch! So it is my choice to have them sit so low.
Experience
They are delivered to you in a cardboard box with a picture of a model wearing nothing but the thigh highs and a thong so not very discreet. On the package it states to hand wash in cold water and to line dry. I really wouldn't recommend storing them back in this cardboard box after every use just because it is a waste of space but you can if you would like. Personally I have a seperate back that I store all my thigh highs in, it's just easier for me!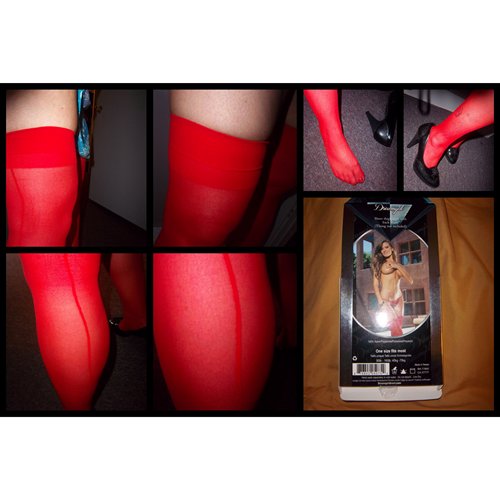 Follow-up commentary
1 day after original review
I feel as though I can write my follow up so soon because I have had these for so long, and I don't think my opinion will change on them anytime soon! Yes, they are great because they have lasted for quite awhile without any runs, but the bloches of color really bother me!
This content is the opinion of the submitting contributor and is not endorsed by EdenFantasys.com
Thank you for viewing
Red sheer thigh high
– thigh highs review page!