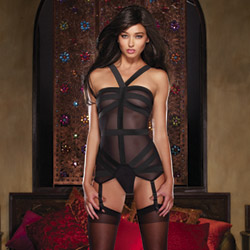 Futuristic fantasy mesh teddy
Teddy
by DreamGirl
Remember Leeloo from The Fifth Element? I'm her evil twin.
If you're courageous and willing to try something new, you won't be disappointed. This is definitely an eye-catching piece! It has a lot of features that make it adjustable and forgiving, and it feels incredibly sexy too!
Published:
Pros:
Stretchy, unique piece, detachable garters, snap closure thong
Cons:
Complicated to put on, thong part is a little uncomfortable
Overview and features
This teddy features several pieces of elastic that make this such an interesting piece of lingerie. The neckline has two pieces of elastic that create a V-shape with the straps. They connect in the back to straps not unlike bra straps. So not only is it stretchy, it's also adjustable. Also similar to a bra, the back has five hook and eye closures, though this piece only has one option for connecting them. It's definitely something you could use a bra extension for if it's a little tight around your back, though.
The torso has a long elastic strap that runs from the center of the bust down to just below the crotch, where the teddy's thong begins. Attached to the longer strap are several other straps that wrap around the torso and hips, creating very interesting geometrical designs. I wasn't thinking that this piece was going to flatter my curvy body well, but it's not as bad as I expected. It didn't dig into my skin tightly like I had imagined. Even though there is no underwire to proactively support the bust, the six elastic pieces covering the breasts do a decent job - definitely better than nothing.
(Honestly in writing this review, it took me a while to figure out how to set this out because of how the straps are sewn together. When I'm not wearing this, it's almost like trying to find the end of a ball of yarn, the way the pieces tangle together!)
The bottom portion features a snap closure thong with two snaps. I did notice the bottom part was a little snug, so I wish it was elastic like the rest of the piece. I noticed some people commented on the item's page that they don't like the thong portion's design in the front. I think because it's so odd-looking, it actually adds to the futuristic look and I don't have any objections to it. It's refreshing to see something besides the usual panty styles you see on every other piece of lingerie out there.
There are detachable garters on the bottom in the front and back as well. They're the plain plastic type that are most common on garters. I usually don't wear stockings with my lingerie pieces, just because I'm lazy and it's frustrating for me to put on garters. Because of that, I appreciate pieces where the garters are detachable.
Packaging and storage
The teddy came in the usual inconspicuous brown box from Eden with brown paper for stuffing. It was hung on a clear plastic hanger, which was snapped in half somehow already. If it weren't broken, you could definitely store this teddy on that hanger. It has the inner loops that a lot of blouses and dresses have for hanging up. It didn't come with any sort of plastic covering.
Material and care
The main material in this teddy is a stretchy mesh. The elastic straps covering it are made of a thick black elastic.
The tags on the inside say the following:
Hand wash in cold water
Hang dry
88% Polyester
12% Spandex
Made in China
I really wouldn't recommend machine washing this, but I think on a delicate cycle it may hold up. Just don't stick this in the dryer, and definitely don't try to iron this piece.
Sizing
According to the size chart, I am a large for this piece. Indeed, this piece fit me as it should and it was true to size! Even though the piece features elastic so it will stretch a lot, I recommend sticking with your size and don't order a size down. The elastic wasn't particularly tight or loose, but I think if I ordered a medium, it might be a little too snug for me. I definitely appreciate how stretchy this piece is though.
Experience
This piece definitely caught my eye from the moment I saw it on the new additions tab! Assignment or not, I had to have this either way. I've recently been willing to try out more unique pieces of lingerie, and so far this is my favorite piece. My first thought was, "Oh! Leeloo's outfit from The Fifth Element!" even though it's black instead of white. It's definitely futuristic, as the title suggests. I used to shy away from form-fitting lingerie, but there's something about this piece that makes me want to wear it all the time! The only thing I don't particularly like is the thong portion, which knocked off one star from the rating. If it were elastic, it would be more comfortable and I might even consider wearing this under normal clothing. Overall, though, I know this piece is going to be a favorite of someone else in the near future, too! I'm so happy Eden added this piece.
Here are some crappy pictures from my computer's camera. Sorry for the quality.
Front:
Back:
Follow-up commentary
3 months after original review
This is a neat concept, but honestly is not the most comfortable and easy piece of lingerie to put on. I don't really have a desire to put this piece on that often because every time I try to put it on, it gets tangled and gets me frustrated.
This product was provided free of charge to the reviewer. This review is in compliance with the FTC guidelines.
Thank you for viewing
Futuristic fantasy mesh teddy
review page!