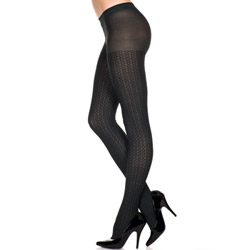 Reversible tights
Tights
by Music legs
Reversible tights...NOT!!!
You will not be disappointed in the design or quality of these pantyhose by MusicLegs. However, if you are expecting a dual design or a truly reversible item, think again. You will be disappointed in that arena. These are a nice pair of pantyhose that you will get good wear from, but are not reversible in the true sense. Although we are satisfied with the item, because it is not what was described by the company, (reversible) I am only rating them with 3/5 stars.
Published:
Pros:
pretty design
durable
Cons:
no benefit from reversing
I ordered these for my partner for 2 reasons. She liked them and we were both curious how reversible tights would look. These are a one size fits most and we beleive that they will fit most women of "average" height (5'3" to 5'8"), weight of 120--180 pounds and size 6 to 16. They are available in gray, green and black. We received the black color. The material is nylon. Hand washing and laying flat to dry is the manufacturer's recommendation. The "panty" part of the hosiery goes from the waist down to about 3" of the thighs. It is an opaque solid black color. These come wrapped in clear plastic on a black card that measures 4" X 18" (it is folded) and on the outside is a card that identifies the company as "MusicLegs" and gives the material and washing instructions, which I have already mentioned.

The design is a very pretty cable-like striped pattern. I do not understand why the company says these are reversible. They are made just like any other pair of pantyhose I have seen. There is a seam in the back and it is obvious which side goes against the skin (the seam is raised on the skin side). The design is the same on both sides, although on the "right" side the pattern is a teeny-weeny bit raised and more pronounced than on the reverse side. The toes are re-inforced and again, it is obvious which side is "right" and which side is the reverse by looking at the toe area.

While you can wear these on either side, there is nothing special about these pantyhose that give them the "reversible" distinction. You can wear any pantyhose on either side and get the same effect you have with these. I think calling them "reversible" is deceiving. Other garments that I have purchased with the reversible distinction are made so that there are no seams visible on either side. If there is a zipper or button closure, it is useable on both sides and each side has a different print/color. It is like getting two garments in one. That is not the case with these pantyhose. The color and pattern are the same on both sides, and the seam on the inside is not at all disguised. You can wear these and just about any other pair of pantyhose on either side. You are not getting a "twofer" because you would wash these after each wearing so there is no benefit to these.
Experience
The design is very attractive and because it is a verticle "stripe" it gives the illusion of a longer leg. They are comfortable, not itchy or scratchy at all. So far, they have worn well and have not snagged, ran or pilled and are keeping their shape. Keeping the shape is important when there is a design because you want to maintain consistency. The size and shape of the design should remain the same on both legs. If the legs are not symmetrical, it would take away from the look of the pantyhose.

The fit is comfortable and do not pinch in sensative areas, nor does the design shift while wearing. They are easy to put on and take off. People will notice your legs in a positive way.

These look good with casual skirts and flat shoes, low boots or more dressy with heels. I wouldn't recommend them with pants or capris because with pants, the design would be hidden and with capris, a bare look is much nicer (in our opinion).
Follow-up commentary
7 days after original review
Nothing much has changed with these pantyhose. They have held up nicely--no runs or snags. They still are not any more "reversible" than any pantyhose or panties that are already in my drawers (no pun there...). You can see the pattern from both sides, but that is the same with other textured pantyhose that I own. I thought I would be getting a "2-fer", but all I got was a "1-fer". I like the pattern and they fit well, but I think the company intentionally is deceiving their customers and I don't like that practice. It is getting warmer, so these are being retired for the season and depending on the fashion of the next cold weather season, these may or may not be seen again. I guess if they are out of style, I will just wear them under jeans so they don't show, but will keep me warm.
This product was provided at a discounted price in exchange for an unbiased review. This review is in compliance with the FTC guidelines.
Thank you for viewing
Reversible tights
– hosiery review page!