Ruffled And Revealing (3X/4X)
These panties are super cute, who doesn't love a bow and some ruffles on their booty? On top of being cute, they come in a wide variety of sizes that should work for just about everyone. The pair I received had some quality concerns, and the lace wasn't as soft as I had hoped it would be, which was a letdown. If you have a big booty, these also might not work well for you since the fit is funny in the back. Overall, these are okay, but there are better options available.
Published:
Pros:
- Ruffles
- Variety Of Sizes
- Stretchy Material
- Comfortable
Cons:
- Quality Concerns
- Weird Fit In Back
- Could Be Softer
Introduction
Ruffled Fun Panty from Dreamgirl are black crotchless panties that add a little
sweet
to your
spicy
adventures! These attractive panties come in sizes Small through 3X/4X, which means there is a size for just about anyone.
These panties arrive in a plastic bag that's surrounded by a piece of cardboard. The cardboard shows a tasteful image of a woman wearing the panties and shows the company name, gives a brief description of what the package contains, and shows the size on the outside. When you tear the cardboard apart, you'll see the little plastic bag where the panties are. The bag is attached to the cardboard with some tape and has a sticker on the front telling you the size. The package isn't discreet, but doesn't contain nudity, and can be recycled.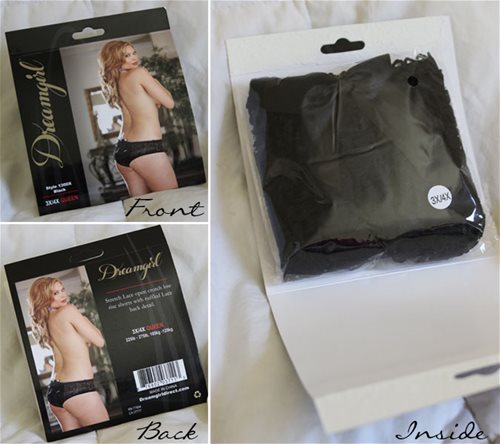 Design / Look
These cute panties are designed to be worn just like any pair, only there's an opening in the area over the crotch that extends to the middle of the back. This opening makes it possible to play with toys or have intercourse (either vaginal or anal) without needing to remove your panties. These are especially useful if you and your partner are interested in exploring public sex since it helps keep things more discreet, especially when paired with a skirt.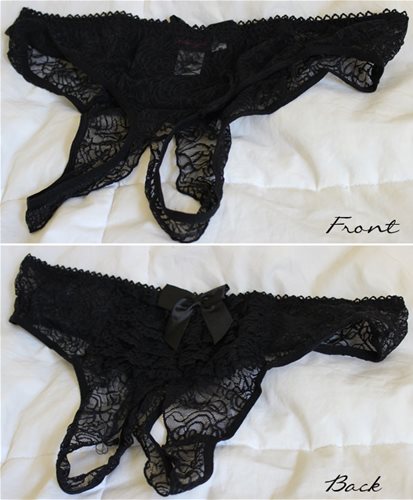 The panties are mostly made of a floral lace pattern that's see through. The front, sides, and crotch area have no added details to them, they are simply the floral pattern. The back of the panties have a black bow that's stitched on in the center and has five layers of ruffles just underneath it. This ruffled panel doesn't go over the entire back of the panties, it only covers the center area. The bands around leg areas are plain, but the top has a scalloped look to it, rather than just being a solid piece, and gives it another small, feminine touch.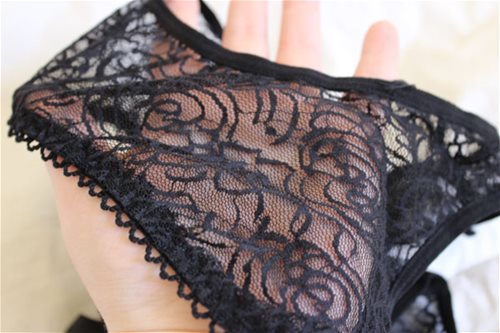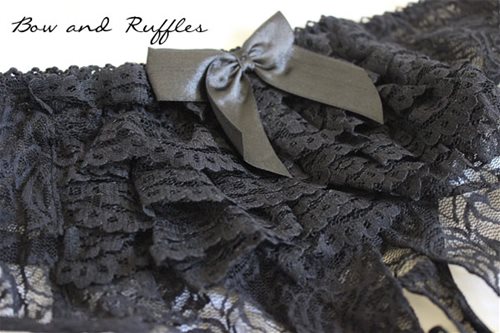 These can be worn under regular clothing, but anything too form fitting will show off the bow and ruffles in the back. Wearing with a pair of jeans doesn't make it obvious, but certain other bottoms would. If you don't care for the bow on the back, you can carefully snip the threads holding it in place and remove it. These panties go well with a variety of lingerie pieces since it's all black, or even pair it with a black bra.
Feel / Quality Check
With lace, it always seems like a hit or miss when it comes to softness. Too often lace is scratchy and too uncomfortable to wear for extended periods of time, making them less useful and more for show. This pair isn't scratchy, but isn't the softest lace I've every felt. It's comfortable enough to wear throughout the day, but not so soft that it's the first pair you're reaching for in the morning. The lace that makes up the ruffles isn't as soft or stretchy as the rest of the panty, but it's not directly touching your skin and isn't obvious when you're wearing them. The bow on the back, though it looks very satiny, isn't nearly as silky as you would think and has a cheap feel to it.
When I first opened up my pair, I noticed that there were some quality concerns. Some were small like a couple of the scalloped areas on the top were stitched into the trim and there were a couple loose threads, but one area was pretty bad. There was a spot on the front crotch area where long threads had been pulled from the trim. This wasn't some small thread that was loose. The threads were about 4" long and came from both the front and the back of the trim. I singed the threads rather than cutting them so that the issue didn't get worse and it seems fine now, but that's never something you want to see when you receive a new pair of panties.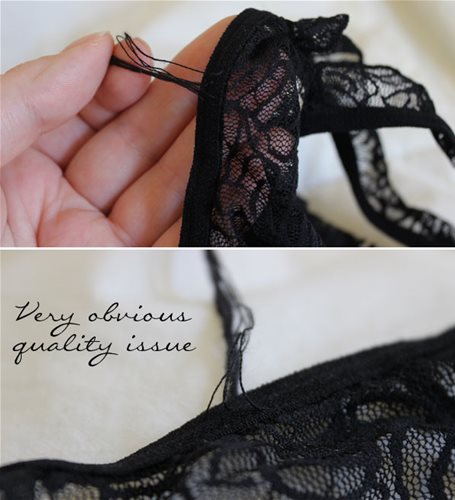 Material / Care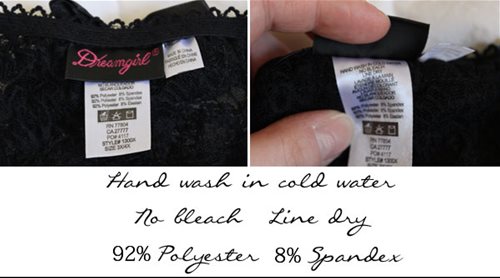 If you're adventurous you could probably put these in a lingerie bag and change your washing machine setting to delicate and they would be fine, but do so at your own risk. After washing, these panties can be folded and put with your other lingerie or in your underwear drawer. Do be careful that nothing snags the lace since it wouldn't take much for something to catch on it and ruin the whole piece.
The spandex really helps the panties have a good stretch to them. The amount of stretch makes them form to your curves comfortably and doesn't feel like it's digging into your waist or legs.
Experience
Sizing
I ordered these panties in a size 3X/4X, the largest size available. The following size chart gives you a good idea of how Dreamgirl sizes their lingerie:

My measurements are:
Waist - 42"
Hips - 51.5"
Height - 5'9"
Weight - 275
Pant Size - 22/24
Lingerie Measurements (laying flat):
Length Of Waist: 16"
Width Of Waist: 3 1/4"
Length Of Crotch Opening: 13"
Width Of Each Crotch Panel: 1"
Length Of Ruffles: 6 1/2" - 8"
(Additional measurements can be taken by request.)
As you can tell, I'm on the upper end of the size chart, with my pant size being larger than what the size chart recommends. Because of the stretch to the material, these fit me without feeling too tight and are actually quite comfortable to wear. I'm always pleased to find a panty that is tall enough to cover my mommy belly, since that's an area I feel insecure about, and these did a great job of that. My only issue with the way these fit, is that they expose more of my butt crack than I would have liked, and more than what the model on the packaging shows. It's not an issue as far as comfort, but it's not as attractive on my body because of it. I have a large bottom, I'm not sure if that's the reason for it or not, but if you have a larger bottom as well, you might have the same issue.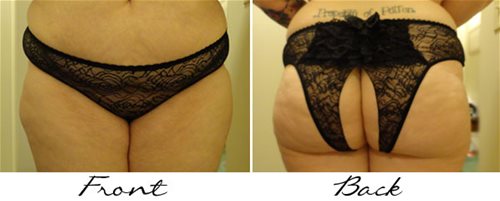 Overall Thoughts
These panties are super cute and I was really hoping that they would help me flaunt what I have to work with. I was disappointed in the quality of the item I received and had hoped that the lace would be a little softer. Those things can be overlooked, however, the way my booty looks in the panties is a big disappointment for me. I was hoping that they would cover a little more of my crack, and while I feel self-conscious because of it, my husband sure doesn't mind, so I guess it's okay. I don't love these like I was hoping to, but they are an okay pair if you're looking for something cute and crotchless.
Follow-up commentary
2 months after original review
After taking care of the quality issues, these weren't so bad. My husband really enjoys them, and while they don't fit my body the way I had expected they would, I have grown to enjoy them a little bit more.
This content is the opinion of the submitting contributor and is not endorsed by EdenFantasys.com

Thank you for viewing
Ruffled fun panty
– crotchless panty review page!