Ruffled love
I love this chemise it makes me feel great. The only things I did not like was the straps and how it bunches in the front. Maybe I tied the chemise to tight I'm not sure, it just didn't look that great when it bunched up. Oh and you can't forget that ugly thong. But other then that I love it!!!
Published:
Pros:
Comfy, It looks great on.
Cons:
Thong is just ugly
I purchased the Chemise and I have to say my husband picked this out for me. I didn't like it when I saw it in the picture, but he said I had to buy this because I would look beautiful. When I received the chemise I was very excited.
Packing & Basics
This Lace-up Ruffled Chemise and Thong, came in a discreet brown box - love that cause no one knows. Anyway when I opened the box inside was this beautiful red chemise and thong on a black hanger that says Dreamgirl. The outfit was covered in a clear plastic cover. There's a tag that has a picture of the girl wearing the chemise. The other side says Dreamgirl, and has gives the Details. This is made in China.
Material & Design
This chemise is made out of 86% Polyester and 12% Cotton. The chemise is made out of two materials Mesh and a thicker patterned material with a ribbon that goes down the front.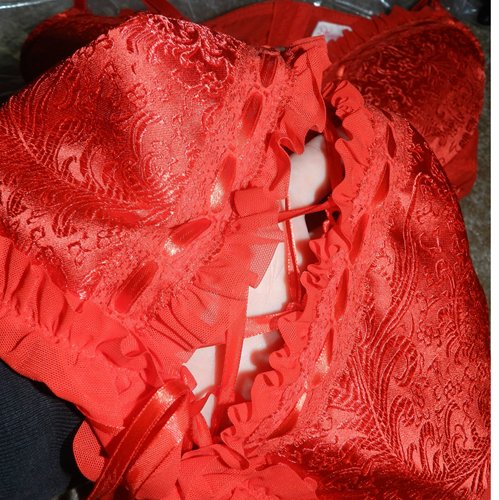 The mesh is sheer, it covers the sides of the chemise. The mesh is see through but not enough to see imperfections - I really like that. The ruffles are made out of this material also they are on the top of bust and on the bottom of the chemise. I've noticed that this mesh material is very fragile. You may not want to pull hard on the ruffles or the mesh areas, I feel like they might rip since it's not very stretchable. But it is very comfy on your skin.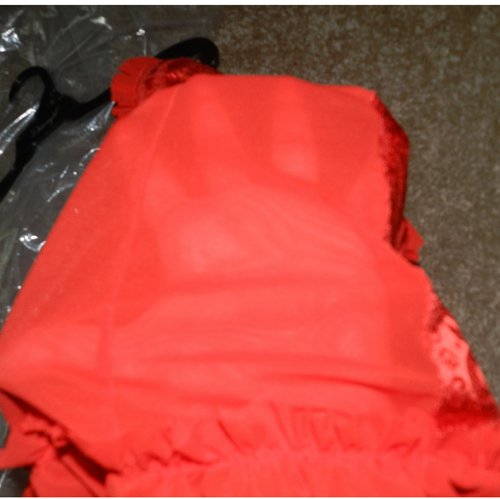 The thicker patterned material covers the cups, front center, and back center of the chemise. It's a very beautiful floral pattern, it feels very durable I don't think you'd have to worry about this ripping. The material doesn't have stretch to it at all, but the good thing about this chemise is the opening on the front in the middle with ribbon that you can loosen it so when you slip it over your head you can shimmy the chemise over your bust. The ribbon is very long came down to my feet even tied in a bow, I just clipped it a bit to my liking.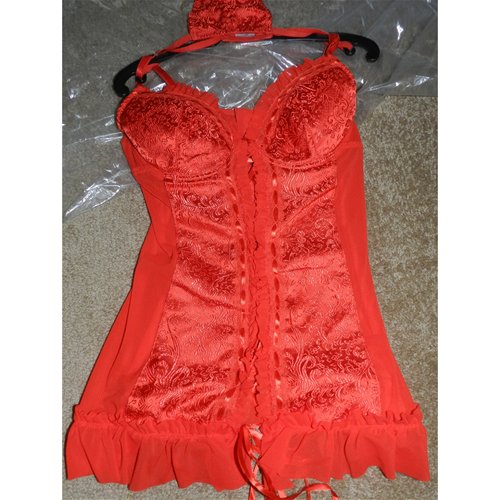 The chemise also has adjustable straps. The straps are not removable. They are very uncomfortable even when lose. I think this is because there very thick elastic. When you flip the chemise over on the back, it has mesh sides and then down the back is the floral pattern. The chemise has hook and eye closure that just undoes the bra. It doesn't open the back nor make it easier to slip it over your head.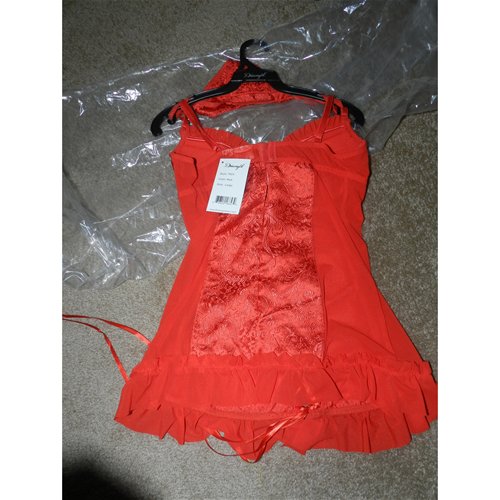 The Thong, is made of 54% Polyester and 30% Cotton. The thong is that thick floral pattern found on the chemise it goes all the way up the back of the thong. The straps are the only thing that stretches on this thong. There is a pantie liner, that's about 4in long and 1 1/2in wide. I personal do not like the thong I think it's ugly. I feel that it looks like something I could buy at the Dollar store. Plus the back of the thong is very wide and stiff that makes it uncomfortable. I just match this with a cute black pantie, it looked fabulous.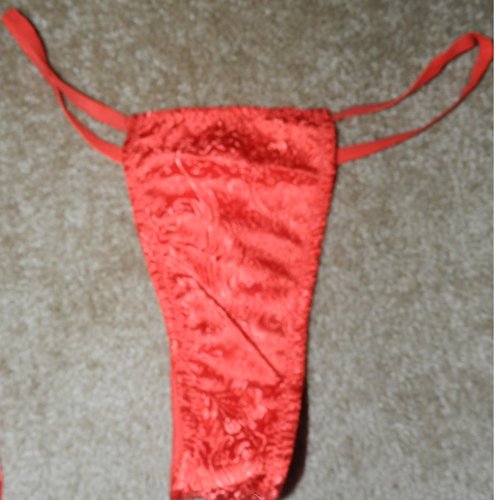 All in all - this chemise is very comfy to wear - I could wear this for a few hours, I wouldn't sleep in it. I love it on, makes me feel very sexy, but the thong on the other hand isn't.
Care & Size
This Chemise and Thong are not machine washable! You want to hand wash in cold water and line dry or lay it flat to dry. Just be careful of the mesh you do not want to rip it or snag it on anything.
This chemise is available in S, M, L, and XL. I purchased the Large. I'm a D 38 cup & bust size, my waist is 32", hips 40" so I'm a 14 in jeans. The chart says that it will fit someone with my hip size and it dose, expect the bust doesn't fit it feels like it should be for someone with a C cup.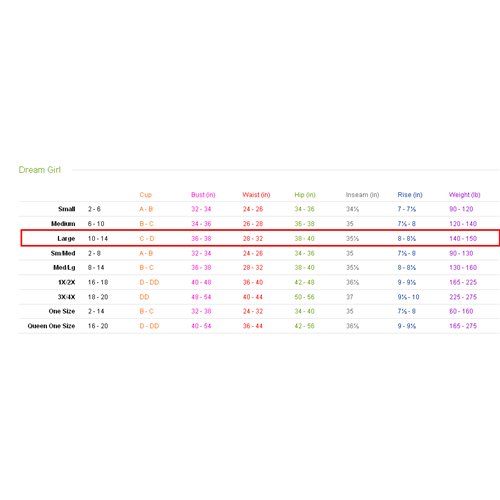 The chemise isn't very long like you see in the picture. I'm only 5'4 and it only comes to to the top of my butt, I though it would a least covered a little bit more but that's okay. I also noticed that the front at the bottom where you tie the ribbon likes to bunch up, that kinda makes it shorter.
Quality
The quality is good for the money, the seams seem pretty good. There where no loose threads, this item seems like it will hold up pretty good.
Experience
I found that this Chemise is very hard to slip off once you have it on. If you plan on using this to have fun with your partner, it might be hard for him to slip it off of you easily.

What I really love about this chemise is that it makes me feel beautiful, I'm not the thinnest girl I'm thick, and from having children I have stretch marks on my belly, but you can't even tell. You'd think you would be able to because the front is kinda open, but no that's not the case, you can't even tell. Even thick a girl will look beautiful in this chemise.
This content is the opinion of the submitting contributor and is not endorsed by EdenFantasys.com

Thank you for viewing
Lace up ruffled chemise and thong
review page!