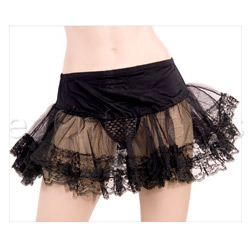 Crinoline skirt
Petticoat
by Leg Avenue
Ruffles Galore
If you're like me, and like attention but are shy at the same time, this is an excellent choice. Wear it under a skirt, and it adds a couple of inches of flirty lace at the hem. Alternatively, wear it alone, and it will wonderfully present your ass for spankings or anything else. Just be sure to get it softer, first! The prickles will drive you nuts otherwise!
Published:
Pros:
Excellent stretch! Sturdier than expected.
Cons:
Very scratchy--hand wash first with softening detergent.
I have been mourning the loss of my old "tutu", and searching for a replacement crinoline for quite some time. A couple of years, at least. Much to my delight, I discovered them here on Eden Fantasys, in multiple colors, no less! I went with the black, because it's classic, and it goes with everything. And it comes with the added bonus of looking really dramatic against very pale skin, which I have.

I planned on wearing it to an event at a dungeon for my birthday (short ruffles barely covering my ass seemed like an excellent outfit for getting spankings), but plans fell through, and I ended up wearing it both solo and under a miniskirt. It works both ways, though it's a bit short for the miniskirt. The crinoline is only about 12" long.

I'm always leery of "one size fits most", as I rarely fall into the category of "most". I'm quite a bit larger, usually, than the bodies those sorts of things are cut for. I was dubious that this was going to work, when I got it in the mail. Well, bravely, I tried it. And to my delight, it worked! It's a bit tight at the abdomen, but the stretch nylon panel is a lot stretchier than it seemed at first. It does have a tendency to roll up at my waist, which is annoying.

I will warn you that it's very scratchy. You might want to consider wearing a pair of stockings or something underneath it. Scratchiness doesn't bother me, unless it's exceptional, and this is. Before leaving the house, I was heading back to the bedroom to put something between the lace and netting and my skin. And during sex, it was distracting enough to both of us that it had to come off. Nothing like prickling against your skin to stop your orgasm in its tracks!

However, I've hand washed the crinoline (I'd really recommend hand washing--the colors bleed a little tiny bit the first time around, and lace can be deceptively fragile) with a fabric softening detergent twice now, and it really worked wonders. Tried it again during sex after that was done, and while it was still a little bit distracting, we could get on with things a lot better. To be fair, we're almost always naked, so any fabric not sheets or blankets was going to get our attention.

All in all, I was quite pleased. It's fun, it's flirty, it's sassy, and it makes people wonder what else you've got going on, when you wear it under a skirt.
This product was provided free of charge to the reviewer. This review is in compliance with the FTC guidelines.

Thank you for viewing
Crinoline skirt
– petticoat review page!