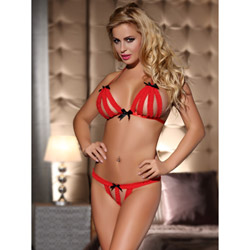 Devour me ruffles
Peek-a-boo bra and panty set by Spice Lingerie
Ruffles! Yes, there are some
This set is a cute addition for anybody who loves bright colors and frilly things. The top can be difficult to get closed on your own, but the bottoms stay out of the way during sex surprisingly well.
Published:
Pros:
Reasonably comfortable, cute design for those who like frills
Cons:
Clasp doesn't like to hold when putting on, may not fit upper end of chart
As a note, the included measurements are so that you can compare actual measurements of the item I received and am reviewing to items that you have at home and already know how they fit you.

When you first receive this set, you'll find it inside a simple plastic bag. The product page lists the size as a 'one size fits most,' which is confirmed on the tag on the underwear portion.
To Spice Lingerie, an OS means they aim to fit a size 2-8, cup size of A-C, a bust of 32-38", waist of 24-32", hips 34-40", and weight between 88-150 pounds. I'm usually around a size 4 right now. Bra size of 32B, about 27" around my waist at my belly button, 33" at the top of my hip bones, 38" around the widest part of my hips (around my butt), with a 29" inseam, and I weigh around 118 pounds. This fit me well enough, but may not be comfortable towards the upper end of the sizing chart.

The top is designed like a halter top. The bottom band measures about 25 1/2" across flat, but stretches pretty easily up to about 35". It can't be adjusted in any way and secures with a set of hooks that clip into each other. Once they're on, they're fairly secure, but I had issues getting the top stay closed long enough for me to get it in place. The "cups" are simply 4 frilly ribbons similar to a bikini top, with nothing in between them, giving you a nice peek-a-boo effect. They're about 4" wide, and 6" tall, and they'll give adequate support to pretty much anybody. The elastic ties on the top are about 19" long, so you'll have plenty of room to decide how snugly or loosely you want that part to fit. In addition to being a lovely shade of bright red, there are also some lovely black accent bows; one at the top of each cup and a larger one in the middle.

The underwear is designed to be like a g-string thong. All of the straps are the same elastic ties on the top are made of, and each piece has a piece of frilly lace ribbons that matches the top. You'll even find a small bow at the center of the front. Laid flat it measures about 13" across and stretches up to 18", but doesn't stretch as easily towards the upper range. The 3 frilly ribbons down the front come down about 7", and the g-string part continues another 6 1/2" to meet the waistband. It's reasonably comfortable, albeit not the ideal choice for wearing for extended periods of time.

This set is 92% polyester and 8% elastane. Ideally, you would hand wash this in cold water and let it air dry, but you'd probably be safe washing it in the machine on a gentle setting. It should hold up for a while. However, it likely won't be a permanent staple.
Experience
My husband had a lot of fun with this one, and I tried so hard to get into it. It really was fairly comfortable once I got everything settled into place, but I really had a hard time getting the top to stay together in the back. The clip just feels almost flimsy, like there's nothing to lock it into place, and every time I tried to spin the top so I could put it on like I was putting on a bra it ended up coming undone. Eventually, I just had my husband clip it for me and after that I was good. It was reasonably comfortable, but the frills just aren't my personal style, so it probably won't be a permanent staple in my collection.
This product was provided free of charge to the reviewer. This review is in compliance with the FTC guidelines.

Thank you for viewing
Devour me ruffles
– peek-a-boo bra and panty set review page!