Sad-Face, Ripped on the First Night!
For those whose lingerie drawers have become an abyss, Leg Avenue brings you the backseam stocking with attached garterbelt. It's great having three pieces of lingerie in one for your convenience. My gripe, however about this set is that the backseam doesn't extend to the top of the thigh bands, the thigh bands are too thin to be flattering, and the hose tear too easily. Still, if you're very protective over these and don't mind the design flaws, this could be a marvel to your lingerie drawer.
Published:
Pros:
Soft material
Great pairing of 3 pieces of lingerie into one
Cons:
Material not thick, tears easily
Thin thigh bands
Backseam does not extend to top of thigh band
With fairly decent construction, soft material, and a conveniently ingenius design, Leg Avenue brings you these backseam stockings with attached garterbelt. Gone away are the dreaded VLLs, visible lingerie lines, and no more searching in your lingerie drawer for matching garters and stockings. This one-size piece is a decent start to a budding lingerie collection, or could be the staple piece the avid stocking stuffer was looking for. Catch is, you just really need to have the body of a model to make it work perfectly, and the tights are so delicate they may die on you with the first try.

The stock photo of this piece personifies the old adage 'a picture tells a thousand words.' The model is long legged, with stick-thin stems and a tiny waist. My thighs are not huge, only 19" around at mid-thigh, yet they still aren't too flattered by the stockings. The 1" wide leg band cuts into the fat, making me look slightly flabby. Never a good thing! A wider band around the thigh would've showcased the lace pattern and helped glorify the female flesh.

The similarly thin 1" garters seem a bit odd as they stretch and twist their way up the leg to meet the garterbelt. At 8" long, these were a perfect length for my 5'6" height, though shorter gals may require snipping and re-sewing of the garters into the belt. Taller ladies up to 6' tall will find this stretching just fine to suit their height. A hiking up of the stockings should prove successful in adjusting these to fit.

The 3" wide belt band is pretty, with a deep black scalloped lace edge. It stretches to a full 20" across, and fits rather snugly as it sits low on my 32" waist. The material slightly digs into my flesh, creating another unflattering bulge that wasn't there before.

The stocking is very stretchy and curves gracefully over every curve. Ladies with average to larger sized legs should fit in these, as long as their thighs aren't wider around than 25".

The backseam presents a bit of a problem. As it doesn't rise all the way to the top of the thigh band, it looks really odd. I wonder why in the world it was designed this way?

The pattern gathers at the toe and is not reinforced, which is part of the problem - the tights snagged on a stray splinter in my hardwood floor as I was getting dressed, the very first time I wore these out, and tore! Hopefully you'll have better luck. Just protect these with all your might, and don't walk across hardwood floor in them!

The toe seam is reminiscent of gym socks, and is not-so-hot when displayed at the top of the foot, across the toes, as socks normally do. As there is no shaping to the stocking, tucking the seam underneath the toes is preferred. The seam is not too thick or tough, and it won't create much of a disturbance in shoes, despite how it may look!

Several loose lacy ends fly this way and that across the leg band, garters and belt, but can easily be removed with a snip of scissors.

I certainly appreciate the beauty of the lace pattern in the garter belt. It's sexy and feminine, no doubt. This piece would pair great with a dress, halloween costume, or even lingerie for a night in.

Pulling these on may require a slight learning curve, as one has to first be sure they're right side out, then make sure the garters aren't twisted up. After a bit of fumbling, you can bunch up the stockings on your fingers and slide a leg through the waist belt and stockings, one at a time.

I recommend hand washing your garter belt stockings, or using a delicate machine cycle. Hang or lay flat to dry, and avoid the dryer if you can. You can store them in the package they came in for convenience, where you can see them displayed in photo, or roll them up sweetly and kiss them goodnight before tucking them away in your lingerie drawer. This is what I do with my lingerie, because I can.

In closing, I won't be wearing these again. They snagged on first wear and are only getting worse! If the material were thicker, Leg Avenue would've won me over with these. Also, the backseam not extending fully to the top of the thigh bands is really a drag, and loses these one star for me. So three stars it will be.
Experience
I paired these stockings with the following dress on my first (and only) night attempting to wear them: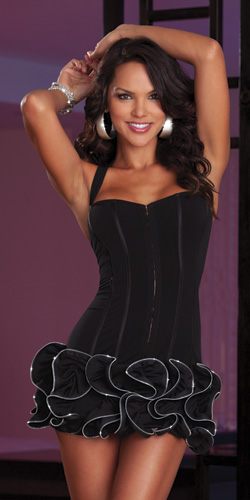 Ruffled Dress and Thong from EdenFantasys.com
They looked great paired with the dress, but as the dress was so short, and the night so cold, my boyfriend insisted I put something else on. I swapped out the now-wounded thigh highs for thicker leggings to appease him. I mean, my ass WAS showing, but they looked damn sexy. I covered the holes in the toe with low-cut black boots.
If your stockings don't run, you can always pair them with equally hot vintage or professional attire. I recommend some of the following:
Fringed Hem Dress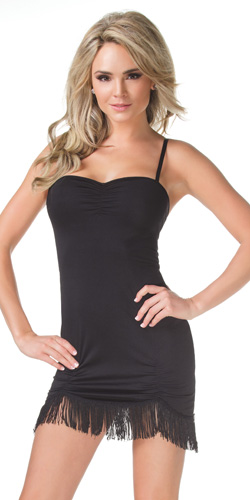 Mini Dress with Open Back Shrug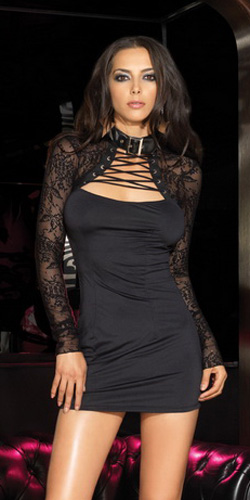 Black Novak Mini Dress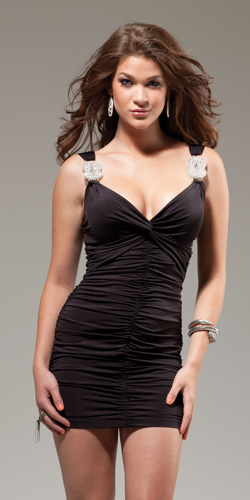 This product was provided at a discounted price in exchange for an unbiased review. This review is in compliance with the FTC guidelines.

Thank you for viewing
Backseam stockings with garterbelt
review page!