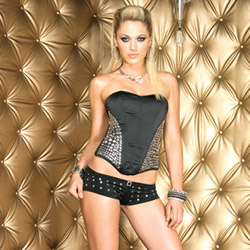 Satine studded bustier
Bustier by Leg Avenue
Satin, Studded and Super Sexy. I want another!
This top is fabulous to wear either out or in the bedroom. It is well made and has become a part of one of my favorite clubbing outfits! The sexy studded exterior brings attention to breasts and slims a waistline. I wish I had bought several more for friends. This versatile bustier is sexy as either a fetish garment or regular top.
Published:
Pros:
Gorgeous to wear outside, Very comfortable, Sexy design, Sturdy
Cons:
Tiresome to put on
This bustier is a gorgeous black, studded affair with dozens of hooks running down the back. It is sexy and can be worn outside as well as with a pair of undies for a hot bedroom look. I wore this out clubbing and it was a hit! The top can easily become part of a fetish outfit and will make you look great at the bar.
The bustier doesn't offer much breast support and the hooks are a little annoying to do up but other than that this top is absolutely gorgeous. The tiny hooks are tiring but they don't unhook themselves or snag. The shiny metal studs are not exactly as pictures. They don't stand out that much from the rest of the piece and they are more of a hard plastic. They remind me of scales.
The bustier is long enough to cover a belly and the black is extremely slimming. There is nothing I hate more than having a super cute top give me a "muffin top" look. The front is slightly longer than the back. To me this outfit felt a little like something a dominatrix would wear. It gives me a little extra courage to go out to the clubs. This has become one of my boyfriends favorite tops on me (but he hates it when I wear it out because he gets a little jealous).
The top doesn't have much breast support but if you have C cup or over it will look a lot better. It seems to flatten smaller breasts. The strapless aspect didn't dig into my skin or cling in that annoying way strapless bras sometimes do. Rather, the top seemed most tight in the middle to hug a waistline. The fabric is very flexible and stretchy, as it is polyester. I would suggest hand washing it and air drying it. This won't be very difficult as the fabric is pretty easy going. Eden sells lingerie cleaners or you can use a small amount of laundry soap. The shape of the top doesn't seem to be malformed. This item should not be ironed as the plastic "studs" will most likely melt.
I believe the bustier is best paired with either jeans or sexy undies. I wore it with jeans and a leather jacket out to a club and my boyfriend loves dancing with me. The scaly or "studded" part feels great to touch. I felt like I was wearing the bustier and leather jacket in some sort of movie scene. The look is a little bit punk rock and a little bit risque 50's retro.
I feel like this model did not do the item justice so I found another shot. While the boy-shorts that are often paired with this top are cute, I felt they gave the outfit a "swimsuit" feel. To sex it up I would suggest Garter Panties
Follow-up commentary
3 months after original review
This is an absolutely gorgeous bustier. I am in love with it. I can wear it out anywhere or pair it with sexy underwear for the bedroom. The sizing on this stays fairly true to form...


Leg Avenue
Cup Bust (in) Waist (in) Hip (in)
Small 5 - 7 A - B 32 - 34 23 - 25 34 - 36
Medium 8 - 11 B - C 34 - 36 25 - 27 36 - 38
Large 12 - 14 C 36 - 38 27 - 29 38 - 40
X Large 16 - 18 C 38 - 44 29 - 33 41 - 44
Sm/Med 5 - 8 A - B 32 - 36 23 - 27 34 - 38
Med/Lg 10 - 14 B - C 34 - 38 25 - 29 36 - 40
One size 6 - 11 A - C 32 - 38 23 - 29 34 - 40
1X / 2X 16 - 24 - 39 - 48 31 - 40 41 - 50

This product was provided free of charge to the reviewer. This review is in compliance with the FTC guidelines.

Thank you for viewing
Satine studded bustier
review page!