Seductive Deception
Overall this babydoll was a bit misleading, but was still sexy. Wish there would have been a little bit of support around the boobies, but all in all it was ok.
Published:
Pros:
Sexy in the Picture
Sexy while wearing
Cons:
No Support around the Boobies
What you get?
This babydoll from Fantasy Lingerie is available in Royal Blue and Red. You must be careful though when you are buying this product since, when you click the different picture the picture doesn't change. It kind of messed me up when we order this, because I thought I was ordering the blue babydoll and it ended up being the red babydoll. With this babydoll also comes a thong, that covers the front and leaves all the imagination for the back.
Material and Care
The material of the badydoll and g-string are made from nylon, which feels like mesh netting, it reminds me of net stockings. The butterfly on the lingerie is made from some sort of plastic and the butterfly, beads, and plastic jewels are sewn into this plastic. The mesh is somewhat stretchy; the four lacy pieces on this hang down a little below the waist and there is a split in the center, along with a split going down the side. This material isn't itchy, but seems kind of rough of you were rubbing against the skin.
There is a tag on this the inside back of the lingerie, it says to machine wash warm, gentle wash, darks separately, tumble dry, low, remove promptly, do not twist, or wring. I would suggest keeping the hanger and maybe even the plastic bag, that comes with this lingerie, that way when you wash it, your able to hang the lingerie back up.
Design
This babydoll has a butterfly design around the cleavage area, it also has four wings that drape down. These wings are separated down the front side of the lingerie, then down the left and right side of the lingerie. The butterfly has some sort of plastic that the butterfly is sewn into, there are also sequins sewn by one thread. The design of the butterfly seems to be sewn cheap, but after it being worn and looking over it, the lingerie seems to hold together well.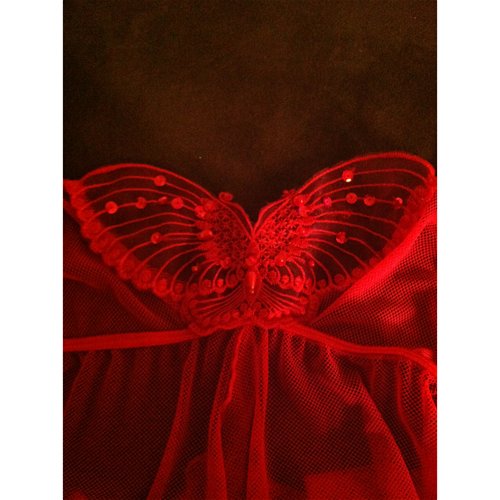 Sizing
Sizing is most likely the hardest thing to determine, since its lingerie and the garments are meant to stretch, adjust, and tighten to the body depending on the piece. The babydoll has two of the aforementioned characteristics, which are stretching and adjusting. The mesh of the lingerie is very elastic and is fairly sturdy to stretching, of course you wouldn't be able to yank on this as I'm sure it would rip, but it can withhold most moderate tugging. There are also some adjustments on the back of this that allow, you to adjust up and down for better support. The plastic pieces for the adjustment seem to be sturdy, as they did hold no problem.
As for the thong, the waistband is decently stretchy. The thong has plenty of coverage except in the butt area of course, as there is just a string going down the back, but who's complaining? I thought it was very sexy and simple. My wife also enjoyed the thong as she normally doesn't enjoy panties that just have a string going up the back, but she said they were very comfortable.
Fantasy Lingerie
| (Bust)In | (Waist)In | (Hip)In
Small 6 - 8 | 35 - 37 | 26½ - 28½ | 37½ - 39½
Medium 10 - 12 | 37 - 39 | 28½ - 30½ | 39½ - 42½
Large 14 - 16 | 39 - 41 | 30½ - 32½ | 42½ - 44½
Wife's Sizes
Size - 12
Cup - DD
Bust - 40
Waist N Hips - Pregnant (8Months)
Garments Sizes
Babydoll
Under Breast Elastic - approx 6inches on each side total of 12 inches across
Height of elastic around breast - 5 1/4inches on both sides
Width of Front and Back Wings - Approx 12 inches
Length from top of Breast elastic down to tip of wing - approx 26 inches
Length from top of back elastic down to tip of wing - approx 21 inches
Strap adjustments - 9 1/2 inches to 18 inches
Thong
Length of elastic on waist - approx 13 1/2 inches
Length of mesh to string on front coverage - 7 1/4 inches
Width of elastic on front coverage - 5 1/2 inches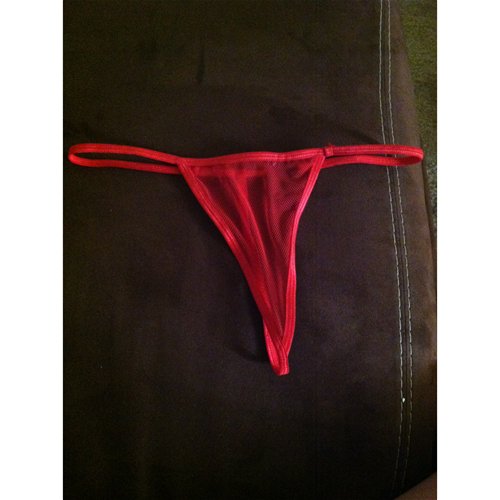 Experience
The butterfly was also very sturdy, we didn't have any problem while washing. Although we did wash this alone since it was more of a delicate item. No problems with the jewels or sequins falling off. If this might of had a little bit more support; since my wife tatas are big; I think it would have been a better buy. It was still a sexy piece of lingerie.

The thong was sexy also, my wife enjoyed it, she said that it was comfortable and that she enjoyed it more then any other thong underwear. The waist is very stretchy, so even my wife being 9 months pregnant she had no problem with buying the large.

The only thing I find a little finicky is the sizing chart, I would say you could most likely step down a size as the material is stretchy. The only thing with doing this is your breast might not fit in the cups, as there is no under-wire or anything for support. So I wouldn't base the size to much off of breast size, because, most likely, if your breast are large there probably not going to fit well.

All in all, the was a decent lingerie piece, especially if you your wife is pregnant this would be the way to go. Even if your not pregnant this is still a good piece to wear. My wife also said as for lingerie, it is very comfortable.
Follow-up commentary
3 months after original review
Really great lingerie. I highly recommend this type of lingerie if you are pregnant. My wife has enjoyed this while she was pregnant. Very easy to put on and wear.
This content is the opinion of the submitting contributor and is not endorsed by EdenFantasys.com

Thank you for viewing
Butterfly babydoll & g-string red
– babydoll and panty set review page!