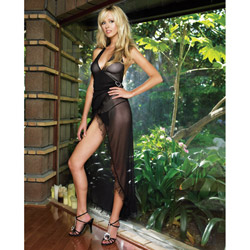 Halter wrap dress
Dress
by Leg Avenue
Seeing is believing!
This'll turn heads for sure. My wife wore this to a tease party and was admired by both men and women. A number of them asked where they could get one, either for themselves or their spouses.
Published:
Pros:
Good quality fabric, very sexy, feels great.
Cons:
None.
This is a first for us, reviewing clothing rather than toys, but we saw the photo on the site and the wife loved the look of it, so here we are!

When the package arrived, we immediately opened it and the wife tried it on, even though our plan was to check it out a little later in the week at a tease party thrown by some friends.

We were expecting it to be a little more roughly textured than it turned out to be, based on an earlier purchase of a Halloween-themed see through spider-webbed gown, so the texture of this one was pleasingly smooth. It's not silky smooth, though, and feels very slightly rough to the touch. The contrast between the material and warm skin underneath is really nice! The texture is that of a very fine mesh, and running your fingers over it and the body underneath is very sensual.

As you can see from the photos, it's very sheer, and for a guy like me, it's heaven in a small 100% nylon package. For the wife, it's being naked without being naked, if you know what I mean. It's one of the reasons she wore this particular outfit to the party. There's a bit of security in being clothed, and a whole lot of naughtiness in the clothing being totally see through.

The gown itself is interestingly cut, as it has a set of ties at the back that allow the top bit to be adjusted to comfortably hold the boobs. So it's possible to make this fit a whole range of differently endowed women with ease. My wife's quite petite, so it was tied quite low. The material stretched well, and the overall effect was that it snugly wrapped her boobs and provided enough support to make this gown one she can wear all night without discomfort. She's small, but well-endowed (around a D/E cup, so support is quite important, especially while dancing).

The skirt part has a ruffle on each side of the slit, which ends just below the breasts. There is a small section that crosses over above the bellybutton, providing a small amount of cover between the boobs and top of the underwear line I guess you'd call it, but it does leave below that quite open, which is where the accompanying see-through thong comes in. It's small. Very small, and only just barely covers the pubic region. Because she's petite, we did find the skirt trailed on the floor a bit, but wearing some nice high heels will solve that problem.

Overall, the effect is very, very sexy, and is a voyeur's delight. She got a lot of compliments on the dress at the party, and several of the other ladies have asked where they can get one like it, so it seems to be a popular choice with women and men!

On more mundane levels, the stitching and fabric quality is very good. On one or two occasions, someone stepped on the skirt and we thought it would tear or split at the seams, but material and stitching both held up admirably. I'm no expert on fabrics, but my wife assures me that this is something to be handwashed rather than thrown in the machine with the other delicates.

Overall, we'd rate this a 5/5 for fun provided, quality and value for money!
Follow-up commentary
2 months after original review
We definitely still like this one. Something to note is that the material quality is very good, especially when compared to other similar outfits purchased in the past that have barely made it through the second wash without tearing or worse.

It's tough enough to withstand a good solid shagging, and still looks great. :)


This product was provided free of charge to the reviewer. This review is in compliance with the FTC guidelines.

Thank you for viewing
Halter wrap dress
review page!