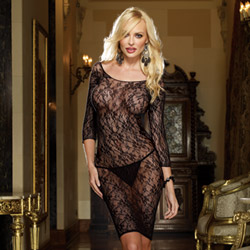 Dark desires
Gown by DreamGirl
~~Sex It Up With Dark Desires.~~ (One Size Fits Most)
Want a sexy, seductive outfit for the bedroom that also looks nice over tank tops and such for wearing in public? Give your wardrobe a boost with this inexpensive but flattering floral lace dress. Sex up your look or tone down the corset cleavage, the choice is yours. Very soft and stretchy, the nylon material is cool but sheer for the warmer weather. Take your Dark Desires out to play....
Published:
Pros:
-Versatile, sexy, comfortable.
-Flattering style.
-Public and bedroom appropriate.
Cons:
-Material snags easily.
-Material can stretch out.
-Only in black.
----------------------------------------------------
Manufacturer: DeamGirl
Size: OSFM
Material: Nylon/Spandex
Included:
**Dress
**Thong
Packaging: Clear plastic bag inside full-color,
dimensional, lingerie box.
----------------------------------------------------

Design:
Dark Desires Dress has long sleeves and is very sheer. With a simple neckline and longer skirt, it is flattering for most figures and wears well alone or over other clothing. The material is extremely stretchy and with the small size it shrinks down to after washing, this is easy to store and will fit in any travel case. Patterned after the classic black dress, the tasteful design is timeless.

The simplicity of the dress and style is appropriate for wearing over other items in public. I wear it over a black or bright colored tank top during the day and a corset or bustier in the evening. It is sheer, but does add a good amount of modesty to revealing tops. I also wore this over my swimsuit at the pool and even swam with it on to hide my figure flaws.

Seductive and sexy, this is an outfit that will get noticed in the bedroom. The material is clingy, but with a few well placed 'wrinkles' in the waist and stomach area, it can flatter and hide some trouble areas. I use the wrinkles to cover up my tummy pooch and make my waist look smaller.

Quality:
The stretchy material can be delicate since it does snag easily. I was impressed with the straight, even seams and lack of loose threads. The neckline, cuffs and hem are all sewn, not unfinished and the lack of uneven stitches or looped threads was a definite plus for the quality of the craftsmanship. With the proper care, this dress should last for a reasonable period of time.

Material:
The material is Nylon and Spandex. The pattern is a large, floral lace that is very feminine, but sexy at the same time. The dress came out of the box looking like it may fit a newborn baby, but the stretch of the material is incredible.

The material is soft and clingy. I expected it to be itchy, but there was absolutely no discomfort whatsoever. It almost feels like I have nothing on. This is see through, so do not wear it in public by itself.

Fit:
I am short, just 5'2" tall, but the length of the dress was very surprising. The bottom of the skirt will go about 3" past my knees and barely rides up on me when I am active. I cleaned the house in this dress to test this out. The sleeves are stretchy and do not feel tight. They go all the way to my wrists, or can be pulled up to my elbows for a more casual look.

This dress will fit many different body types and flatter most figures. Easily accessorized, you will find the fit and versatility worth getting the dress. I use belts, scarves, and other accessories to hide figure flaws and make the dress fit the occasion.

This material will stretch out over time, but washing it in hot water and then drying it in the open air will sometimes shrink it back down. I do recommend tossing this in your freezer overnight to add a bit of resilience to the material.

Care & Storage:
Hand wash in cold water. Use a mild detergent like Dreft, Ivory, Woolite or Dona Lingerie Wash. Do not use bleach. Let the dress air dry, the heat from a dryer will melt and deteriorate the material. Do not iron the material.

Store in a lingerie drawer, on a clothes hanger or in the original packaging. I store my lace, fishnet and other delicate items either in the original box for ease in identifying the outfit. I have also used a zip lock bag with the picture of the item that I removed from the original packaging inside.

Likes:
I love the fit, versatility and comfort of this dress. I can wear it in the bedroom, over a corset or tank top for a night out or use it as a swimsuit coverup. Storing it is a breeze and it is perfect for traveling, just roll it up and toss it in your suitcase.

Dislikes:
The material snags easily on fingernails, sharp objects and wood railings. Once it has a longer snag strand hanging off it, it does not take long for a hole to develop. I need to either use the picture off the box or the original box for storage so I can easily identify the outfit. I own a few of this style outfits and they can be hard to tell apart without emptying the drawer.

(I would include pictures, but my new computer will not recognize my camera. Sorry for the inconvenience!)
Experience
My Measurements: 43D Breast - 30" Waist - 42" Hips - 28" Inseam - 22" Thighs - 5"2" Tall & 150 Lbs.

Size Chart:
DreamGirl Sizing: (Copied and pasted from the sizing charts.)
-------------------------------------------------------------------
DG Size Dress Cup Bust Waist Hip Inseam Rise Weight
--------------------------------------------------------------------
~Small: 2-6 A-B 32-34 24-26 34-36 34½ 7-7½ 90-120
~Medium: 6-10 B-C 34-36 26-28 36-38 35 7½-8 120-140
~Large: 10-14 C-D 36-38 28-32 38-40 35½ 8-8½ 140-150
~Sm/Med: 2-8 A-B 32-34 24-26 34-36 35 7½-8 90-130
~Med/Lg: 8-14 B-C 36-38 28-32 38-40 35½ 8-8½ 130-160
~1X/2X: 16-18 D-DD 40-48 36-40 42-48 36½ 9-9½ 160-225
~3X/4X: 18-20 DD 48-54 40-44 50-56 37 9½-10 225-275
--------------------------------------------------------------------
~One Size Fits Most: 2-14 B-C 32-38 24-32 34-40 35 7½-8 60-160
~Queen or Plus Size: 16-20 D-DD 40-54 36-44 42-56 36½ 9-9½ 165-275
--------------------------------------------------------------------
Follow-up commentary
3 months after original review
This is one of my favorite cover ups for those cleavage baring tank tops and corsets! It has worn very well and even though I did manage to snag it getting in my husband's truck, I was able to fix the snag with a bit of clear fingernail polish. Yep, just like you do on nylons!!

I am surprised there is not the little balls nylon seems to get while being washed, but there has been no pilling of the material, it has not faded and I have found that if I hang this above a heater vent, it helps shrink it back down to the original size.

I am going to have to get another one of these dresses to have for when this one starts to really get in bad shape!!!
This product was provided at a discounted price in exchange for an unbiased review. This review is in compliance with the FTC guidelines.

Thank you for viewing
Dark desires
– gown review page!