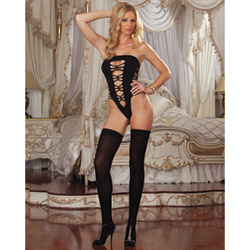 Teddy and stocking
Teddy and stockings set by DreamGirl
Sexy, But Only for A Second
Overall, the teddy and thigh high stockings are made of good material, and look awesome for the short time you have them on. It's not an outfit you'd want to wear for a long time if you're not feeling 100% confident in it. It's simple, flirtatious, and can be worn with other clothes. If you have the budget, go for it, but if you have something else in mind you can probably afford to pass on this one.
Published:
Pros:
Stretchy, Sexy Cut-Outs, Easy to put on
Cons:
No underwire, One size does not fit all, inches up waist
Sexy, But only for a second...Why? Well, because the second you move you have camel toe and the sides of the teddy start to inch up. Although this Black Stringy Teddy looks incredible on a model, it just doesn't cut it for the rest of our average sized, curvy, and world. It was fun to put on once, but definitely not a sexy little number you want to keep on for too long. Then again, who wants to keep lingerie on for long?
I've got to give DreamGirl one thing--The packaging is classy. When you receive the Teddy and Stockings, they come in a thin cardboard box, that's nicely curved, like the girl it's about to go on.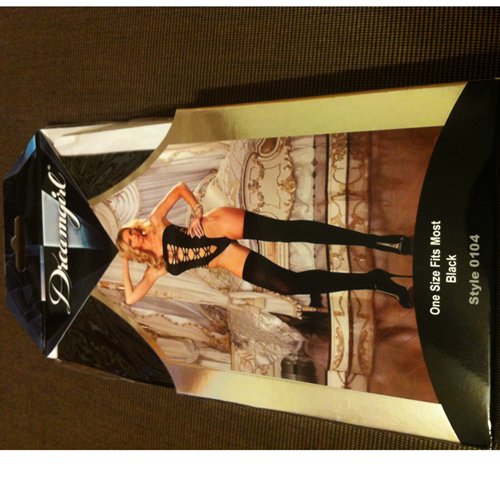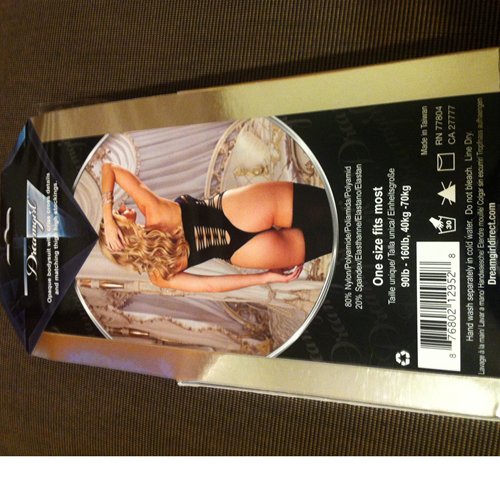 Inside the teddy is wrapped by two thigh-high black, semi-sheer, nylon, stockings. When you pull the teddy out, at first, you will probably ask yourself "How the hell is this going to fit?!". Well, spandex is amazing.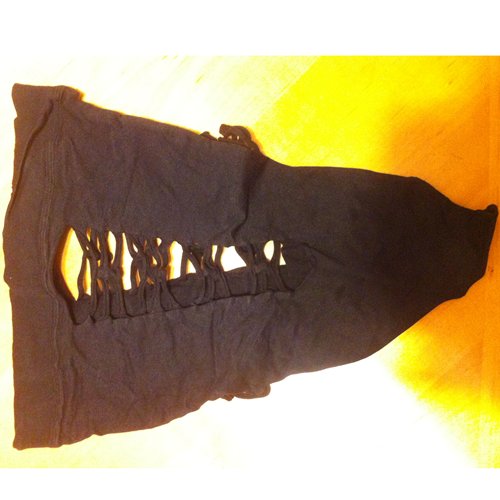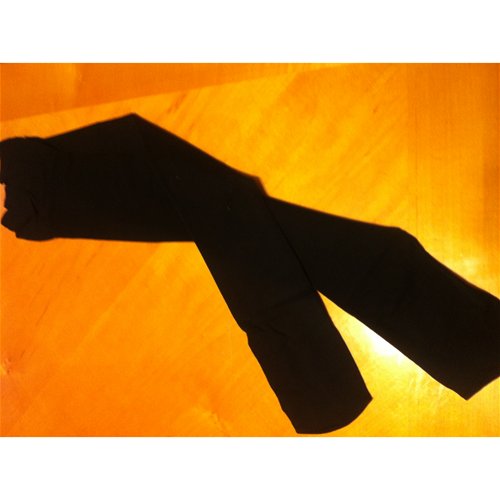 The Teddy is easy to slip into...Well, kind of. If you step into it without heels on, and pull it up without pulling on one of the cuts, you will probably get it on without it ripping. The spandex is on the thicker side, and opaque, so even if you're a bigger girl, the likelihood of seeing through the fabric is slim.
Just to give you an idea:
I'm 5'3"
170 lbs
32" across hips
36-C breasts
The teddy definitely fit super tight. Not uncomfortable in the constricting sense-- more so uncomfortable because I had to constantly fumble with the fabric to pull it down and move it around. Who wants to do that when they're trying to look sexy and confident!? The thigh highs were pretty standard...although, I'm extremely short so they went all the way up to my crotch It's VERY STRETCHY, If you're tall, these are perfect for you!
This is how the teddy looked on me: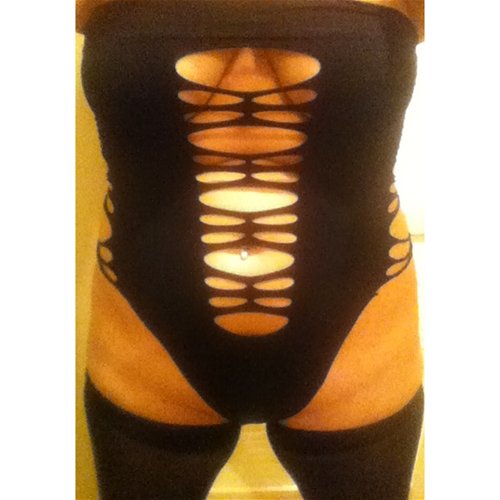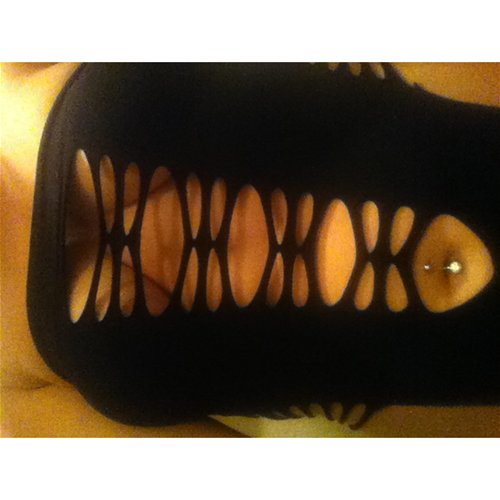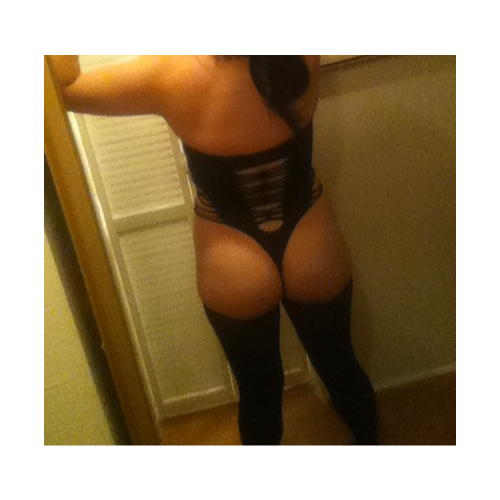 So that's what it looks like on. Here are a couple more details:
1. It's one size fits many--I'm on the larger side and you can see it's stretched pretty thin.
2. There is no underwire--I was pushing it with a C-cup, you can see there's no support
3. There is no panty lining on the inside.
4. The band at the top is tight, so it will not slip off, but it will inch up and give you super sexy camel toe...mmmm, my favorite--NOT!
5. The back just looks freaking awesome.
The good news is both materials are machine washable! Wash in cold water and air dry. If you prefer to wash your lingerie by hand, you are more than welcome to do so! Just make sure you're not using too much detergent. When you air dry the thigh highs and teddy, make sure they are laying on a flat surface or draped over a poll--this will help them from stretching or pulling.
Once done cleaning, storage is as easy as pie! Both materials do not crinkle so you can roll 'em up and lay 'em down in a drawer or your super-secret lingerie location ('cause let's admit it, we all have one!). Just make sure you're not tucking it away with your pet porcupine--both spandex and nylon can rip, snag, or pull, easily.
This item can be worn under looser clothing, as the cuts may show if you're wearing too tight of a top. Be sure that if you wear it with pants or a skirt that has a button, the button doesn't snag on one of the holes--that would be bad. Otherwise this is an awesome outfit to surprise that special someone with...
This product was provided free of charge to the reviewer. This review is in compliance with the FTC guidelines.

Thank you for viewing
Teddy and stocking
– teddy and stockings set review page!