Sexy, cute, flirty...but sizing runs small
What a nice little costume! I didn't know what to expect but I am definitely pleased to play dress-up in this. Be sure to take a good look at the size chart as well as the reviews so that you get something that actually fits you, as this outfit runs small.
Published:
Pros:
CUTE
Versatile with the removal of the corset
Lots of pieces
Cons:
Sizing runs small
Hat is goofy
I couldn't stop giggling as soon as I got the box out of the mail. I got this on a lark, thinking there was a 60% chance it might not fit my body, thinking there was a 100% chance my guy would be laughing if it DID fit. He hasn't seen it yet, but I still can't stop giggling. I am definitely going to be surprising him with this one - not only because it is a little bit absurd (well, for our usual lingerie choices), but also because it turned out to be surprisingly cute! This is only my second costume. I was kind of disappointed when my first didn't fit quite right. I'll be sure to include relevant measurements at the end, and the measurements of the costume.
I definitely haven't been disappointed with this. I ordered the M, expecting it to be too roomy in the top and about right in the bottom. I guess I didn't pay close enough attention to the description because I didn't realize that this was a SKIRT, a CORSET, and a TOP, plus all of the accessories. All three of the accessories! I like that it isn't all one piece - you can mix it up and wear it without the corset.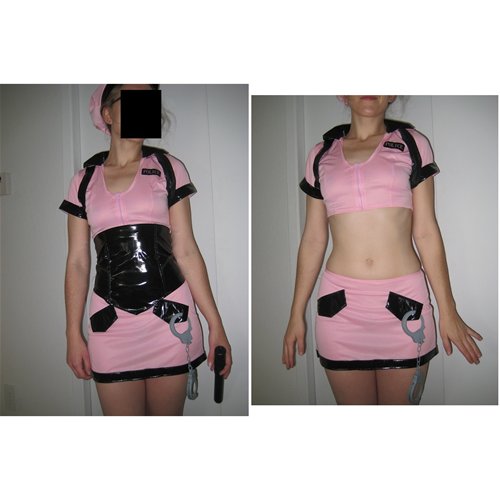 You can see in the side view that the corset has a tendency to bunch up and pooch out. I couldn't fix that, not with the way my body is shaped.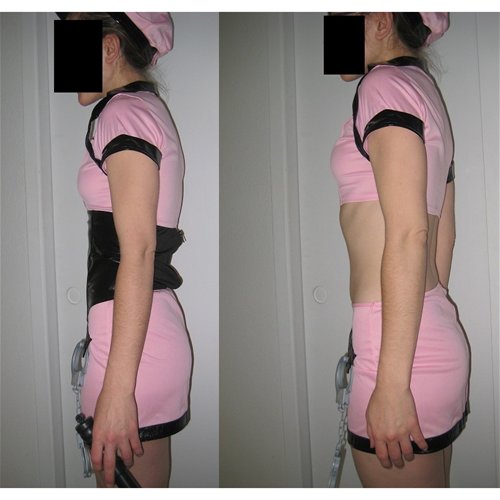 The back view pretty much speaks for itself.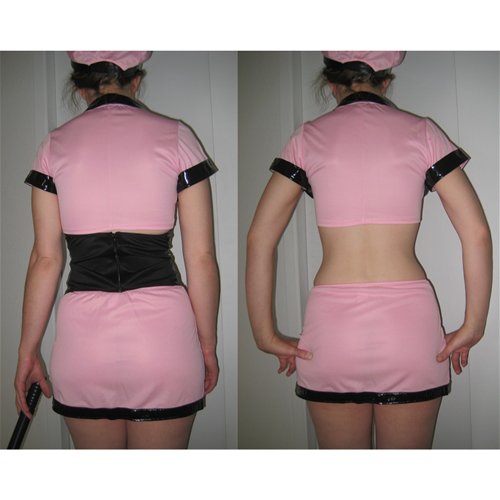 This is a very cute outfit, both with and without the corset. I'm glad it is now in my collection!
The packaging this costume came in is pretty plain. It's just a hanging plastic pouch with a cardboard insert. The insert has a picture of the model wearing it both with and without the corset.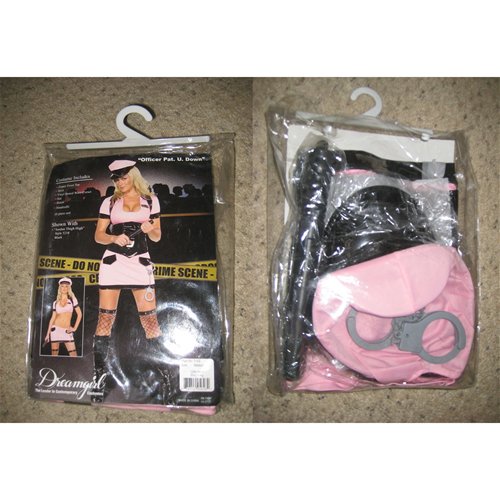 I will probably just fold this costume up and keep it in the pouch.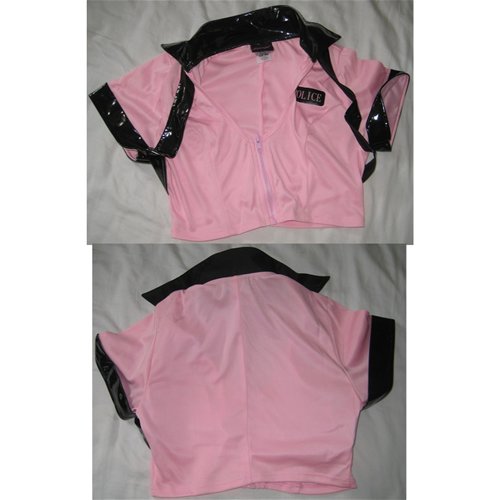 The top is made of 100% polyester. You should hand wash in cold water and line dry it. It measures 12.5" across the bottom when laying flat. This material stretches. The cuffs on the sleeves measure 6" when laying flat. No flex on the cuffs because they are shiny pleather. I am a 36A and this top fit me very comfortably with room to spare. Not so much room as to be baggy, but definitely room for a bustier woman to comfortably wear it. The top just zips up the middle. It measures about 8" from the seam under the armpit to the zipper in the center. So zipped up laying flat, it measures about 16? across the bust. There's plenty of stretch in the bust.
The corset has a zipper in the back and a small black metal clasp at the top of the zipper to keep it secure. The corset measures 27" across when laying flat and has some stretch. It is also 100% polyester and should be hand-washed in cold water and line dried.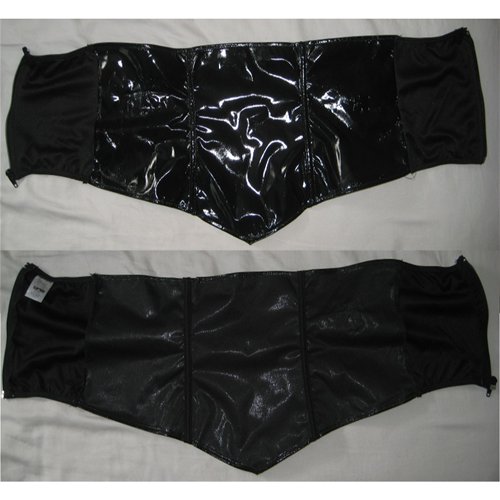 The corset is about 11" tall at its highest point in the front, and about 7" in the center at the back. I was a little worried the corset would be too short, but it looked okay. If you have a longer torso, you might have a little trouble.
The skirt is 20" across the bottom when laying flat. The waist of the skirt is about 13". There is a good amount of stretch throughout the skirt, which is polyester and should be hand washed.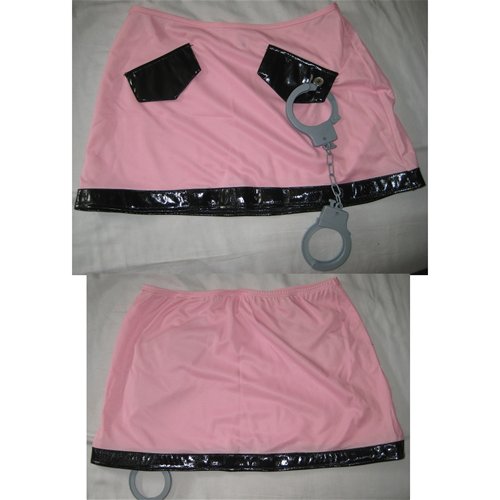 The skirt measures about 11.5" from top to bottom. The cuffs don't come attached to the skirt, but it is easy to slide them through the button hole.
The hat is pretty dorky. I'm not a hat person, so that's why it's awkwardly perched atop my head in these pictures. It's just a pretty standard "ball-cap" style hat.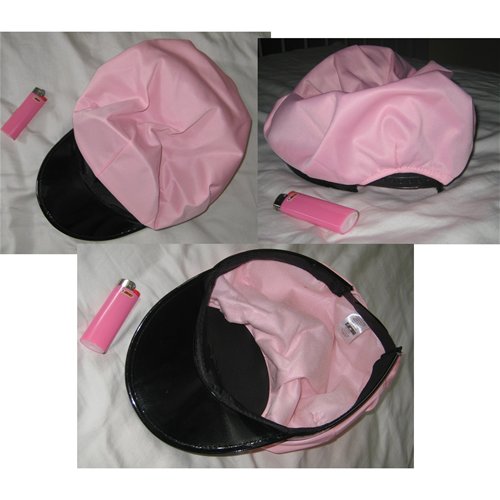 The baton is a flimsy, plastic baton. Cute to have it go along with the costume, but I imagine it just getting kicked under the bed when I actually model this costume for my guy.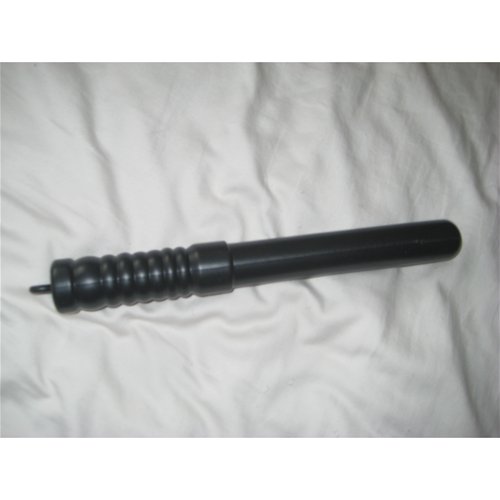 If you're wondering how this will fit you based on my pics, I measure about 31" across my bust beneath my breasts. I measure about 32" across where the skirt is resting in the pictures. I'm 5'6". If you would like any other measurements, I can provide them. I just didn't know what would be relevant.
All in all, this is a great little costume. If you think you'll fit into it (and you'll probably want to go a size up from your usual), you should definitely get it. I look forward to seeing my guy's reaction when I show him what I got!
This product was provided free of charge to the reviewer. This review is in compliance with the FTC guidelines.

Thank you for viewing
Officer pat u. down
– costume review page!