Sexy & delicate, half of the set is a keeper
The bra and thong are awesome, but for me the garter and stockings just aren't worth the hassle. Very soft and comfortable lace and mesh will require hand washing. Nice construction and attention to details. Seam ripper takes care of itchy tags. A nice sexy set for sure! I'm rating it 4 stars because while I didn't love the garter and stockings, it's still a beautiful and simple set.
Published:
Pros:
Soft lace that isn't scratchy, well constructed, pretty design, comfortable
Cons:
Hard to fasten garter clasps, delicate, super scratchy bra tag, not too supportive
For my typical bra sizing, I wear either a 32C or a 34B depending on the brand and what's in stock where I am shopping, as it's difficult to find a 32C sometimes. If I get a 32C, I usually wear it on the 2nd or 3rd (loosest) setting and it fits perfectly. For a 34B, the cups still fit, but the band needs to be on the tightest setting, and it's still a bit loose then. This set is a size medium and the bra sizing is more like a 34 band and seems to run true to size. The cups on the bra fit well (maybe a tad loose) and seem on par with a 34B or 34C.

The lace and mesh are both very soft and stretchy (and see through) but are not scratchy. The downside is that all the lace and mesh make the set very delicate and not supportive, although the underwire and well constructed straps both help with support. The set is far to delicate to toss in the washer, so hand wash every piece. Because the bra is not supportive and is more for looks (in my opinion), I wouldn't wear it all day. A few hours perhaps, but that's probably all. If I was just bumming around the house, all day wear would be okay.

The thong is a standard thong with a nice bit of coverage for your ass (well, for a thong anyways). They seem to fit true to size. The straps on the side are very stretchy too. Most of the thong is mesh, but there is a liner in there too, so I felt comfortable wearing them for the entire day. I have a feeling that if these accidentally made their way into the washing machine, they would completely fall apart.

The set was packaged in a plastic bag with the stockings in a separate small bag. I really need to start paying attention to the packaging because that's ALL I can remember about it. Maybe I should start taking pics of the packaging so I can at least remember it. Needless to say, the packaging was minimal. If you are gifting this set, additional packaging/wrapping will be required.

The garter clasps are all plastic with a little ball that slides into a hook. For someone who wears garters a lot, maybe it's easy, but it was frustrating for me! I do not know how long the clasps will hold up, but it seems like metal would have been much sturdier. The stitching on the straps seems to be done very well.
Experience
The stockings that come with the set are VERY thin and delicate. I can't stand them, even for just a few minutes. They fit pretty tight on my mid thigh and I typically wear a size 4 (or 27 waist) in jeans and I weigh 125 pounds. My legs are normal, not big but not sticks either. The stockings do have some give at the top, but I can't imagine them being comfortable for anyone unless you've got stick legs. Once I adjusted them so they hit just above my knee, it was a little more comfortable, but still not something I'd wear for more than like 5 minutes.
The size tag on the bra is VERY itchy and it drove me completely insane. I took a seam ripper and (very carefully) removed the threads that held the tag on. The stockings that came with this set are very, very thin and feel like my mom's pantyhose that I used to run around in when I was a kid. Maybe they're supposed to be like that, I have no idea. I think I'll buy a different pair of sturdier stockings or something though because I'm sure I'll have holes torn in these in no time at all.
I didn't upload a front picture because the bra is mesh and lace, so you can totally see right through it. I did upload a side pic though, so you can at least get an idea of how it fit. My guess is that if you are a B cup or smaller, the small should fit perfectly. C cups will probably be happy with a medium, and above that I would recommend the large.
This set isn't anything spectacular, but it's simple and pretty. While the material is very delicate feeling, it also feels like it's constructed very well. The straps are nice and solid and all the stitching seems like it will hold up for a long time. I'd worry about the lace and mesh part of the bra ripping or unraveling before anything else. There are a few stray strings, but no unraveling, just more like untrimmed strings.
Bottom line: I love the bra and thong, but I'm not a fan of the garter and stockings. If you like garters and thin stockings, you might love it. I just find them to be too much of an annoyance. I'll wear those pieces for a few minutes for my husband though because he thinks they're pretty sexy.
Side view so you can get an idea on the fit and style. Double clasps in back, traditional look to a bra.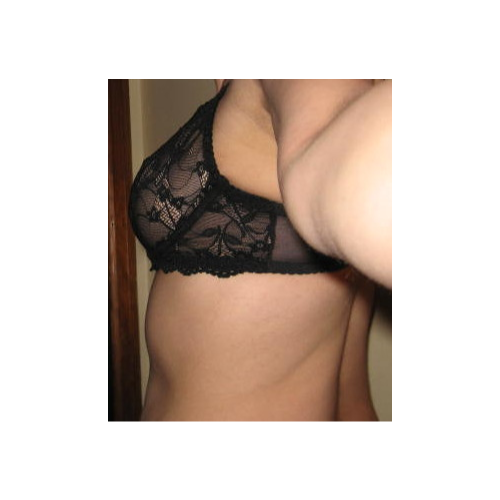 Garter and thong. Not the biggest fan of this picture, but you get an idea on fit.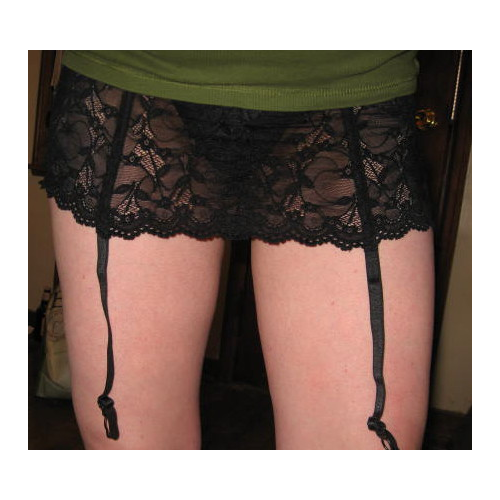 The bra and thong. The straps on the bra are nice and sturdy, not thin and wimpy like some bras. They feel soft and satiny.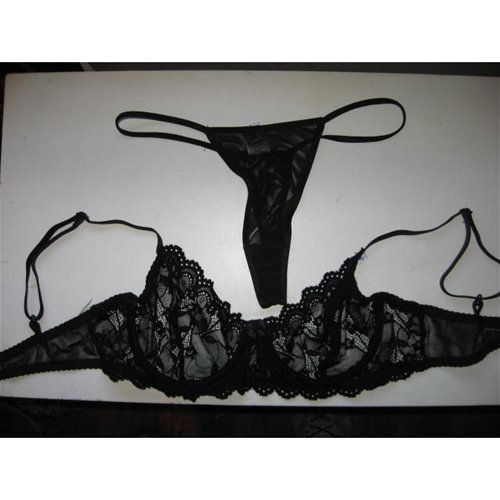 The thong is very comfortable, but super delicate. I've got the thong facing backwards for this pic so you can get an idea of how much material/coverage there is.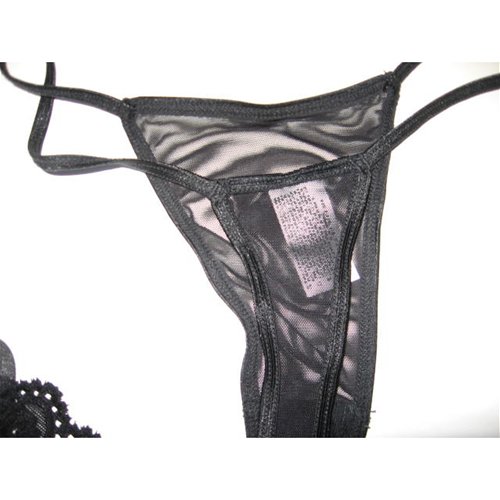 The garter.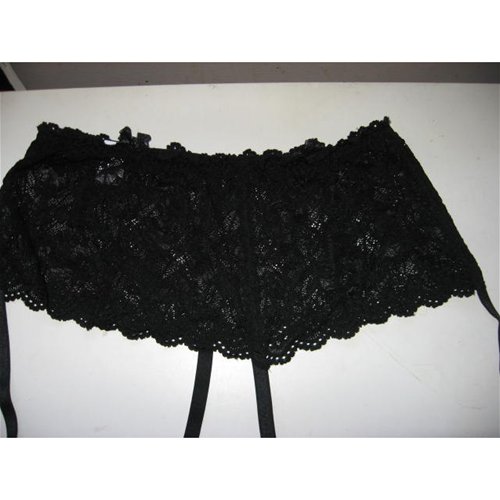 This product was provided free of charge to the reviewer. This review is in compliance with the FTC guidelines.

Thank you for viewing
Sexy lace four piece set
– bra and panty set review page!