Sexy erotic fun!
This product is worth it. For me it was a great experience although the top was a little confusing to put on the picture that is included in packaging helps, wasn't too hard to figure out. I do wish the color was brighter, however, the fit was great and I felt sexy along with looking sexy.
Published:
Pros:
Sexy and sleek, fits great, perfect material.
Cons:
Top was a little confusing to put on, color isn't as bright as I thought.
Espiral presents you with a very sexy two-piece lingerie set. This hot little number zips in the front and the bottoms slide right up! I wanted this set to wear with my fish net thigh highs and heels to do a little dance for my hubby. At first when I opened the package I thought there was no way these bottoms were going to fit my big behind! But the top and bottom both stretch to cover even the voluptuous sizes! This lingerie duo comes in sizes ranging from small to extra large (small, medium, large, and extra large).
The duo is made of 93% Polyester and 7% Elastano (known as spandex). The top has a zipper making it quick and very easy to put on. The bottoms are just your standard panty, put your legs in and slip on up. When wearing this outfit it has the comfort of a bathing suit, but also the discomfort of riding up with too much movement, like when you go to a water park and go down a slide when you stand up your bottoms magically turn into a thong! I was doing a little strip dance and when bending down a standing back up it was like OHH! My hubby said he didn't mind the riding up because he felt it as a tease. The set comes in fuchsia, black, and white, I got the fuchsia and compared to the fuchsia I am used to seeing is not very bright. To me it's more like a frosted tulip pink here's a site with the perfect
color
.
The top is more like a bathing suit tank top (stopping at your waist) the zipper makes it sexy and revealing if you want to or keep it zipped up and slowly reveal for the ultimate tease! The top has a collar like dress shirts do that goes around the neck and its open back. You're not supposed to wear a bra underneath, but I did because it was apart of the act just shows there is room to breathe when wearing this product. The top measures across widest point of the tank at about 13 ½ inches without stretching and when stretched it's about 19 ½ inches wide. From the top of the collar to the bottom of the tank is measured at about 15 ½ inches (with collar folded down) and is able to stretch not that you would need it too but it stretches to 26 ½ inches (with collar unfolded). The color is solid and the zipper is silver with black material outlining it. The zipper is made of plastic, and thankfully does not snag or gets stuck, glides very smooth!
The panties are basically normal style. They are very cute and shape your booty great. They are not very long so when stretched they ride up. Normal size these panties measure to about 14 inches wide, when stretched the can go to about 23 inches before completely riding up and becoming a thong. They are about 8 ½ inches long and don't stretch, but an inch. But if you stretch them wide ways the length shortens and doesn't stretch without busting the stitching. The bottoms are the solid pink with same color stitching. The bottoms do not have a panty liner, I hand washed this item before use, and even though it's in sealed packaging you never know if it touched anything before packaged. The bottoms look like they have an elastic top, but they actually don't they are just sewed that way the material its self is stretchy.
The top and bottom both have tags telling the material, product name, how to wash, size in three languages, where they are made. This product has to be hand washed, in which I agree machine wash may do damage.
The set comes in an Espiral lingerie bag with a hanger attached and includes a picture of a model with the lingerie on; on the back are the same model with a back view of the product and other models wearing other products from this company. Packaging is not very discreet; the actual shipping box is the only discreet part of the entire packaging. If you want to save the lingerie bag it comes in be careful how you open do not rip! At the top of the bag there is a hanger flip package over look at the bottom there is flap pull and it will open with no problems.
Experience
My overall experience with this product is rated at a 4. Which means I had a good but not excellent experience with this product. This product is great for a sexy evening with your hubby, mine loved it and he's very excited to see it again!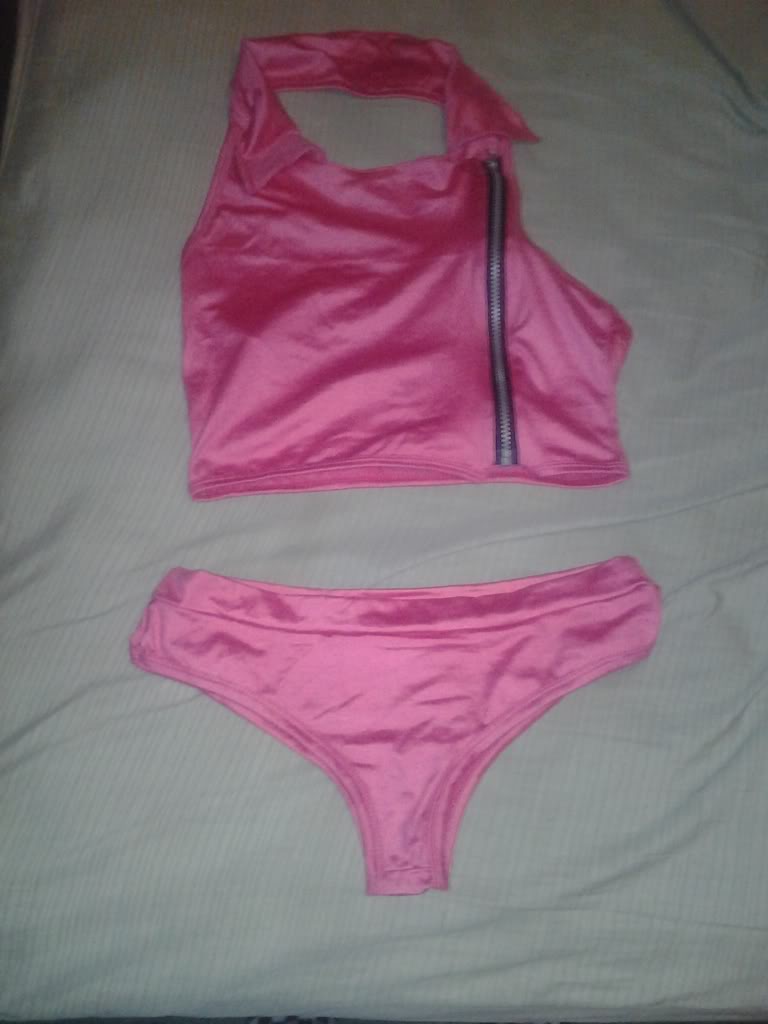 Front of set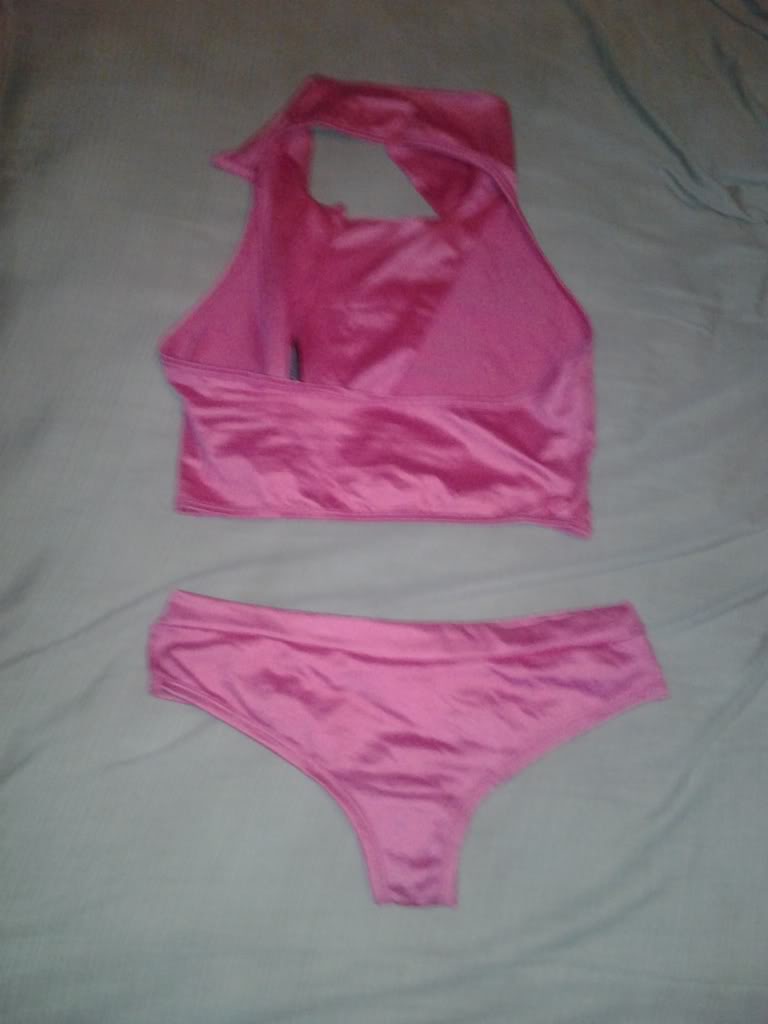 Back of set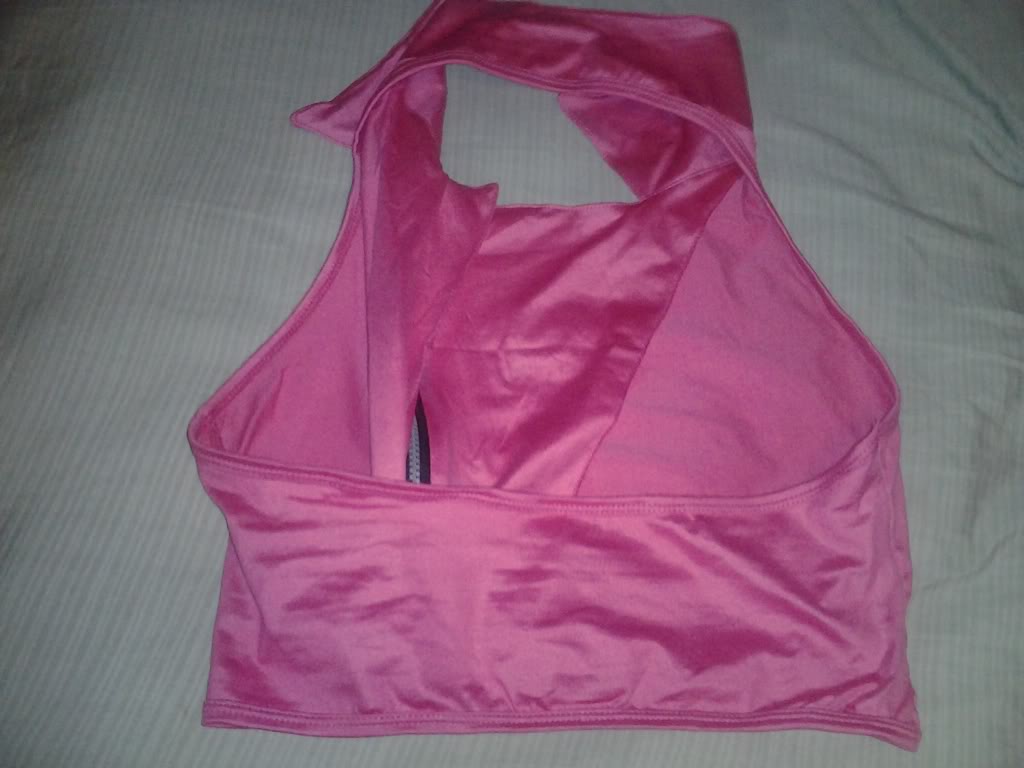 Back of top
Follow-up commentary
4 days after original review
I love this set! I not only feel sexy, but I look sexy in this too. The pink brings out my complexion, my hubby still gets excited over this sexy little number, and I enjoy wearing it!
This product was provided free of charge to the reviewer. This review is in compliance with the FTC guidelines.

Thank you for viewing
Fuchsia zipper detail two piece set
– bra and panty set review page!