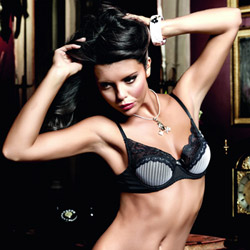 Pinstripe bra
Bra by Baci
Sexy Executive-y
This bra is really comfortable, the pinstripe fabric covered the nips 85% of the time, and the lace was just really sexy. For what you pay, it's a great deal, and it looks more expensive than it is. Not really practical for wearing under tight fitting clothing, but for loose dresses, or for bedroom wear, it's a perfect fit!
Published:
Pros:
*Super Soft, and Very Stretchy
*Great Price
*Fits Well, Moves Well
Cons:
*Some Tiny Manufacturing Flaws
*Weird Lace-Meets-Pinstripe Seam, Too Puffy
A very sexy, and very impractical bra! Honestly, it is a divinely sexy piece, but because of the construction, it will look lumpy under anything that is tight or fitted. For what you pay, it's definitely worth it, and the lace is transparent enough that it will wow any audience!

So overall it's a standard bra. Two hook and eye closures a the back, with three adjustable settings. The straps are elastic and adjustable as well. The back fabric is a black mesh look, and it's not too cutting or scratchy either. The cups themselves are not that padded at all, enough to hide some headlights, but not enough to make you double take the mirror. If it was overly padded, it would look really weird when it turns into the lace.

There's an obligatory rhinestone hanging from a bow in the front, a little tacky, but it can be easily cut off if you don't like it, and otherwise it's just a bit of sparkly! The fabric on the pinstripe is soft, polyester with white and gray stripes. I see no pink on either the bra or the picture, so the page might be misleading you a bit there, but it looks great anyway. It's quite a professional look, really!

Where the lace meets the pinstripe is a bit weird though. For me, this happens right above me nipple, so luckily it doesn't cut across in an uncomfortable or weird way, but I could easily see this happening to some people, who may be shaped differently than I. Then the lace starts, with a quarter inch of ruffled lace running right across the bra from the middle to the strap. It looks really cute, but it makes it look lumpy under shirts. The lace itself is floral and very holy, so it's pretty sexy and there's a lot of skin showing. The lace is really soft as well, and not at all scratchy.

The whole bra feels rather light and thin, the fabric is breathable, and it's very stretchy, because there's so much spandex in the fabric. If you move around a lot in it (for me anyway) I suffered the more than occasional nip slip, but that's half the fun, and it's not uncomfortable either way, in lace or in pinstripe. I got the 36C, which is my normal size, and it fit perfectly and just as expected.

There were several design flaws I saw, number one being the obvious weird ruffle on both cups, but if this bra is intended more for bedroom use than wearing out, then that's fine. I also noticed that on my bra, on the left side cup, where the top of the lacy cup meets the strap, there was about 3/4 inch of strap extra just hanging down. The straps were the same size from the front to the back, so it did not affect the sizing at all, but it's just cheep looking. There were also several loose threads hanging down under the under wire, but that is easily remedied.

This bra also arrives in a very sleek box with a picture of the lovely model on it and lots of gorgeous text and packaging. It makes it look very expensive.
Follow-up commentary
28 days after original review
Still sexy, still comfortable. Doesn't get messed up in the wash, or the dryer, it kept it's shape well. It's a very sexy piece, if you can ignore the slightly cheep manufacturing.
This product was provided free of charge to the reviewer. This review is in compliance with the FTC guidelines.

Thank you for viewing
Pinstripe bra
review page!