Sexy, flirty, and completely see-through — what's not to like?
Not just for the honeymoon. This lingerie set is cute, sexy, and fun. Except for the inflexibility of the plastic boning, it is comfortable and would look great on a variety of body types. Not to mention it's a great deal! Although the boning does restrict your movement a bit, overall I absolutely recommend it.
Published:
Pros:
-Good price
-Sexy look
-Good fit
Cons:
-Plastic boning
-Completely sheer all over
Okay, I have to start by saying that I love this set. It completely lived up to my expectations, which is wonderful, because product photos can sometimes be misleading.
Description & Pictures
The top consists of lacy white bra cups attached to a mesh body with two strips of plastic boning. The bottom piece is a white lacy mesh thong.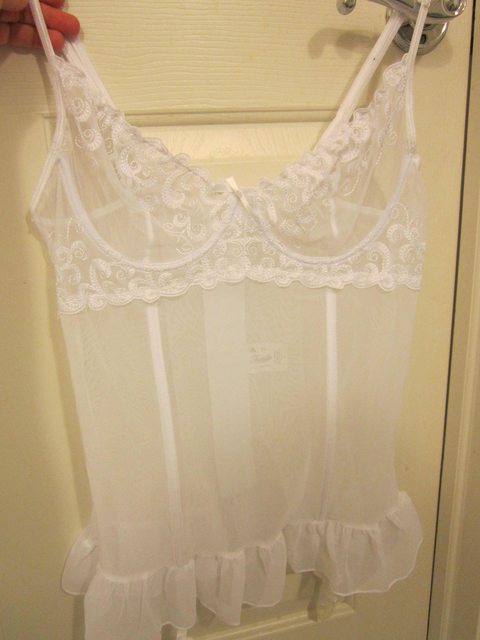 (Front)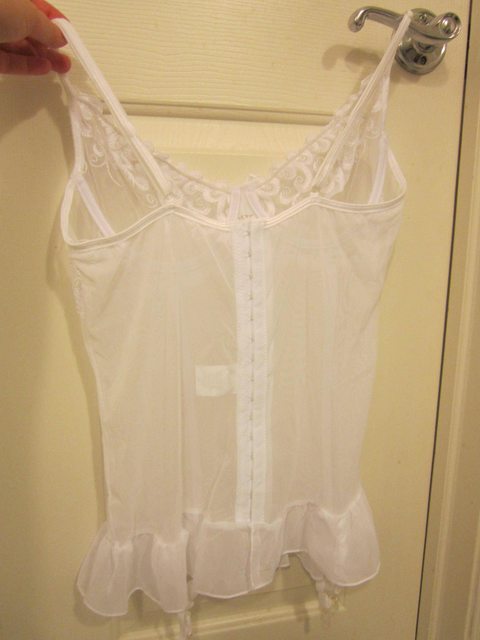 (Back)
Notice that a column of little hooks holds the back together. I put it on by hooking it up in front, and then turning it around, like I do with a bra.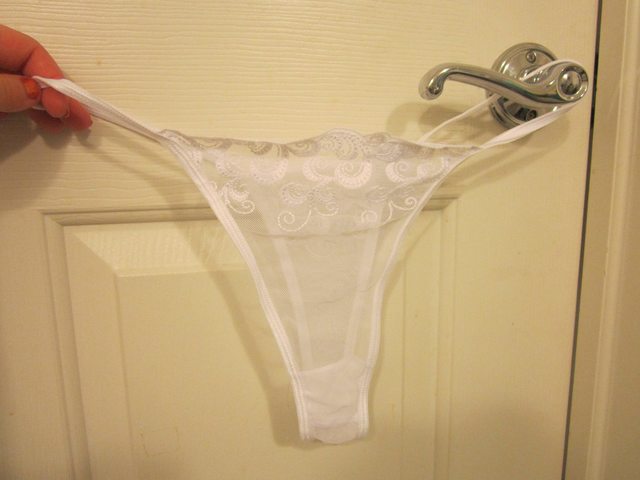 The thong.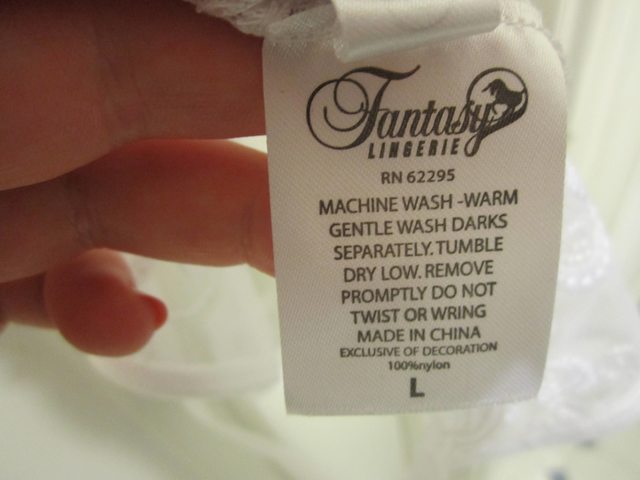 The tag with washing instructions. This is right in the front of the thong (you can't see it in my picture above, but it's VERY visible in real life). I kept it on for the pictures but now I'm cutting it off right away. I do not want a big chunky white tag showing through right on my crotch.
Fit & Wear
I am a 36DD, with 40-inch hips last time I measured. I got the large, and it fits me very well. This is great news because it means that the lingerie is accurate to the sizing chart! The cups are a little small for me, but still wearable. I'm sure a D or a large C would fit reasonably as well. I have a short torso, so I love that this babydoll has adjustable straps. The thong is a little big, but still wearable as well.
I love the look of this lingerie. It's completely form-fitting and see-through, so it doesn't hide a thing — it just decorates your body and adds sexy lace. The mesh is very comfortable against the skin, not itchy at all. I do have a couple of practicality issues with it. First of all, as I've already mentioned, the big tag on the thong is a total turn-off, although I understand that that information had to go somewhere. Also, the sheerness of the thong was a little bit of a problem for me. I like to keep my Garden of Eden trimmed rather than completely shaven, which is fine if I'm wearing a darker-colored thong, but white transparent mesh does not make for the cutest look. Fortunately, the ruffle at the bottom of the babydoll mostly covers it.
But the biggest downside to this set is the plastic boning. It adds aesthetic appeal, but it means that you can pretty much only wear this lingerie either standing up or lying flat on your stomach or back. The second I start to bend over or sit down, the plastic bends and bulges out in a way that is not only unattractive, but also makes me worried that I'm going to snap the plastic. This could be a deal-breaking flaw for some people. Since I'm currently partner-less, I have no need to be in contorted positions. For standing in front of my mirror and posing sexily, which is my #1 favorite thing to do in lingerie, this set was perfect. But it does restrict your movement, so be aware of that.
The only other problem I have with this is that I don't own any white garter stockings! That's next on my shopping list for sure.
Overall, though, I like this a lot. If you were thinking about buying it, I would say go for it! It's a great bargain and really does look as cute as the product picture, even on me, a non-model. (I wish I could show you some pictures, but this is completely sheer. I'm comfortable with my body and all, but there's comfortable and then there's porn star, you know?) The stretchy material means that even if the size you buy isn't a perfect fit, there's a good chance it'll still work for you. I'm very satisfied!
This product was provided free of charge to the reviewer. This review is in compliance with the FTC guidelines.

Thank you for viewing
Honeymoon babydoll with garter set
– babydoll and panty set review page!