Sexy Legs Makes My Hubby Want More!
Looking for something to spice up your marriage or relationship. Want to pamper yourself and look and feel like you are the queen of sexy? These thigh high fishnet stokings with a satin bow accent is a great way to show off what your mama gave you. The bow itself makes me feel those tingly feelings between my legs and when I put the actual stockings on.. then the magic happens for my handsome hubby and myself.
Published:
Pros:
Soft, Sensual, Erotic, Bows, Made by Fantasy Lingerie.
Cons:
Not made for club wear.
Fantasy Lingerie Bridal Collection Fishnet Stockings with a Bow Accent is a sexy addition to your lingerie collection, bridal attire, or your costume collection. These fishnets are stretchy to accommodate shapely legs and make you feel sexy no matter what you wear them with. Made from 100% nylon the fishnet is very soft and luxurious on your legs. They are great to wear with a garter belt or just by themselves; and you can even wear them with the satin bow in the back or the front. We always love reversible lingerie!
The Bridal Collection's Fishnet stocking are very soft and smooth. When I had them on, I kept finding myself running my feet up and down my legs to feel the erotic texture. My husband could not keep his hands off my legs. It was not until the first time I put them on that I discovered; my husband was a thigh man. He really enjoyed feeling them on my skin and kept commenting on how plush and nice the fabric felt. My husband always makes me feel sexy in a way that is indescribable.
Although these stockings can be worn anywhere and with any style of clothing, these delicate fishnet stockings are better suited for bedroom play then a night out on the town. They are plush, soft, and classy enough to wear with any lingerie that matches with this sexy piece. Also, these would look amazing for costume play such as in a role-play type of setting or an erotic night at home.
I would recommend these fishnets to anyone who is looking to spice up there bed room time. Show off your legs with these sensual fishnets. You and your partner will both love them. And for a price that won't break your budget.. it is a win-win!
Material:
100% Nylon
Nylon is a synthetic polymer fiber which was created to be an inexpensive substitute for silk. Its silk like feeling along with being "as strong as steel" is what makes nylon perfect for stockings.
History of Nylon
Size:
Size:
These fishnets are available only in "One Size Fits Most"
The outer package sizing chart lists these measurements:
5'-5'9" height 90-140 lbs of weight. On the inside plastic package it lists the size as 8 1/2-11
Care/Washing:
These fishnet stockings are as easy as 1, 2, 3 to wash. First, simply hand-wash in cold water with mild soap or lingerie wash. When I wash delicates such as these I don't use a scrubbing motion with my hands to help ensure that the fabric is not harmed and they remain looking as new as the day I received them. The package suggests hanging your stockings to drip dry. But be careful when hanging them to dry as a close pin may snag the nylon and destroying the sleek look of these thigh highs. In addition, since these are white and may become dingy or stained the care instructions on the package suggests not using chlorine bleach to clean them.
Packing:
The thigh highs arrived in a thin rectangular box, wrapped around thin cardboard, and placed in a plastic bag as most stockings are packaged. On the front is a photo of a model wearing the pantyhose and states the product line. The back of the box has a thumbnail of the front photo, size chart, and care instructions. I store my stockings in my underwear drawer and recycle the packaging that the stockings arrive in. Although, since the thigh highs do not have a care tag inside you may want to keep the packing for washing instructions.
Have you ever had one of those moments when buying your sex products where the male cashier looks at you with that "I know what you are doing" look? That's why I just love ordering my items from EdenFrantasys there is no worry about having one of those embarrassing moments in the checkout line. We can order at home and wait a few days for out very discreet package to arrive and know that our bedroom life is always a secret.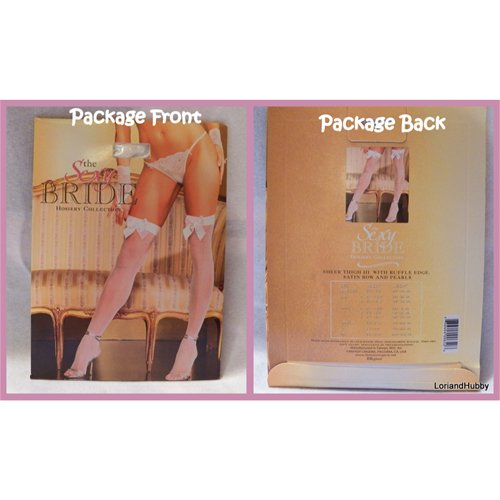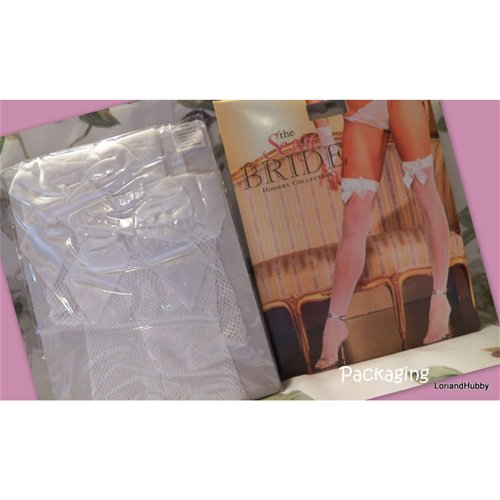 These stockings measure:
Length: 28 inches not streached & 56 inches streached
Band: 5 inches across & 2 inches high
Bow: 4 inches across & 4 1/2 inches high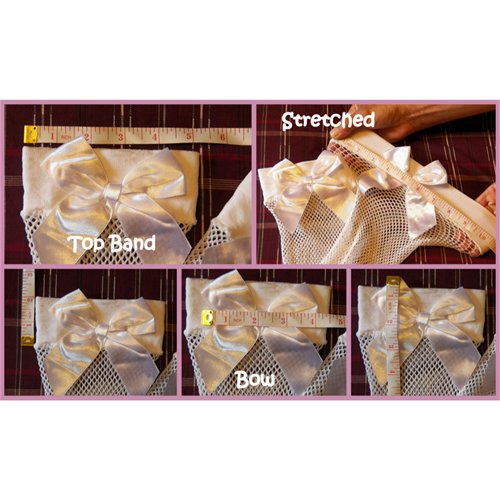 Experience
For years during our marriage I have simply worn a t-shirt to bed. I never realized how boring this was for my husband and even for myself. I bought these fishnets to go with my first corset and I could not have enjoyed wearing these more. At forty something years old I honestly felt sexy in these stockings and a corset; who would have imagined. Part of our plan to "rediscover" each other after 17 yrs of marriage and two kids, is to look and feel sexy. So when we saw these fishnets accented with the satin bow we would not resist ordering them.
When my husband come in the room from taking his shower I was waiting for him all dressed up and laying across the bed. With the lights turned down low.. he was surprised to see me. I later found out he was extremely turned on. I modeled my outfit and even danced a little for him. I felt sexier that I had in years wearing these thigh highs. The night was amazing, we will leave it at that since I don't want you all to know my dirty secrets.
Over all my husband and myself really enjoyed these stockings and how cute they looked with my corset. They really added a touch of elegance with its cute satin bows. And best of all they survived the night with no picks or snags! We could not be happier with our purchases.
Although unfortunately, the "One Size Fits Most" did not include my beautiful legs. I am 5'5 and 150 pounds, yet, the netting part of the stocking did not fit my legs snugly so the extra netting kept falling down my legs. Although, the top band held them up nicely to wear them as stand alone. Most thigh hi's that I have worn are really tight in the netting part of your legs and are from the same material that some dresses are.
In this particular thigh hi's it doesn't have that for some reason, it really makes me sad since I wanted this product to work for me as well as the other one's I have bought. Since these are 100% nylon and no additional elastic type material woven in these thigh hi's, they remain stretched out when taking them off.
In addition, their stretchiness allowed my toes to pop out through the holes, so I would not recommend wearing these with a pair of open toed heels. Also, when putting these lovely stockings on please watch out for hang nails or rough skin, since the nylon is very easily pierced and leaves threads popping out in the fish net.
Don't be discouraged! Even though they didn't fit me correctly, you can always use garters to keep these beautiful thigh hi's up and give an extra seductive look in the process. What have we learned from these? Garters are a girls best friend! And in the future, I hope that I pick my sizing right.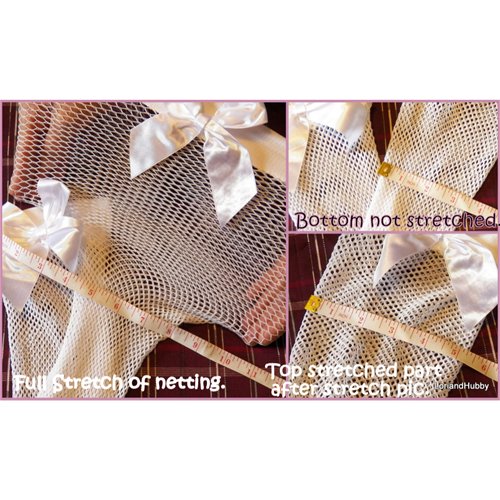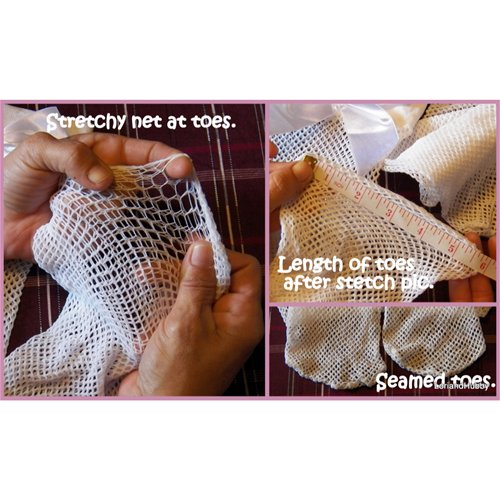 Follow-up commentary
2 months after original review
These fish nets have really grown on me. I have found a new look for them and a way to keep my toes from popping out, layering them over black sheer thigh highs. It really looks great. Also, the bows have held up to several time of washing them. Over all they are a great pair of stockings.
This product was provided at a discounted price in exchange for an unbiased review. This review is in compliance with the FTC guidelines.

Thank you for viewing
Fishnet thigh hi stockings with satin bow
– thigh highs review page!