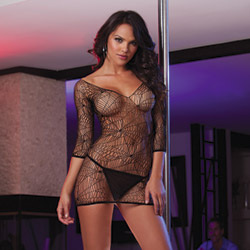 Spider web dress and g-string
Mini dress
by DreamGirl
Sexy Little Spider
As someone who loves net dresses, I'm always looking for unique net pieces to add to my collection. It seems like once you've seen one fishnet dress, you've seen them all. This piece takes an interesting turn on the net dress look -- instead of fishnet, it does a spiderweb pattern, which is incredibly sexy and unique. Unfortunately, however, it's also incredibly easy to snag, and it's very delicate. Still, it's a piece that I'm glad to have in my collection while it lasts.
Published:
Pros:
Stretchy, Soft, Decent one size fits most, Unique, Sexy
Cons:
Not exactly as pictured, Potential to snag easily, Very delicate, Didn't come with g-string
When I saw this little "dress", I thought it was a truly unique piece. In reality, it's just another net type of dress, but the netting on this piece is designed to look like a spiders web. It's unique, and it's kind of sexy. I don't think it'll be replacing my favorite fishnet dresses anytime soon, but it's earned its place in my lingerie closet.

Basics:
The spider web net "dress" is made by Dreamgirl. The packaging and product page state that the dress is supposed to come with a g-string -- mine did not come with a g-string. This is not a huge deal, as usually the included g-strings are crap anyway. And, I just know that a one size fits most g-string won't fit me, anyway. So... my review will be based on only the spider web dress, but let's be honest... if you're buying this, you're not buying it for the g-string, anyway, so no big deal, right?

Now the dress... The dress is sexy and unique, and it is available in two colors! You can get this dress in black, or hot pink. I chose to buy the black version. The dress is meant for the bedroom, but you could wear it over a camisole and jeans for a sexy look that's suitable to wear out.

For those curious about where items are made, this particular dress is made in Taiwan.

Material & Care:
The packaging does not say what this dress is made out of, and there's no tag in the "dress". The product page states that it's nylon and spandex, which seems accurate, but I can't tell you what percentage of each fabric has gone into this dress. I can, however, tell you how the dress feels, and that's really the most important thing, anyway.

The material on this dress is very stretchy, and very thin. It's also incredibly fragile; it won't be hard to snag this at all! So, you're going to want to be extra cautious with this piece. Comfort-wise, the dress is very comfortable; it doesn't itch at all.

As for sheer-ness... well, I think it goes without saying, but just for the sake of being extra thorough? This dress is see-through. It's all netting, and you can see through the netting. Further, you can expect your nipples to poke through the netting, as there's nothing to stop them (unless you wear pasties, but if you're wearing this dress, keeping covered probably isn't a concern).

To care for this item, you should hand wash it in cold water. You should then allow it to line dry. Do not bleach this dress.

Sizing:
This item is currently only available in one size fits most. According to the size chart, one size fits most should fit someone that weighs between 90 and 160lbs -- but that's really a dreadful way of sizing things. So, maybe my own measurements will help?

I wear a 34d bra, and have a 32" waist. My hips measure 40". I am on the upper end of the weight chart.

When I first pulled the dress out, I started to laugh. It looked like something a toddler could fit in! Thankfully, however, the dress stretches, and it did stretch to fit me. I don't think it would properly fit anyone larger than me, as I honestly felt like the material was about to tear when I slipped into it. Once I got it on, I found that I was able to pull it down so that it just covered my ass. I'm 5'6", if that helps.

The dress can certainly fit those on the lower end of the weight range, though.

Overall, this is a decent one size fits most.

Design:
This is a really basic, yet unique, dress. They call it a dress, but it's not -- it's a top, or chemise, if anything. Anyway, it's long-sleeved, and it's meant to fit snugly. It's not the outfit for individuals that are shy about showing their bodies.

For the most part, the dress is just a spider web netting. Both the front and back are made of the netting. The front and back of the "dress" have a v-cut to them, which is subtle, yet sexy. The neckline is quite large, and on me, I found that it had a habit of slipping off of my shoulders.

In the stock photo, the sleeves appear to be three quarter length. In reality, the sleeves fit me like long sleeves -- they go all the way down to my wrists. I don't mind longer sleeves, so this wasn't a problem.
Experience
Packaging:
This came packaged in a sort of cardboard envelope. The packaging features photographs of the model on both the front and back, so it's not really discreet. The packaging does not offer a lot of information about the product, but it still manages to be enough.

Quality:
This piece is extremely delicate, and I feel like it will tear very easily. Still, it's not awful quality.
This product was provided at a discounted price in exchange for an unbiased review. This review is in compliance with the FTC guidelines.
Thank you for viewing
Spider web dress and g-string
– mini dress review page!