Sexy maid at your service ;)
I really enjoyed this product. I love adding a little spice to roleplay, and this does just that. I love that it's adjustable. I would buy this again!
Published:
Pros
Cute, Nipple-slippage-Depends on person, and roleplay
Cons
Nipple slippage-depends on the person
Out of box Impression:
My first impression is that it's a perfect combination of lace, roleplay, and a little sass. When I saw it, I was already having fantasies about cleaning the kitchen just wearing this apron minus the panties and adding a pair of sexy heels. I thought this would be the perfect way to surprise my girlfriend after a long day at work. The items arrived in a resealable bag with a separate one inside of it to hold the accessories. The storage bag is what I have been using to store this in. Another way someone could store this would be to hang up the apron on a hanger or fold it up neatly into a dresser.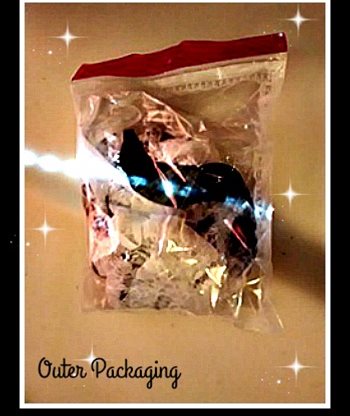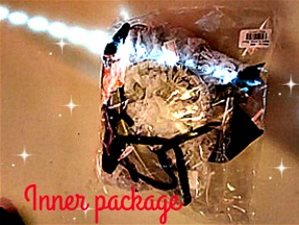 Apron:
This apron is made up of incredibly soft lace material. It is very soft to the touch and completely adjustable. Since I have a smaller waist but bigger boobs this helped me get the perfect mix. I found the details amazing. Not only does it have a little bow with a sash on the front of it, but it also ties together with some soft material in the back. The ribbon itself flattered my hips and curves. There is also a black border that compliments my chest and makes the white pop out. At the end of the apron, it has a beautiful ruffled design on it.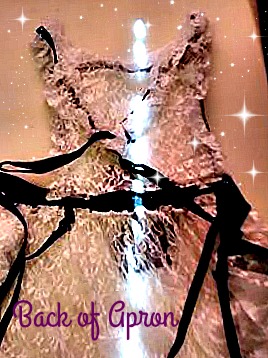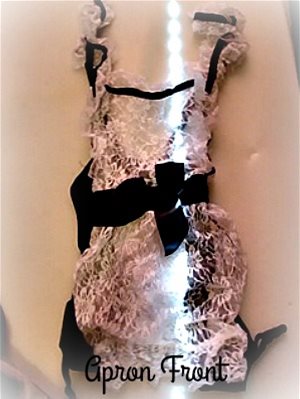 Accessories and Panties:
Maid's Bonnet:
I find the bonnet to be adorable. It has the same material as the apron. It was soft and simple to put on. It fits like a headband. It was also incredibly comfortable. I didn't find myself constantly adjusting it. I have seen that the bonnet would look best with either red hair or someone with darker hair. Darker hair makes the white pop out. I believe anyone's hair color though would make this look exquisite.
Panties:
These panties add a naughty sass to the outfit. They are ultimately see through and adjustable in the back. The G-String is from the same comfortable lace that the apron is, which makes sure that they aren't itchy. You can add the panties to the apron, and you can see right through them. These panties add some extra teasing before you have fun.
Feather:
Ooo, now we're talking about some sensory play. This cute little feather adds some extra sensations when you caress it over the skin. I don't think it would do a very job cleaning, besides who wants to get a beautiful white feather dirty. Not me!
Garters:
This outfit comes with four fasteners that attach to under the waistline. This feature ensures the stocking won't ride down on one slide and look awkward. These are super simple to hook tights too. You just need to push the big piece out of the socket and wrap the beginning of the tights underneath it. To close it you feed the cloth through the more rounded end and pull it up through the smaller end to secure it. It is as easy as one, two, three.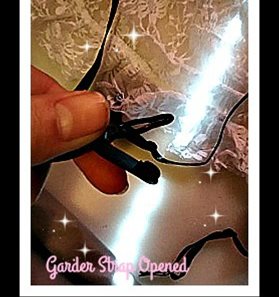 Ribbon:
This tiny little ribbon adds a new flavor to the outfit or enhances additional features. The ribbon ends are sealed off to prevent the fabric from fraying. The ribbon itself is a little over two feet long, and an inch thick. You can use this to wrap it around your neck as a small bow or around your hair like a ponytail. You could also place it on your wrist as a little bracelet. These options would all be adorable.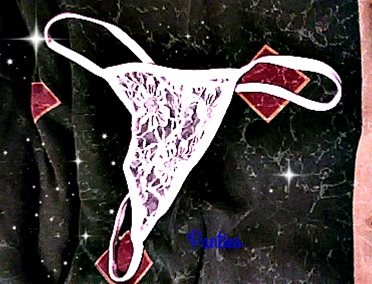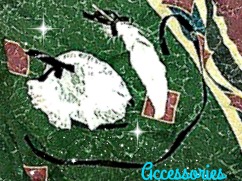 Material:
The outfit is 90% Polyester and 10 % Spandex. The material is really soft and would be comfortable to sleep in if you don't mind your boobs hanging out. I would recommend taking out any piercings before wearing this outfit. Lace and piercings don't mix. The straps are always getting tangled up or going under each other. It is an easy fix though. You will have to adjust your breasts if you don't want them to fall out. You can also use a strapless bra if you want but that's not fun. I wouldn't recommend walking around a public place with this one unless you want to flash everyone. This apron set would definitely be more of a behind closed doors outfit. As long as you don't make it your mission to be too aggressive with this outfit it should last a while.
Care instructions:
The care instructions are in Chinese. The instructions state: Do not dry clean, wash in cold water, (hand washing will probably make it last longer for you), don't bleach it, and do not iron it. Use a delicate laundry soap and hang it to dry.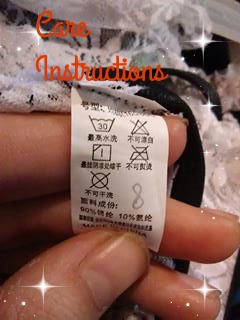 Experience
Sizing:

I am petite, so this outfit was a little big for me before I adjusted the straps and ribbon. This apron is very adjustable. The panties and the top were a bit big for me, but it was okay. I might have had to adjust my boobs a few time, but at least it was sexy. I do believe this outfit has a tremendous amount of variety. The material and straps are very stretchy, and this means people smaller than me could fit into it and those a little bigger than me could as well.
Follow-up commentary
2 months after original review
This sexy cosplay has held up very well. I really enjoy all the sexy nipple slips I think that adds a lot of sexiness to the product.
This content is the opinion of the submitting contributor and is not endorsed by EdenFantasys.com
Thank you for viewing
Night service maid
– costume review page!