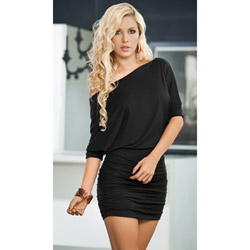 Black off shoulder dress
Mini dress
by Espiral
Sexy off or on the shoulder dress that can be worn anywhere's!
I am so happy I had my heart set on getting this dress and took the chance with it! It is by far one of the most flattering and sexiest dresses I own now. Even though it is plain in color with no standing out embellishments the design alone has a huge impact and makes this dress stand out.
If Espiral had just made it double layered or thicker material so you couldn't see through it in areas I'd give it 5 stars, but I'm going to give it 4 since this is the only issue with it.
Published:
Pros:
comfortable, flattering, versatile, can be put in the washer, no craftmanship issues
Cons:
only available in 3 sizes, can be slightly transparent
I have wanted this A.M:P.M- Off The Shoulder Dress by Espiral since the day it hit the page on EF. Unfortunately, It has been continuely selling out since then. Barely staying on stock for a day and then back out it goes with me missing it every time..until recently. I was alerted the size I wanted was back in stock, so I snatched it up without hesitation knowing that I needed to hurry so I didn't have to spend forever drooling over it again! So happy I did because the next day it was out again! For a dress that had only three reviews between the two colors offered (black/white) and two of those reviews had very low ratings for this dress, it goes really fast! Maybe everyone else had the same thoughts as me and just loved how it looked on the product page so much that they don't care?
This dress comes delivered to you folded up in a small plastic bag with no writing or pictures on it. Far from being fancy, but who cares it's only the packaging so lets get on to the dress! As I had just mentioned it is available through EF in black and white. Being a person that wears black just about everyday and never white, I of course chose the black. EF also only has this available in three sizes that being small, medium, and large, so unfortunately not everyone will be able to enjoy this dress, and what a disappointment that is since it's so flattering. I had ordered the large praying it would fit and let me tell you when I unfolded it from the package and saw how small it was I thought for sure it wouldn't fit and wanted to go into a crying fit right there! I figured I'd try anyways and I guess since it is made out of 94% rayon and 6% elastan (elastic) there's alot of stretch to this dress because it fit like a glove! It is alittle tighter than it is on the model but I actually like that.
There really isn't a front or back to this dress which is pretty cool because you don't have to worry about putting it on backwards! Both sides look exactly the same and there is no tag inside on either side. The neck is a boat neck style that can be worn like this or let it fall off the shoulder as it shows to be. Personally I prefer to have it wide on my neck than hanging off my shoulder so I like that I have that choice. The top section of this dress is looser and more free flowing than the bottom. The arms are tighter around your arm and then open wider and blends into the body of the dress, creating a batwing effect when you have your arms out. Because this dress is tighter on me it doesn't do this as much as I saw on another contributor. At the waist there is a seam that seperates the top from the bottom. At this seam is where it starts tapering in to a more body hugging skirt. On each side of the bottom of the dress is ruching which makes this piece very flattering for woman with fuller bottoms or waist. Since the ruching is there it gives the option to wear this mini skirt short or longer. I'm 5'5 and at the longest it can go to 2" 's above my knees. The bottom of the dress is more of a U shape instead of being cut straight across.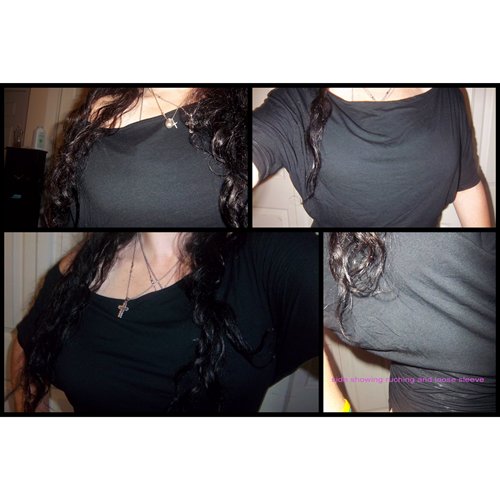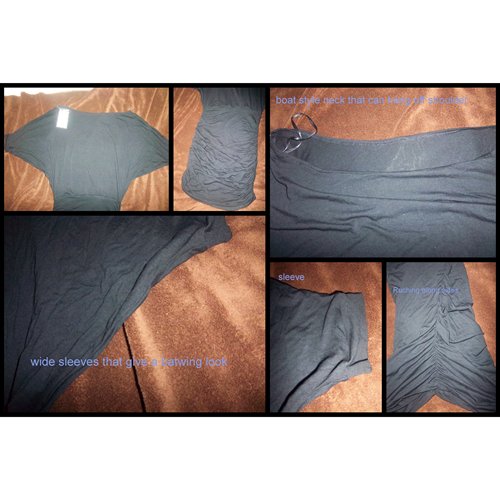 The material is soft and far from being irritating against the skin. As I mentioned the bottom of the dress is very stretchy and form fitting. There is only one thin layer of material which makes it perfect for summer time wear or you could wear dark stockings and wear it in the cooler months. I say dark stockings because unfortunately it is so thin that you can see right through it! So you might want to go commando or with only a g-string if you can't find a slip that would work with it, or don't want to wear stockings. You will not find one tag to irritate you in this dress. Although no tag could be a downfall because it says no where's the washing instructions, but my guess is that it would be fine to wash on a delicate cycle in cold water and line dry to avoid shrinking.Being crafted quite well my dress had no unraveling threads or loose seams so I feel comfortable throwing it in the washing machine.
Experience
I had ordered the large and as you can see it IS a little tighter than on the model,my size being:
150-155lbs.
5'5
29"waist
38D-DD
and normally I wear a 10-12 depending on company
Espiral's size chart:
Bust Waist Hip (in inches)
Small 34 25 34
Medium 36 27 36
Large 38 29 38
So I am right on with their measurements, incept I think my hips are larger. I think Espiral is right on with their sizing. Of course to get it as loose as on the model it would be recommended to go a bigger size if these are your exact measurements.
The large measures as follows:
the boatneck is about 16" (hard to measure because its in a slight U shape)
from one sleeve cuff to another, layed out flat it is 36 1/2"'s
with it tapering down to the waist unstretched being 13"'s and staying at that measurement the rest of the way down.
In the middle of the dress from the neck to the bottom unstretched measures to 35 1/2"'s
I think it's great that it is forming on my body because not only can I wear this as a dress but I can also rock it as a top as well, and I think either way looks great! With it labeled in the A.M/P.M collection Espiral made it in mind that you can dress it up with a pair of pumps for going out attire at night, or you can through on a pair of gladiator sandals and wear it dressed down for daytime use. Being that I don't go out much at night I appreciate that it can be worn either way. Another feature that makes it so versatile is that there are no embellishments on this dress so you don't have to worry about it clashing with anything!
I can understand how someone with a smaller frame could get lost behind the looser top of the dress, but for someone with larger breasts its great because it fills it out more. With the tapering waist and ruching along the sides this dress could great an hourglass shape to someone that doesn't have much shape. I however do have an hourglass shape, so this dress enhances it and hides my very unappealing tummy pooch. It also clings to my big booty giving it more of a rounded look..which is fine with me!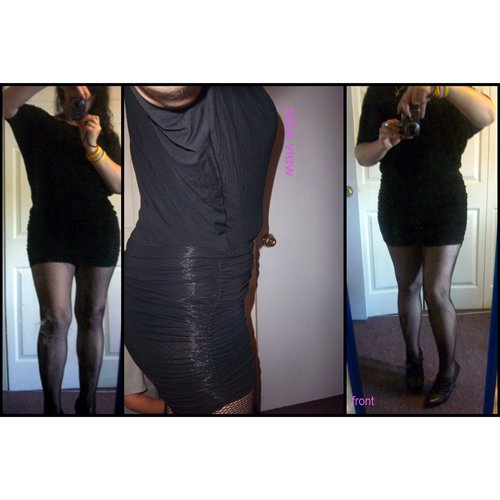 As you can see in one of the pics, you are able to see my fishnet stockings underneath.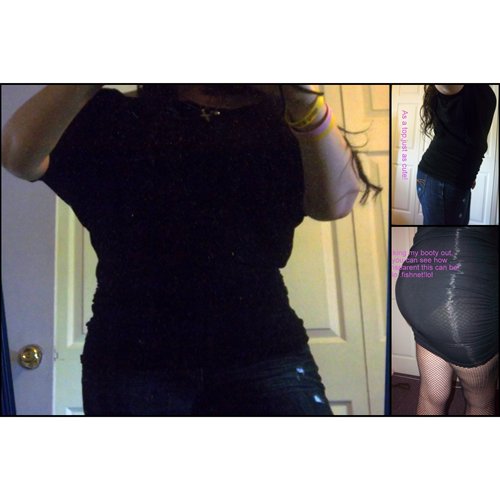 Follow-up commentary
8 days after original review
I love this dress! I feel as though it works very well at flattering my shape, and gives me the ultimate feeling of sexiness because it hides everything I'm self-conscious of! Worn as a shirt or as a dress makes it something that I can wear often instead of sitting in my closet not getting used. I have a feeling the only way I will fall out of love with it is when it falls apart on me, until then this dress will be worn often by me!
This product was provided at a discounted price in exchange for an unbiased review. This review is in compliance with the FTC guidelines.
Thank you for viewing
Black off shoulder dress
– mini dress review page!