Sexy sexy sexy, but where to wear it?
This is a great product that can be dressed up with a skirt and skin tight undershirt- or none if that's what you are into. It is a thicker material and the detailed flowers are beautiful. The straps give it a little more of an edgy vibe that I love.
Published:
Pros:
stretchy
sexy
great pattern
good price
true to size
Cons:
no bust support for larger ladies
I ordered the 'one size' floral strappy-shouldered net dress. I love it. I've worn it once, and let's just say it didn't last long on him. It is a great sexy dress. I wish I could wear it out for all to see. The detailing of the flowers is just beautiful, and I love the straps.
The Packaging, First Impressions, The Beginnings
This dress came in a typical Leg Avenue package. It is in a small book-sized black and pink little box with a picture of the dress and model you see on Eden. Not much extra information is given. This is not a discreet box, however, if you like to keep things organized and know exactly what is where, then this would be perfect to use and keep your dress in after use.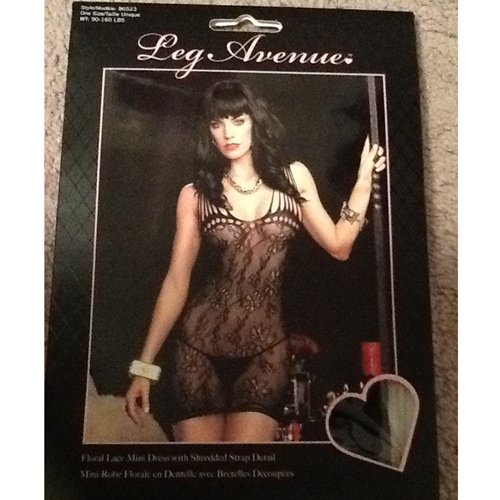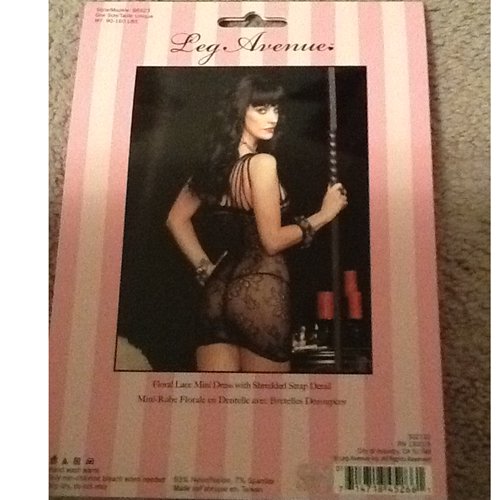 Once opening the box, you find the dress in a clear plastic resealable bag; I just tossed that.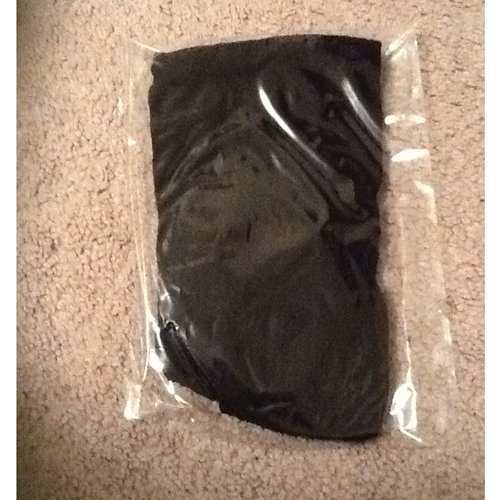 When I finally got to the dress, I was not too surprised at the size, but I was still a little nervous about the stretch. Laid out the dress measures to approximately 16"Lx3"W. Now, I am by no means a large lady but damn that's a small dress. I decided to try it on without stretching it out to see how it fits.
The Fit
My Measurements:
Height: 5'4" or 165cm
Weight 130lbs or 59kg
Bra Size: 32B
Chest: 27" or 68.6 cm
Waist: 26.5" 67.3 cm
Hips: ~34" or 86.4 cm
Widest part of my backside: 39" or 99.1 cm
Pants Size: 3-5, mostly 5 now
Shirt size: Small
Dress size: Small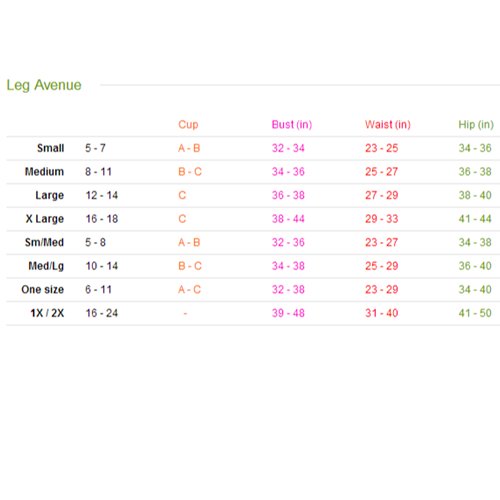 I found the dress to be a smidge tight, keeping everything in but it is not really uncomfortable. I do have nipple piercings and dermal piercings on my hips so I always try to be careful with things like this and it was definitely necessary to do so. I caught my hip piercings on the way up and down. The nipple piercings were not as much of an issue luckily for me with this piece. This comes to about mid thigh for me. My nipples are barely visible but still there as in the picture below: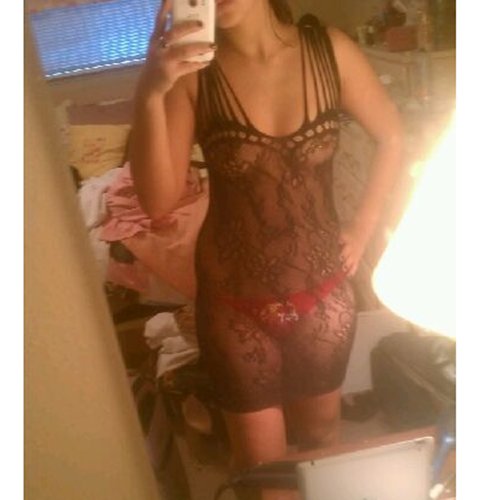 The back did not ride up and I felt like everything stayed where it was supposed to which was a nice surprise and made me feel more confident to not have to tug on things over and over again. It does not do much for my butt at this angle, we can be honest, but I do just feel so sexy wearing it. The detailing on straps on the back are so sexy that this outweighs any negative.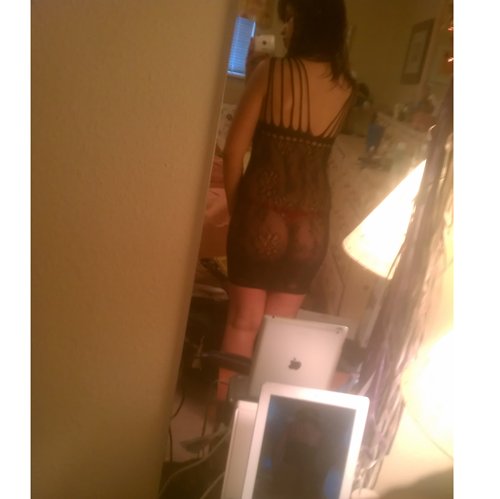 The straps were probably the trickiest part to get on but even that was not too hard. There are 6 straps you need to make sure your arm gets through. I found it easiest to find the middle of them first then step into the dress and wiggle my way up. This is basically like wearing a tight stretchy stocking, but it's a dress.
There is no support for the girls in anyway. I have small boobs and rarely wear a bra because we can be honest, even with a push up there's still not much there. The one thing I have an issue with is more of my body than the dresses fault. I do not gain fat on my hips so they indent and dresses like this make the issue extremely noticeable.
The Material
The material is not exactly as holey as I had expected. It is thicker than most tights, but I would still be careful with this. It is Nylon 93% and Spandex 7% according to the tag on the shoulder. This dress seems to suck everything in a little and tighten, so if you have a little tummy or love hands that you want to feel a little tighter, this is great. I felt like my body was being hugged and snugged right up.
The Care
The tag says to hand wash in cold and this is what I will do. I would recommend to hang or lay flat to dry this piece. I would lay flat because gravity after time can be unforgiving especially with the weight of water dragging this down, but I am always a little neurotic. I have been storing it in my stockings drawer, but when I get more, I will just organize them by placing them back in the original box and in another box with the others.
I really like this dress overall. It seems like it is made well and durable. This does seem true to fit so keep that in mind when ordering. If you have perkier or more rounded breasts, this will probably flatter you better.
Experience
I really do hate the tag, it is big and bulky and thick on the top of the shoulder, and it is well sewn on, so I am a little wary of ripping that off, but I do not like it on.

Like I mentioned earlier, the one issue I have is with my hips. I gain fat up top and down below that area, so it's like I have a second hourglass curve. I am extremely self-conscious about it, and that dress does not help that. I think however, a black garter belt will fix the issue though, so I am not too worried about it, but found it is worth mentioning.


I tried this on with a nude tight camisole and a high-waisted skirt and it looked gorgeous. It would almost be appropriate for my job with a blazer. [italics| ALMOST.] This would be appropriate with a garter underneath and some nude thigh highs for a little office role playing. You could even add a garter and some over the knee thigh highs and have almost like a body net dress with attached thigh highs that I see on here all the time, BUT you can detach them!

I want to wear this out at least to show the top, but I do not feel comfortable with options I have tried so far. I will try this out more and play with stuff. I do love changing up things, so my update will include what I've found works.
Follow-up commentary
5 months after original review
I haven't had an opportunity to wear it more than once. I still love it, I just have a hard time with net dresses.
This content is the opinion of the submitting contributor and is not endorsed by EdenFantasys.com

Thank you for viewing
Floral lace mini dress with shredded straps
review page!