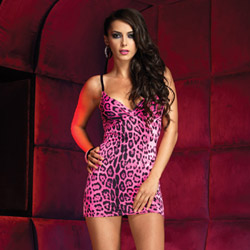 Leopard spandex mini dress
Mini dress
by Leg Avenue
Sexy, tacky and trashy!
The bright pink color looks fabulous against a dark complexion. The color compliments my complexion and my complexion compliments the pink, making it stand out. This is probably best suited for the bedroom or a club for some ladies. However, if you're short enough and add some pretty touches to it, it will look nice in public. In my opinion, it's best worn when I'm already feeling confident.
Published:
Pros:
Unique.
Bright color.
Cons:
Cheap!
Shows nipples.
Entire bust is jacked up!
Feels so cheap!
This bright, sexy, revealing dress is certainly showy. The material is super thin and comfortable, but cheap. The small, non-padded, triangular shaped cups are hardly enough. The material is so lightweight that you can see nipples perfectly. In the sun, you can see through it a tad.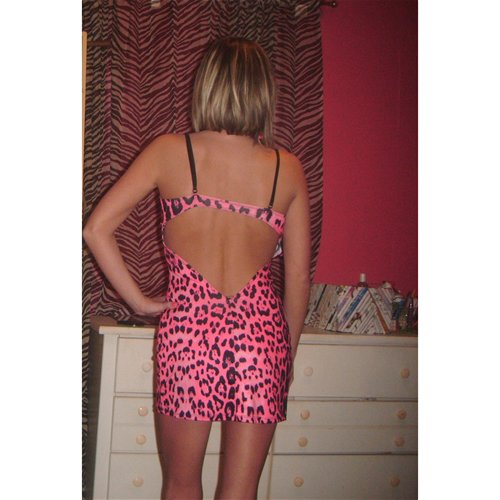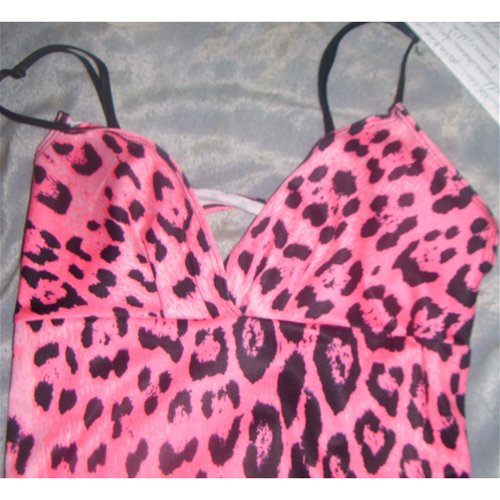 Pay close attention to the back of the dress, it's revealing, part of what drew me to this dress. You have one 2" wide strip of material going across the shoulder blades and the middle and bottom portion of the back is out. It's sexy, but on some it will be extremely revealing. I'm 5 2" so this covers me well enough to be worn in public. The bottom portion of the cut-out tapers into a V shape. I'm petite so this only exposes my back, but it will expose your bum if the fit isn't right on. It can be adjusted only using the straps, which will help pull the dress upward, exposing more of your upper and middle back rather than focusing on the lower.
The cut out is so wide that the small fabric covering my ribs folds, looking a bit off. I would prefer it lay flat against my ribs, but it tends to fold outward. I hope this makes sense. If not, I can message extra photos to those interested.
Like I said, the cups are so small and show everything. If you are average to busty, this may expose you entirely. I'm a 34 B (right breast) and 34 A (left breast). The cups cover enough, but a bra is absolutely neccessary if I want to leave the bedroom. Unfortunately, with the entire back exposed, a bra will show and in my opinion, give a less than sexy appearance. I made some alterations by sewing a thin piece of foam in the cups. You can use the foamies in swim suit tops. I still feel that it could use more coverage though. If you plan to wear this in public, there's a lot to take into consideration. In my case, I had to doctor this up quite a bit.
Something else that peeves me about the chest is that the bottom portion of the cups tend to ride up over my actual breasts.
At five foot two, this is long enough to cover me well, but I can't do a lot of bending over without feeling a bit too exposed. I wear a zero so I ordered a small. The fit is right on. This material has almost a swimsuit feel to it--only much cheaper and thinner. It has almost a shine to it like some swim suits do. It's not sparkly or really shiny, but enough to really highlight every curve.
MATERIALS:
92% Polyester & 8% Spandex, exclusive of decoration, which would be the straps. The straps are adjustable, exactly like bra straps only very narrow.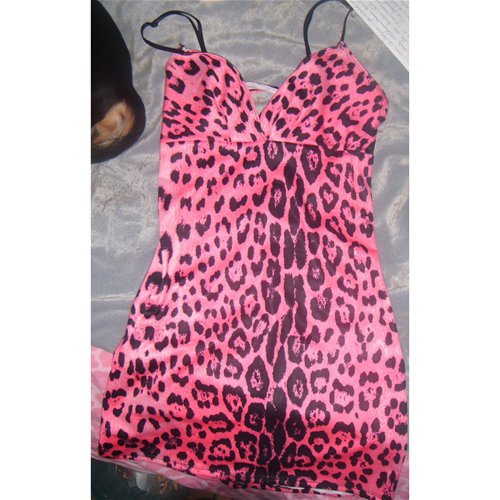 MEASUREMENTS--lying flat:
11" chest
11 1/2" waist
14" hips
The cut out in the back is widest at the top and narrows down toward the middle of the back, making it somewhat diamond shaped. It comes to a V at the bottom, then the dress covers from my waist down. The widest part of the opening is 10" and is located at the top of the cut-out. It narrows to 2" at the very bottom of the cut-out. If I were to make an effort, I could pull it down enough to show the tattoo on my lower back, but I don't want to expose that much. Thankfully, my rear won't slip out and show through the opening! I made sure that wouldn't happen before leaving the house.
Caring for this dress:
Hand wash cold. Drip dry. Do not iron!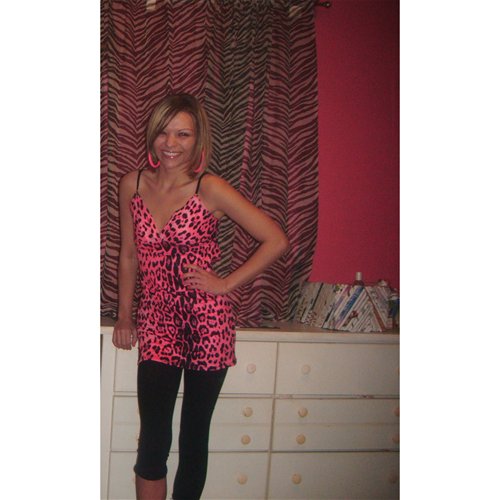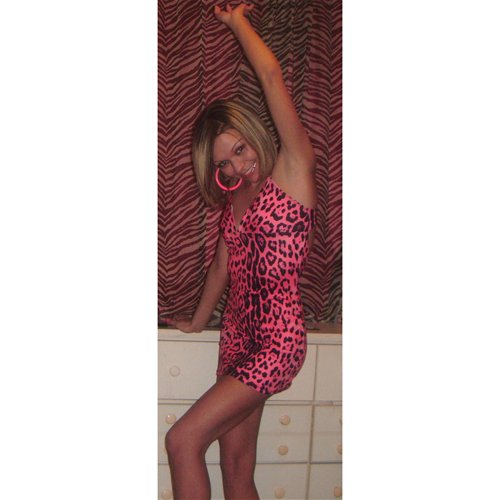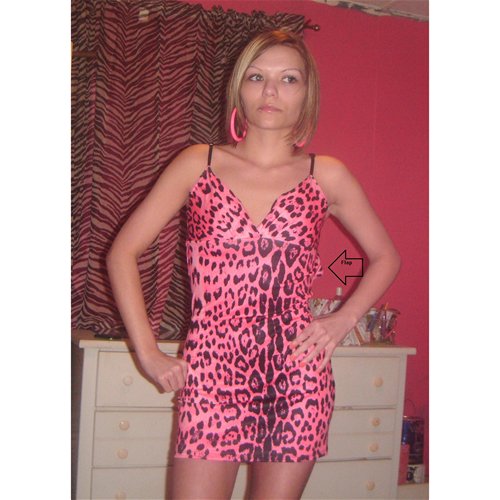 In the last image above there's an arrow pointing to the material "flap."
Experience
EXPERIENCE:
Although this does highlight my middle more than anything, I don't feel that it draws attention to my love handles. When I pulled it from the plastic wrap, I held it in my hands and thought 'wow, this is the cheapest piece of fabric I've ever touched.' Then something kept screaming "tacky!" in my head! Everything about this dress fits my personality so I don't know what gives this such a nasty impression. I put it on and it felt cheap, but looking in the mirror, I felt sexy! I was totally surprised that this--being so revealing to the mid-section--made me feel sexy! I actually wore it again the next day, just at home. I wanted to be sure that I liked it and I still like the way it looks on, but I'm surprised. However, it's not the dress I can slip on with little work to myself and feel sexy. Honestly, I feel that I look trashy if I don't pay close attention to how I look when I choose to wear it. It's not one of those dresses I can put on any day and look fantastic. I didn't expect it to be appropriate for public wear, but it works. A pair of leggings was neccessary, but it even looks nice with black leggings and flip-flops. Heels just felt like I belonged on a street corner!

I do like this dress, but it's so unbelievably cheap that I think it makes *me* feel cheap! That's why I feel the need to fix up when I wear it. If I were to put this on say, straight after tanning, It'd look trashy and cheap. However, when I fix up a bit and am in the mood to adjust this thing, it feels nice. I guess that's hard to explain, but it just doesn't always look sexy and pretty at the same time. There are some dresses I can throw on even with a pony tail and look nice, but this is not one. The chest problems contribute to the cheap and trashy look of this. The photos of me wearing it, show the chest with the sewed in foamies. This should've came with some type of coverage there. If any of you ladies own the Pink Champagne Dress, you might have noticed that it has some foamies and gathering detail that will conceal nipples and for smaller chests, work without a bra. Since there's no way to wear a bra with this, it was neccessary to include some kind of conceal-age!

The dress itself is nothing but a cheap strip of fabric. It's beautifully colored, but it's not quality. Thankfully, you can put it on and *make* it look like a quality, sexy dress, but you have yourself to thank for that, not this dress.
This product was provided free of charge to the reviewer. This review is in compliance with the FTC guidelines.
Thank you for viewing
Leopard spandex mini dress
review page!