She's a fierce lady, for sure.
You wanna wear stockings but still maintain that tough-girl image? I know I do and that's why these wound up on my legs. I had high expectations and these only wanted to meet me at the half-way point. They're workable and they look nice, but they're certainly not perfect. The bold design is a little rough around the edges and you may look that way if you get a pair like I did that was slightly blotchy, but they're not trash-worthy. I'll sum this up with a 'meh . . .'
Published:
Pros:
Unique design, boyshort top, reversible, will work with everyday ensembles
Cons:
Pixelated design, cheap material, uneven sheerness
Summary

I consider myself to be a connoisseur of sexy legwear. Seeing as I own most of what is on this site, it certainly takes a lot to catch my eye these days. I like things that are out of the ordinary, unique, and eye-catching, but also things that are of good quality. It's no surprise why I felt as if I needed these! They have a bold design, they're super sexy, but can be worn with everyday clothing, and they're from a company I've gotten high quality stockings from before. Worthwhile investment? I think so!

These aren't your everyday stockings, really. They make much more of a statement than that. They're feminine and flirty while still maintaining that look of badassery that's something I can totally get down with, ya know? I sat there and thought how fierce these would look with my combat boots (which are my top choice in footwear) and a oversized t-shirt type dress. After a mere second of contemplation I decided that they would be mine and hoped that we would live happily ever after together.

Material/Design

I was expecting the quality of the last stockings I bought from this company when I opened these. I removed the cardboard insert (that's in every pair of stockings ever) and to my surprise the stockings were still stretched out! Even the cheapest of stockings haven't done this. They felt like the same material as the cheaper Leg Avenue stockings are made of, but I've had a little luck with those. Maybe it's something that doesn't make a difference when you put them on?

After getting into these I was only somewhat pleased with the design. First of all, you have to make sure everything is lined up the right way so that the design isn't crooked (like it is in my picture below). Once you get them up you'll see that they have a nice little boyshort thing going on at the top. I like this because I like to be modest an such, and if these were stockings I was going to wear as normal attire it's a much appreciated feature. Most stockings are simply sheer all the way up.

Upon further inspection I was disappointed that the smooth curves you see in the picture look a bit . . . pixelated? The edges of the design are rather rough up close which you can kinda see in the picture I've provided. The solid black part of the stockings was just a little bit sheer, but that was no big deal to me. The actual sheer part was, in fact, pretty sheer. However, it wasn't a smooth sheerness. The pair I got had a few small blotches in it which made it look like I had some bruises going on. I normally beat myself up pretty good accidentally, so I really didn't need any help in that department.

On a design note, the stockings are quite attractive once you look past those few flaws. The design looked great (unless you were up close). These are reversible so you can wear the design towards the front or the back depending on your preference. I appreciate this also. Having the back of your legs show through gives a completely different vibe than having the front do so. Versatile!

Overall, I'm sort of mildly impressed. Unenthusiastically impressed, if you will.
Experience
Sizing
They're comfortable. The waistband isn't totally constricting and is quite stretchy but stays in place. The stockings themselves are stretchy, as well, so they seem like they'd work for a few different body shapes and sizes. However, I'm a very tiny girl, so I can't speak for everyone. "One Size Fits Most" is usually quite a laughable description who it will fit. I'm usually too tiny, and many other reviewers are too curvy to fit into the "most" category. And, as it normally goes, if it fits me it runs on the smaller side of the "most" spectrum. Unless you can still shop in the children's section I'd suggest you seek out some other reviews to see how these would fit on normal sized bodies.
Picture time!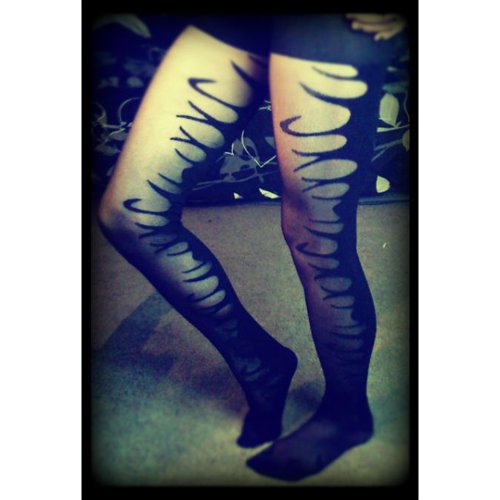 This content is the opinion of the submitting contributor and is not endorsed by EdenFantasys.com

Thank you for viewing
Sheer front jacquard pantyhose
– hosiery review page!