She's My Angel!
The Delicate Blue Angels Garter Skirt Set is a well made piece of lingerie that almost any man will love. With two beautiful color choices, your sure to find one that fits your personality.
Published:
Pros:
Sizing chart is fairly accurate, Colors, 3 piece set
Cons:
Wish the bra was a little larger for the small!
The Delicate Angels Blue Garter Skirt Set is a 3 piece lingerie set from Fantasy Lingerie. This set includes a bra, g-string and a garter belt. There are currently two colors available. I chose to order my fiance the light blue, but if blue isn't your thing, you can always pick the pink!
Sizing
You can purchase this lingerie set from Eden Fantasys in three sizes. It is available in small, medium and large.
Here is the sizing chart for Fantasy Lingerie:

My fiance's measurements are the following 36 D, 32, 36. I opted to get her the small. The small fit her pretty well when it came to the g-string and garter belt. As for the bra, it was a bit small. I feel the bra in small could accomadate a C to small D cup. She absolutely loved everything about this set except for that the bra was a bit small on her. She had some issues getting into it even though it did fit. Once she had it on she looked at me with a upset look and said "my boobs look like their cut in half!" I thought she looked amazing but I do see where the bra was a bit small. This being said if you are larger than a small D cup I would advise going with a medium although your measurements may line up with the small. I do believe the sizing chart is relatively true to size.
Bra
The bra you receive with this set is made of 100 percent polyester and is of decent quality. It is a very appealing light blue which I think would look great on most women. There is purple floral and white vines all over the bra. The vines and floral cover half of the cups and surround the bottom of this piece of lingerie. The print stops where the stitching is along the side of the bra. The back of the bra has no hook and eye closures. You simply slip this bra over your head to get it on and off. My fiance found this to be one downfall that the bra had as she prefers the hook and eye closure. The cups themselves are not padded although there is a underwire to help with some support. This item isn't completely see through but it is semi-sheer. There is a bow between the cups that only has two tiny pieces of thread that are holding the bow on. This leads me to belive it would be simple to remove the bow without causig any damage to the bra itself. There are two small tags on the right hand side. They are fairly soft and I don't think that they would cause much if any discomfort while being worn. The tags could be removed as well if you did find them to irritate you. If you do decide to remove the tags make sure you read them first so you know how to care for your bra. Be aware if you are looking for a bra that you could also use for everyday use, this is not one I would suggest.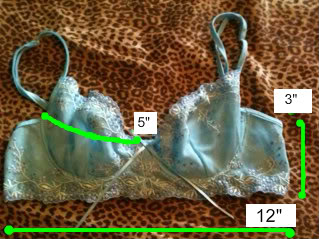 At the shortest setting the bra strap has a total length of 10". When you extend the strap to its longest setting it has a total length of 19".
G-String
The G-String is made of 100 percent polyester. It is the same shade of blue with the floral and vine print as well. Unlike the bra, the g-sting only has this print along the top. The top is lined with purple flowers and a vine running across them with two longer vines branching out downwards. There is a very small panty liner.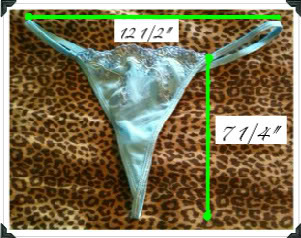 Experience
Garter Belt
The garter belt, like the rest of this set, is made from 100 percent polyester. It has the floral and vine print in two small areas in the front and back. The pattern is right above the stitching where the garters attach. For some reason the garter belt seems to be much more sheer than the other garments are. The garters are all the same length in the front and back. At their shortest setting the garters line up with the bottom of the skirt. It has a total length of 4" without the plastic piece. At their longest setting, they have a total length of 7". The plastic piece that holds your stockings has a length of 1". This garter belt does exactly what it suppose to, as it does hold up your stockings and looks incredibly sexy. The only downfall is the plastic is hard to get in place as it is pretty flimsy.
The garter belt looks incredibly sexy with the bra and g-string. You can also wear it with only stockings, which I'm sure will please any man! I know I enjoyed it.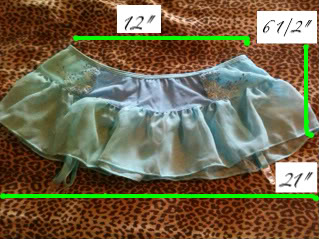 Washing Instructions
This set can be washed in a washing machine with warm water on the gentle cycle. It is advised to wash darks seperately. To dry your garments you can hang it out on a line or even put it in the dryer. Be advised if you chose to use the dryer that this needs to be dried on low and removed promptly. Do not twist or wring!
My fiances feelings on this piece
Even though the bra didn't fit her perfectly, she still loves this set. She said it makes her feel pretty wearing it and she feels that the blue would look gorgeous on anyone. She also mentioned that this set didn't feel itchy and she really does enjoy wearing it! I believe the g-string will become an everyday pair of panties. Her favorite piece of this set was the garter belt. The other garter belt we have is more like panties, so it is hard to have intercourse with it on. With this belt, we were able to have sex with her still wearing her sexy stockings! We both feel this is travel friendly as it is small and can easily fold up to fit in something as small as a purse!
Wearing the Lingerie
I somehow talked my fiance into modeling these for you guys so be nice please! Also please excuse our messy room and laundry basket full of clothes. (Yes, we should have cleaned before taking the pictures but she hasn't been feeling well lately and I have been busy working.)
This is a picture of the bra and garter belt: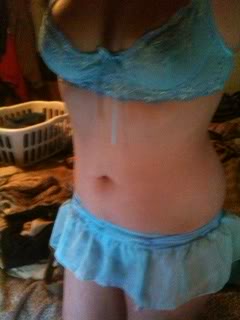 This is a picture of the bra and g-string: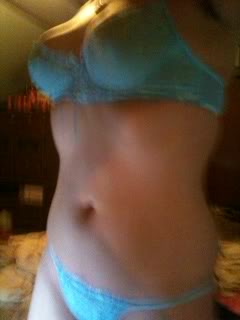 This product was provided free of charge to the reviewer. This review is in compliance with the FTC guidelines.

Thank you for viewing
Delicate angels blue garter skirt set
– bra and panty set review page!