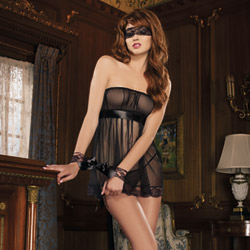 Babydoll thong and eyemask
Babydoll and panty set
by DreamGirl
Sheer and Sexy and Seductive, Oh My!
This cute little number is a lot of bang for your buck if you love a loose-fitting baby doll that offers a little flair along with it! Sexy, soft lace wrist restraints and a blindfold are included in this reasonably-priced ensemble, and it looks great paired with thigh highs. Whether you're in for giving that special someone a treat, or giving this as a gift to a friend, you're bound to impress for a great price.
Published:
Pros
Price, Fits well, Comfortable, Light-weight
Cons
Ribbon requires adjustment
This Babydoll, Thong and Eyemask by DreamGirl is definitely a fantastic budget lingerie choice. It's good quality, and doesn't lack in the cuteness factor.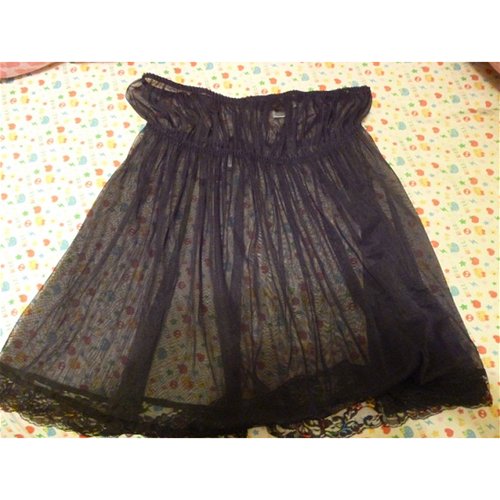 It came to me in a cardboard box that showed the entire outfit on the front. It wasn't highly informative nor did it show details about the outfit, but just included the picture on the Eden website of the model wearing it - the rest is pretty self-explanatory anyhow. I like that the separate pieces were packaged in plastic so I didn't have to open them right away and potentially lose them somewhere in my room.
When putting it on I noticed that the ribbon closure was tying to the side, and it took a lot of maneuvering to figure out how to get it to tie in the back instead. I did this by restringing the ribbon through the three satin loops under the bust, and was able to get the ribbon to tie under my bust tightly.
I wear a 38C bra usually and that size fits me quite snugly, as well as the bust of this garment. There isn't a lot of support for larger chests, but it fits well enough and you shouldn't have any issues if you're a little bigger or smaller than myself.
This is a one size fits all product, but don't be scared away!
The flow of the garment was nice around the rib and stomach area. The ribbon tie can be tied as tightly or loosely as you like, so it won't grip you to death. The elastic is very giving; it won't squeeze you or rip if it's a little too small, it'll just stretch to accommodate your voluptuousness.
This garment doesn't provide a lot of lift as far as the bust goes. The elastic will hold your bosom in place so they don't go anywhere, but unlike a halter baby doll or most other lingerie, it provides no lift or true support other than the elastic and the ribbon that ties underneath. This was less than flattering on my chest, but if yours is fairly perky and doesn't need much support, chances are the fabric will sit over them nicely and they'll look fantastic. If you're looking for even a slight lift though, you won't find it here.
The wrist restraints and blindfold included with this set are really soft and made of sturdy lace. The lace itself doesn't look like it'll fray much, but I wouldn't risk washing them in a machine unless you absolutely had to. They include Velcro straps to keep them on nice and snug. They're really, really comfortable for long wear, though they aren't made for heavy duty bondage play or a struggle.
As far as the blindfold goes, it's mostly for vanity. It's see-through lace so it doesn't provide much vision interference at all, but does look pretty with rest of the outfit - and, you can use it for other cute, nifty things! (Halloween costumes, makeup looks, hairband, etc.)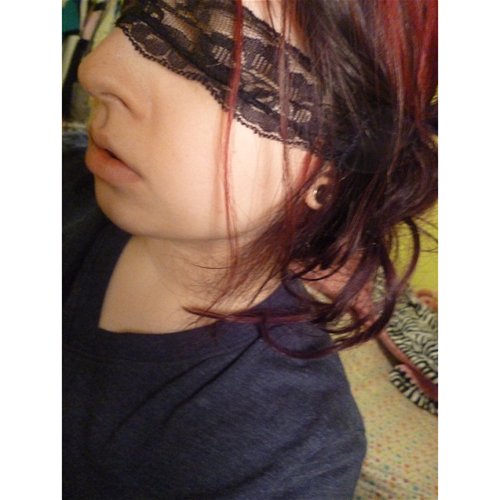 The garment is made of
Nylon
and
Polyester
and is hypoallergenic. So those of you with sensitive skin: this won't rub, chafe, or cause a rash on your skin during wear.
The material is feather-light and barely noticeable when wearing. The lace trim at the bottom is not scratchy against thighs or legs, and the ribbon is soft and comfortable against your ribcage when tied. Overall, this garment is extremely comfortable and fitting.
The edges of the garment are made of soft, non itchy lace that hasn't frayed on me yet. It's been through one wash and seems to be holding up fairly well, but the pricing of this item will make it easy to replace when it dawns on the day it falls apart on me.
It can be washed in warm or cold sudsy water but by hand only. Do not put this garment in your dryer; it'd be safest to line dry it or let it dry naturally.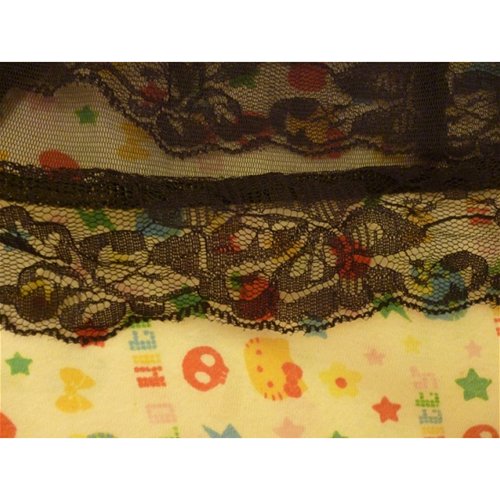 Experience
As a shorter and slightly heavier-than-average female, I didn't expect this to fit perfectly when it arrived. I opened it up and put it on with hopes I'd be wrong, and low and behold, the thing actually fits quite well. It's loose-fitting around the bottom, but due to the ribbon tie under the bust and the elastic, it slims near the ribcage and has made itself one of the outfits I feel most comfortable wearing in the bedroom.

It looks great with thigh highs, and I've tried it on as a contender for a cute outfit for a BDSM party my partner and I attended (with different panties underneath), I've also worn it around in the morning because it's that comfortable. The wrist restraints and eye blindfold are kind of vanity items, but we've used them and think they're great for looking pretty if you're into pictures.
Follow-up commentary
3 months after original review
It still hangs around my lingerie drawer for the occasion that I want to wear something really simple and comfortable, but still something that has a sexy flair. I think it's a set for more of a playful couple that want to experiment with restraints and don't quite have their toes into the water. It still hasn't fallen apart in the washing machine, and for the price, the fabric has held up and continued to flatter my body.
This content is the opinion of the submitting contributor and is not endorsed by EdenFantasys.com
Thank you for viewing
Babydoll thong and eyemask
– babydoll and panty set review page!