Sheer Awkward And Misleading
If only this set was like how it was pictured in the professional model images. If it was, it would be a whole lot better. My main disappointment is that is was misleading from the product images. When you expect something, and get something totally different, it is never a good thing. The set is WAY see-through - and this isn't shown at all in those professional photos. Since it isn't what I expected, I rated it low.
Published:
Pros
Color options: red and black.
Correct sizing.
Multiple sizes available.
Cons
Not as modeled in photos.
A little itchy and uncomfortable.
Not worth the expensive price.
Before typing anything else, I've got to tell you that the product images of this set are very misleading. I purchased this based on the product images alone. There was not a single review up, and I didn't know anything about this except from the images and descriptions. That being said, read on to hear why you should and shouldn't get this set from Espiral.
Packaging: Basic box and plastic
The Long pant set with matching g-string by Espiral came in a small gift box. All three pieces to this set were inside the box neatly wrapped in a plastic bag. The package has information about the item, photo images of a model in all three color options and care instructions. The box was free of damage, and is very nice to use when gifting – just make sure you are gifting this to someone that is willing to accept such a sexy gift.
I am not using the packaging for storing my items. Instead, they are neatly folded and placed in a Ziploc bag inside my lingerie bin. Yes I have an official plastic bin now! I find that storing all the items in plastic Ziplocs keep the items together and organized!
Made in Colombia
Contents: (1) Babydoll (1) Thong (1) Pants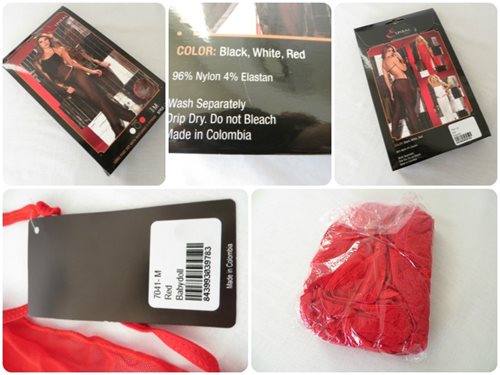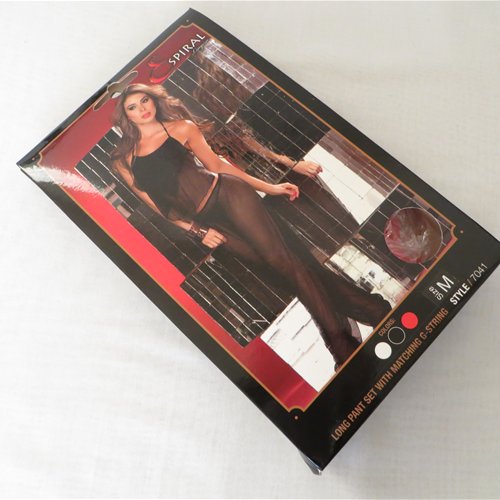 Care/ Maintenance: As expected
The instructions for taking good care of this item can be found on the outside of the packaging box, on the tag that is attached to the set, as well as the individual tags that are sewn into the items! Wow, there is no shortage in care instructions! You have no excuses not to take care of this set!
Oh, and if somehow you throw out the box and paper tag and cut the tags off all 3 pieces, you can also refer to the reviews here at EF! I digress... the care instructions already! To keep this set in good shape make sure to wash it by hand separately. Do not bleach or iron and drip dry. The pieces are thin and mesh so it will dry quickly.
Size: Correct sizing
It is available in the sizes: S, M, L, and XL.
I am typically a size small-medium. I wear size 4-6 in dresses and jeans. I have a 34D bust. The rest of my measurements can be found on my
profile page.
I ordered the size medium. I wanted it to be comfortable and loose on me. The medium is great if you are my body type and want it loose fitting. Everything fits well since the items are stretchy and adjustable. One thing about the fitting, which I am sure is the case for all the sizes... the pants are pretty long. I am average at my 5'4" height and I am tripping on the pant legs of these.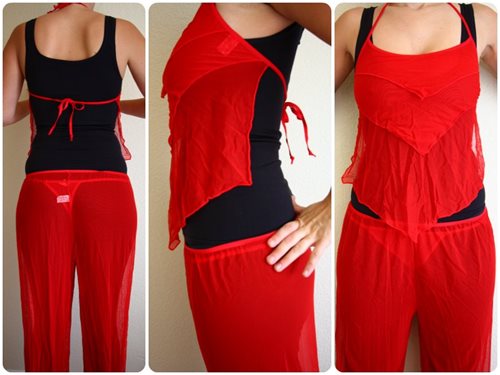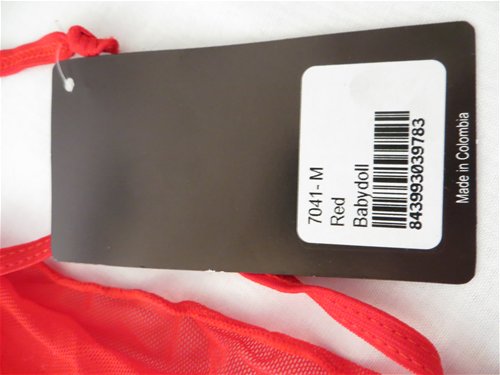 Design/Shape: Great design – just wishing it wasn't mesh!!
This set comes in the colors: white, black and red. EdenFantasys only has the black and red in stock online though. I have the red set.
The red is a pretty true red. It is bright and sexy. The entire outfit is see-through mesh with thin elastic straps. The design is cute, but the mesh look was disappointing to me since I was expecting a little more coverage.
Starting with the top: The babydoll top has four different tie straps. Two make a halter at the base of the neck and the other two tie around the mid back. This is nice for comfort, you can choose how tight or loose you want to wear this. The front has 3 "V" panels which are layered and go from smallest to biggest – giving it that waterfall look. But even in the section with the 3 mesh layers, the thickest part of the whole outfit, it is still very see through.
The thong is a basic mesh thong. It has a thin elastic band that is stretchy. It fits fairly tight and digs into my skin. The crotch in the underwear does have a cloth panty liner. This is good for hygiene purposes.
The pants are probably the best piece out of this set. They are very see-through, but they are the most comfortable and give the fullest coverage. They are straight legged and very baggy. There is a thin elastic band at the top and seams running down the inner legs of the pant. The bottom finishing is just a simple double stranded sewn finish.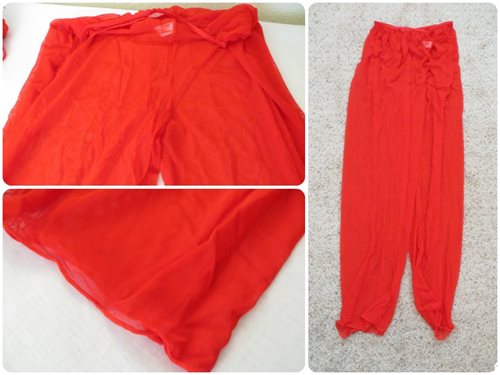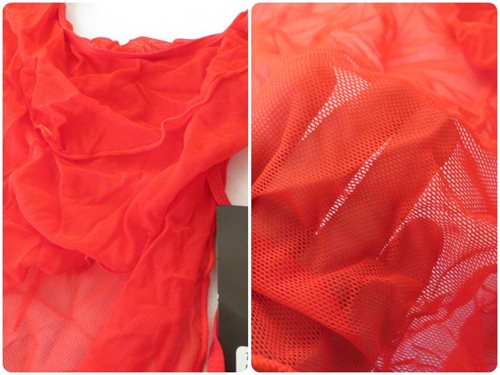 Experience
Material/Texture: Not my favorite
The material makeup is 96% polyester, 4% elastano (aka spandex)
This set is just one single layer of fabric. There is no lining. It is very thin, lightweight and see-through. It is a mesh fabric, sort of like very small fishnet stockings. The mesh is not my favorite material, I found it uncomfortable and a little itchy. It is not the best for lounging around in, which is what I was hoping for this set. The set is even kind of scratchy to the touch. I do not lounge in this as it would be very irritating to my skin.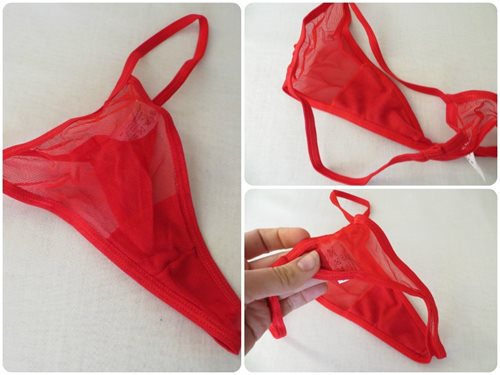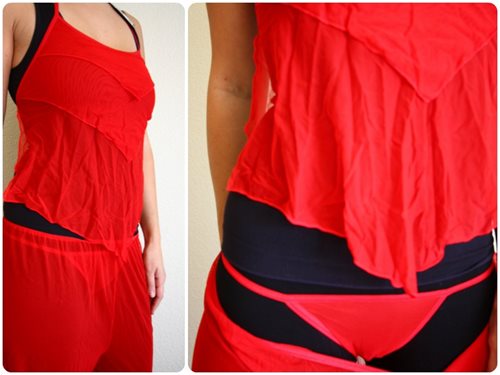 Personal Experience :
I am very saddened by this outfit. I was really hoping for a winner. I would have loved it if it was not mesh and see through. If it was a solid fabric, it would be great. Even if it was a little see-through. Unfortunately it is not. This is not ideal for wearing around the house, it is just too inappropriate. It isn't even ideal for wearing in the bedroom because it is itchy and uncomfortable. I have worn the pants alone a few times, but I am not sure why, I guess just to try to like them, and I still don't. I gave it a good effort though. This set is disappointing and not as pictured, I wish I liked it more, but I can't.
This content is the opinion of the submitting contributor and is not endorsed by EdenFantasys.com
Thank you for viewing
Long pant set with matching g-string red
– babydoll and panty set review page!