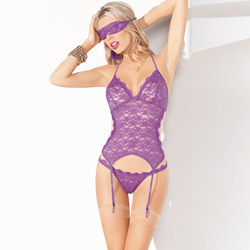 Halter bustier with nude hose
Bustier
by Escante
Sheer, sexy lace.
In the end this bustier set is definitely worth the money. Escante gives you everything you need to entice your S/O in this set.

You get a blindfold, a bustier, an adorable thong and some super cute nude hose.

I think that this bustier set is especially flattering on smaller chested women since
the lace cups make the breasts appear larger.

But on the other hand I could see this being very flattering on larger women as well,
since after all…who doesn't look good in lace?
Published:
Pros:
Affordable. Sexy. Sheer and unique. Flattering on smaller busted women.
Cons:
Not the same color as pictured on the product page. The blindfold is small
This bustier set by Escante is a super cute and COMFORTABLE addition to my ever growing lingerie drawer.
I was very happy with the quality of everything that came in this set, from the bustier, to the blindfold, to the thong to the nude hose, everything was absolutely perfect in quality, with not a stitch out of place!
However I do have to say that I was very surprised with it when it first arrived.
No, my surprise was not because it wasn't as sexy as I was hoping, but it was because the color was not at ALL as it was pictured online. In-fact the only similarity in color is the fact that it is still in the purple range.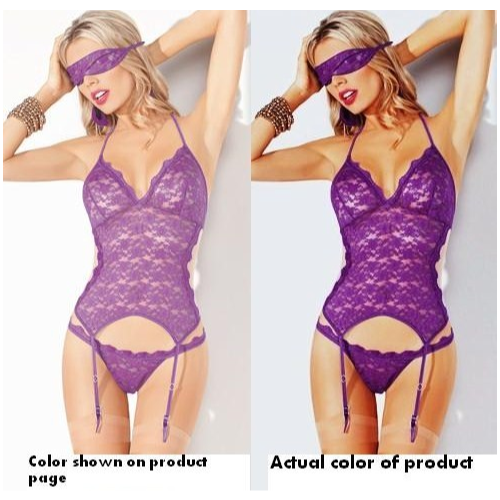 So keep in mind when you order this, that the purple is darker and brighter then pictured, it isn't a pale purple like is shown on the product page.
But as far as everything else goes, this set is top notch, high quality and very sexy. I love it!
The bustier is made out of
91% Nylon
and
9% Elastane
The material that this bustier is made out of is soft and stretchy. This means that it stretches to accentuate your curves… and that, it does very nicely!
The lace that this bustier is made out of is not itchy at all, so therefore it is very comfortable to wear, even during sex.
On the tag it says the following:
Machine wash on a warm gentle cycle. Use only non chlorine bleach when needed. Do not wring or twist. Line dry only. Iron on low temperatures if necessary.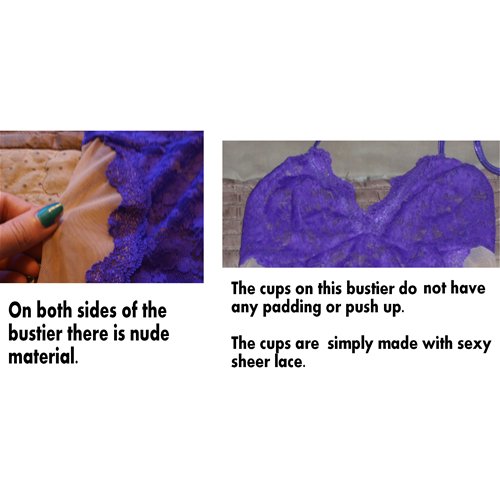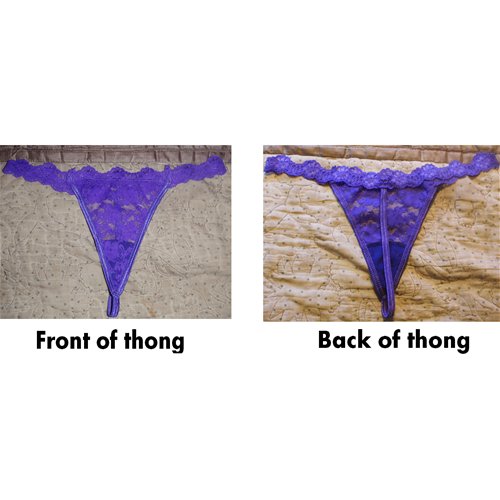 The thong is made out of
89% Nylon
and
11% Elastane
This means that it is very stretchy and can fit of a variety of sizes just like the bustier can.
The thong is mainly lace with small purple trim around it(the trim is the exact color of the purple lace and the exact color of the bustier)
I actually found that the purple lace had very cute detail, and that this thong is much nicer then the freebie thongs you usually see in a lingerie set.
In-fact, this thong actually adds something to the whole piece, which isn't something you can usually say about a thong, so I thought that, that fact was an added plus.
On the tag it says the following:
Machine wash on a warm gentle cycle. Use only non chlorine bleach when needed. Do not wring or twist. Line dry only. Iron on low temperatures if necessary.
I would store this lingerie in a small drawer where it can be kept safe.
Remember that this bustier is made of lace, and you do not want it to catch on lose wood pieces or any other sharp objects in a drawer, so it would be good to keep it in a small plastic bag like the one it comes with.
As far as sizing goes I only have a few things to say.
Since this is a pretty stretchy piece you have to bare in mind that if you are an inch or two larger then the sizing chart says that you need to be for this to fit, don't worry about it.
I personally went with the size small and it fit me very well.
However around the hip area, more of my skin showed then it did on the model -on the product page-
But my torso is rather long, so this was no surprise to me and I personally found that I liked it better this way anyway, so it was not a problem.
My personal dimensions are
My weight
110-115
My cup size
B
My bust
34-36"
My waist
24"
My hips
34"
ADD SIZING CHART HERE
As you can see my body was not EXACT, to the sizing chart either, but since this lingerie is stretchy… it has the miraculous affect of making us feel smaller!
Packaging
This lingerie set came packaged inside a small plastic wrap, this can be reused for storing purposes if necessary, but it cannot be sealed unless you have a heat sealer.
Attached to the lingerie there is a tag that shows an Escante model wearing this bustier set(front and back images available)… and it also has a picture of a different Escante model wearing an entirely different (yet matching)piece of lingerie that is also manufactured by Escante.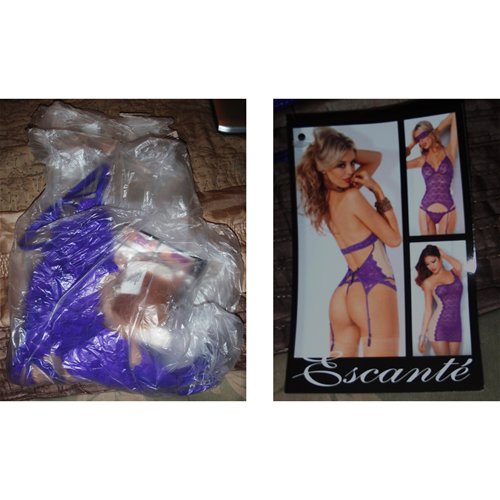 Experience
My experience with this set has been great, the only flaw with it that
I can think of at all, is the blindfold.
So I thought I would list a few things that I don't like about it here.
1. It is very small compared to a regular blind fold (about half the usual size)
This isn't a problem as far as fit goes, because it still covers the eyes,
but I thought I would mention it anyway.
2. It is see-through, so therefore it is simply just for looks,
and it certainly won't keep you from seeing anything, or keep any light from coming through.
3. I didn't find it to be very comfortable. I found that my eyelashes kept hitting it, and it was annoying me to much for me to keep it on.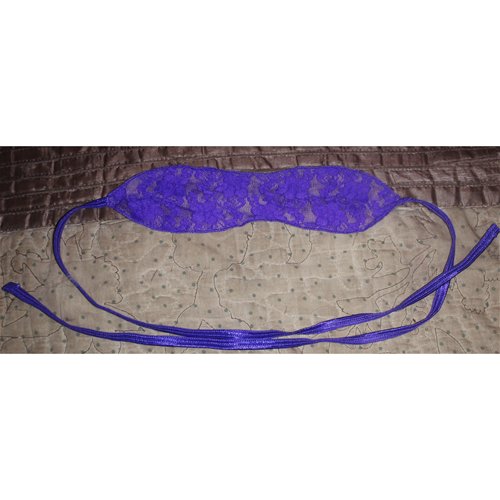 Other then that, I love this set, the nude hose is cute and the overall design
of this bustier is very sexy and flattering.
I would say that this bustier is good for all shapes and sizes and
I would highly recommend it to anyone who enjoys having something
that makes them feel good about themselves.
Something that I found great about this bustier set is the fact
that I can wear it under almost all of my clothing (
anything halter style that you tie around your neck) and it isn't noticable at all... Until my man
decides to strip me down that is ;)
So between the goregous color and the fact that this can be
worn under clothing and the fact that men love sheer revealing lace...
I don't see any reason NOT to recommend this product to you guys today.
This product was provided free of charge to the reviewer. This review is in compliance with the FTC guidelines.
Thank you for viewing
Halter bustier with nude hose
review page!