Sheerly Sexy
This is a very elegant look. I can see adding some pearls and a pair of strappy black heels. An up-do with your hair to showcase the back. It's sheer, but covers just enough to leave your lover wanting to see more.
Published:
Pros:
Elegant, inexpensive, hides flaws (like stretch marks!)
Cons:
Lace is a bit hot when it's warm
The sheer top gown and thong by Dreamgirl, is an elegant beauty. I happen to love lingerie gowns. I feel more comfortable with the added coverage. As I've been pleased with all Dreamgirl items I've purchased in the past, I felt that I needed to own this little number. I will admit that I was unsure at first, how I would really like it. It is quite sheer, and I'm a big girl and very self concious of the way my body looks after having two children.
I will say I pleasantly surprised, however! This gown is indeed sheer, but the lace and dark color camoflauges flaws, well, flawlessly! The gown is very well made. I didn't find a single stray thread or have any complaints about the sewing. My only complaints are that the gown is bit hot to wear, the lace on the bottom doesn't seem to breathe very well. Luckily there are extra long slits going up past your hips to make up for that.
So, let me tell you more about the gown. I chose the black, and the size 1x2x. I'm more of a 1x, so this is a bit loose on me, but still fits well enough. I don't weigh myself often, but I fluctuate between 180-200 pounds, right on par with Dreamgirls 1x2x sizing. My measurements are generally 44" around the largest part of my bust, 36" waist, and 44" hips. For Dreamgirl, a 1x2x should fit a size 16-18. I normally wear between a 12 and 16, depending on the brand...generally, a 14 is a pretty safe bet. I tend to err on the side of caution with lingerie though and make sure to order a size up. Dreamgirl is pretty true to size though I seem to find. A 1x2x should fit a D-DD cup size. I tend to wear a 38B or a 36-38C. I find that sizing to be true here, while this fits me just fine, there is more than enough room for a couple more cup sizes in this, and the lace stretches a bit as well.
The gown features a beautifully floral patterned lace "top." Along the edges of the cups you will find several rows of black sequins. Not too over the top, but just enough to draw a little extra attention. The sheer fabric will give just a hint of the breasts beneath. Teasing, while leaving your partner wanting to see more. A black ribbon bow adorns the fabric where the sequins join together in the middle. This gown is mostly backless, hitting just at the small of my back. There is a criss cross of straps, but they only add to the elegance. I find criss cross straps to be slightly difficult to put on sometimes, but these are easy enough, I simply lay the gown on the bed and arrange the straps before I put the gown on. I just slip right into it as it's laying there to be sure I don't get tangled. I've certainly dealt with more difficult straps before.
The "skirt" of this gown is a simple black lace, no designs. Sheer and flowing. There is a slit going down each side that for me, hit just about at my hips. I'd prefer they not be so long, but that is easily fixed with a needle and thread or a sewing machine if desired.
While I often have an issue with lace being a bit itchy, the lace on this gown doesn't bother me at all.
A very basic black thong is included as well. No frills, but I like that. Especially with a gown like this.
Here are a few pictures I took. I chose to wear a bra and full coverage panties when taking the photos.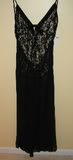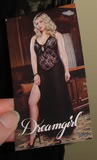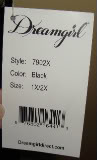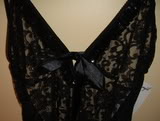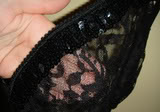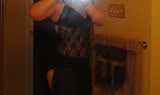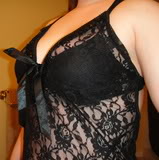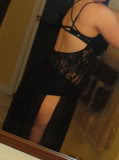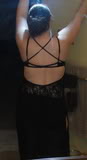 Follow-up commentary
7 months after original review
It's too bad this is discontinued. I still like it, it's very pretty and makes me feel a bit old Hollywood starlet when I've got it on.
This product was provided free of charge to the reviewer. This review is in compliance with the FTC guidelines.

Thank you for viewing
Sheer top gown and thong
review page!