Shows off my best features, but has its faults.
If you're looking for a snug-fitting dress that is appropriate for most occasions, this will be your BFF. If you're uncomfortable with see-through material and a little bulk added to your sides, this won't be your favorite, but it can be "made to work" as long as you feel spending the $ is worth the trouble. It rides up constantly and doesn't flatter me like my cheaper dresses, so I just can't adore it, but I *like* it.
Published:
Pros:
Simple.
Looks nice on.
Cons:
See-through.
Rides up.
Not worth price.
Ruching overkill.
Sizing.
Are you the kind of girl who's hot and cold at the same time? If so, this one-shoulder dress would suit your hot/cold nature. Kidding, but you do have one arm that's covered, which is for stylish reasons.
The one-shoulder dress is simple, it looks like the perfect all-occasion dress, and for some it may be. The solid black color is what I love most about it because it gives me the chance to drag out my funky, colorful accessories. Black will pair well with anything, so this dress does have that going for it. You can go with bright, funky accessories or simple pearls. It works with any shoe -- except tennis shoes. It looks fabulous with the zebra heels I have as well as my green & black zombie stompers, so funky shoe lovers, go wild!
Design
The only decor on the dress is the weird shoulder flap. It's a little 2 12/" wide and 4" long strap that falls on the shoulder with the sleeve. It leaves a 1" wide open half circle space that shows off 1" of shoulder. There's really no front or back to this dress since the front is identically shaped/cut to the back, so you either arm you want to expose will do. The tag is located in the side of the dress, so it won't scrub your neck if you do wear it both frontwards and backwards. I never can tell the difference.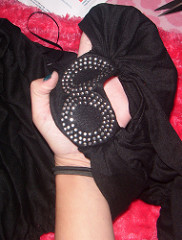 Back to this shoulder decor. It feels like felt, and it has gold studs lined up to create two circles. Rhinestones would've been much prettier, but we can't have it all, can we? It could be removed if you just hated it, but I'm neutral to it, so it'll stay. However, if you want to remove it, simpy cut it and sew the front shoulder and back part together, or heck, add your own prettier strip. Hmmm... I just changed my mind. The strap is out! It sure would look pretty if I cut it and used a nice ribbon to tie in a bow there instead. Okay, that's my plan now. The chest is at an angle, as you see in my pictures. As I said, it's identical in front and back, as my photos show. It's not revealing, and actually lengthy enough to wear for most occasions.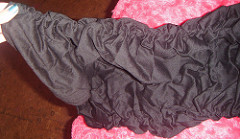 Both sides feature extreme ruching, which makes this dress much more form-fitting than it would've been.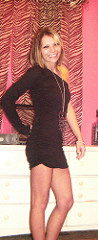 Hem dips in front and back and is shorter on sides due to ruching -- see photo.
Dress' Measurements
The top of the dress, the angle measures 14" across (to shoulder.)
Sleeve: 26" long.
29 1/2" long from top to hem.
Bust: 14" across.
Waist: 10"
Hip: 12"
Very bottom: 15"
Made in Colombia.
My Measurements
Bust: Right: between a B and C cup. Left: 34B
Jean/shorts/size: Zero
Weight: 93lbs
Height: 5 2"
Waist: 26" Lower waist. Where I'm a bit wider, the love handle area: 29"
According to size chart, this medium will fit a 36" bust, 27" waist and 36" hip. The small actually lined up better with my measurements, but I went with medium because it just looked like it was made super tight and ruching always makes things clingier. A small would've fit me, but I honestly think it would've been uncomfortably snug in the butt and chest. This medium is very form fitting on me, so keep that in mind. If you're my size I recommend going with medium unless you want a super tight, glued-on effect. If you're near the middle or end of the medium's sizes, I think it'd be best to go up a size.
In my opinion the size-chart is off! The medium fits far too much like a small or even extra small. Comparing my measurements to the medium shows how off it is, and it's very rare for a small not to either fit me fine or be too loose. Never is a small or an OSFM too small for me, and this is a
medium
!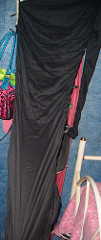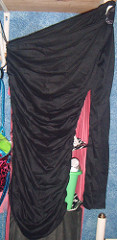 Despite the sizing being different than what I'm used to, I'm ecstatic about the length! I took photos of it hanging up and me stretching it to show you just how long you can go. It has a tendency to ride up, which happens too much, and is likely due to the ruching running to the very hem.
*No worries! Wrinkles come out when it's on.*
...
Experience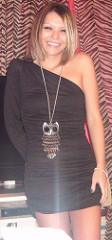 ...Continued...
It never exposes me though. Naturally, it hits about 6-7" above my knee, but that's if I don't move at all after putting it on. I noticed it riding way up just while taking pictures in it. Standing was the only activity involved there, so that makes me wary about wearing this on any given day. When pulled down though, it'll even reach my knees. This is good because it's not often these brands give anything more than t-shirt length in a dress.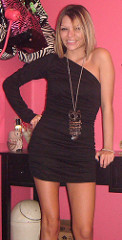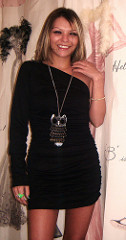 Material & Care
94% Rayon, 6% elastane. The material is decent. It's not super comfortable, but feels fine on. I notice that the fabric actually has no stretch, and is somewhat dense like in the chest where it's snug, but it's still lightweight at the same time. The stretch comes from the over-kill ruching.
Hand wash only, no bleach or ironing. The drying instructions must've slipped Espiral's mind because I didn't see any. However, to be safe I air-dry.
Packaging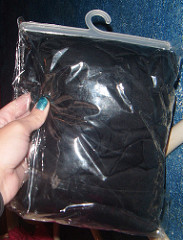 This arrived in a plastic baggy that's sealed at the bottom with adhesive and has a hanger in the top, which cannot be re-used. As you see, it's only a hanger for the bag, not the garment. However, there are two ribbon loops sewed into the sides for hanging, and since you have one sleeve, hanging it is no issue.
I appreciate that I didn't have to worry about any risky photographs on the package. There was a tag with a person wearing it, but it wasn't overly sexual or revealing -- thank you Jesus! It can be snipped off or left on for gifting, either remove the dress from the plastic bag and gift it in something more personal such as a hand-made box or just gift as is.
Follow-up commentary
1 day after original review
Experience

This dress is fine. It doesn't flatter me as great as my much cheaper dresses do, and it isn't as comfortable as others I own. I really feel the ruching was over-kill. More sizes would fit if it weren't so ruched and it wouldn't ride up so badly. Not to mention, I wouldn't look 2 inches wider. I've considered seam-ripping it out, but am still scared. In reality, a medium shouldn't have been so fitting for me, so I don't like the sizing.

Honestly, upon inspection of the whole piece, it really looks like this was just a fancied-up huge T-shirt. I've made huge tees into cute dresses, and this really looks similar. I feel pretty enough in it, but not as lovely as I could've.

If this would've been priced at what it's worth, I don't think I'd be so hard on it. It's really nothing more than a $15 dress. It's cheap upon first seeing/feeling it, but once on, it looks much nicer. For the price, I just think I could've gotten something that made me feel spectacular -- like the Mullholland Dress! I don't feel like I could slip this on any day and automatically look flattering, and the Mullholland, I feel like one good-lookin' little thing in it any time I put it on. This is one that I will limit my wear to days when I'm naturally confident.

Another strike: it's see through, which is another reason I wanted to go up a size. I am truly sick with see-through dresses. It happens so often! However, this one isn't as horrible as others. A pair of black undies do the trick, and it's only super-see-through in the direct light, not at dark. It's still a pain though.

Basically, if you're like me, this will work, provided you find a comfortable size. I love that it's appropriate for any occasion, and looks pretty on. It provides enough coverage that it'll work for most occasions (just remember to pull it down every few minutes) but if you're more comfortable with extra coverage, or for the colder days, simply add leggings. I don't love this with leggings on me though, since the waist line shows through the thin, snug-fitting fabric.

There are things I like about it, I just don't adore it like I do others. As long as I'm wearing it on a day where I feel like tugging at my dress, it's nice.

The thing about this dress that truly made me want it, and the majority of the reason I like it period is because my favorite parts of me happen to be my upper back, legs and shoulders and this dress shows a little bit of each!
This content is the opinion of the submitting contributor and is not endorsed by EdenFantasys.com
Thank you for viewing
One shoulder silhouette
– mini dress review page!