Simple is Sexy
The non-clingy, not too revealing nature of this makes it an appealing top that's great for days when you want more coverage, but still want to feel pretty. This is sexy, but it's not exactly the "sexy" I usually go for. On me, it's more toned down from my usual garments and more pretty than smokin' sex-kitten. It's a wonderful piece, just different for me. This draws the eye to the back, which is one of my favorite body parts.
Published:
Pros:
Best quality babydoll yet.
Design on back.
Flowy.
Will fit many sizes.
Cons:
Doesn't look entirely beautiful on my body.
Crappy g-string.
The Charlotte Bridal babydoll comes with a hanger and your typical lingerie g-string. This piece is simple, it's sexy and provides more coverage than any lingerie I've seen. This almost resembles a summery top, and may be able to work as that
and
lingerie.
Made in China.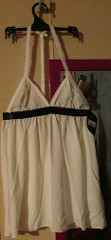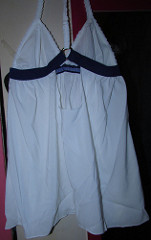 Let's talk design.
It's an off-white color with 1" navy blue elastic strip running under the bust and around the back. This is what holds the garment on me. The band adds a little cinch so the garment doesn't swallow me whole.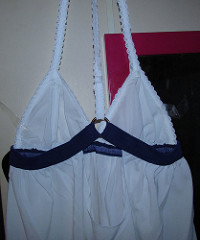 The back is what drew me to this. It has a sexy, unique design and draws the eye to my favorite body part -- the back!
I described it to my partner as "it's like a thong for your back." The straps are all lacy elastic that goes around your neck halter-style and then there's another strip of this elastic running down the middle of your back, where at the middle of the back it attaches to a metal o-ring. The navy blue elastic band meets here and is also attached to the ring. At the top of the back strap is a nice small white bow. See my photos, they'll describe better than I can.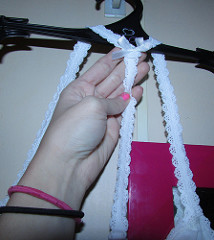 Note: The halter strap itself is not adjustable. It slips over the neck and doesn't tie, but the long back strap is adjustable with a bra-like slider. Adjusting it will adjust the bust somewhat.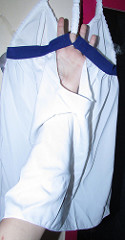 At the lower back, there's a U shaped cut-out, revealing 3 1/2" wide and 4" long of my naked back. This is right where my tattoo is, but since the fabric is gathered all around the waist and back, the cut-out isn't too revealling and is still sexy, but appropriate.
The navy elastic band meets the flowy bodice, giving this an empire waist.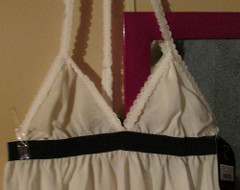 The triangle cups and are sewn together in the middle, which makes it tough to fit just right and doesn't allow the most coverage. In other words, boobage can peek from the side, whereas this wouldn't happen if there were a small gap between the cups.
The cups are lined in the same lacy elastic as the neck and back strap. Other than the one bow, the neat back detail and the elastic trim, there's nothing else about the design. It's simple, but sexy. This is a more mature looking design than a lot of my other lingerie. It's not overly feminine, so those who dislike the ruffle, bow and colorful lingerie will appreciate this. It's easy to just slip on. There's no serious adjusting, lacing or buckling so it's convenient.
Babydoll's Measurements
Cups:
4 1/2" long
6" wide.
Navy band/entire length around underbust: 28" around. It'll at least stretch to 30" around.
Back strap at longest: 10 1/2". At shortest: 6"
Lying flat:
From under the band to hem: 15" long. Including cups, the entire garment's length is: 20" long.
Waist 17" wide, when the gathered fabric is spread out. It flows out wider below the waist, which makes it 23" wide at lower belly and 24" at hem.
Back measures 14 1/2" long from directly under the band all the way to hem. Above the band is all naked back.
I'm really happy this is so flowy and will flatter and fit many sizes. This small will even fit a large, but the cups won't fit more than a small C.
G-string
Nothing special, you're typical triagnle-front T-string in back. It doesn't look bad on, but won't be most of our choices for wearing. It's see through, off white. It does have a crotch liner. It's 97% Polyester and 3% Spandex, but is more stretchy than the top. It'll likely fall apart with a lot of wear.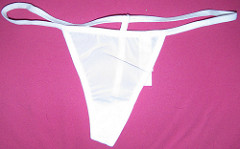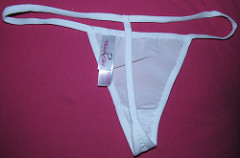 Measurements:
Triangle crotch front: 4" across.
Very crotch, where liner is: 1 1/2" wide.
Length: 6".
Waist: 12".
My Measurements
Bust: Right: between a B and C cup. Left: 34B
Jean/shorts/size: Zero
Weight: 93lbs
Height: 5 2"
Waist: 26" Lower waist. Where I'm a bit wider, the love handle area: 29"
Material & Care
97% Polyester, 3% Spandex.
The babydoll is only slightly see-through. You can't even see my nipples through it.
The fabric is durable and very nice quality. Nobody would ever know this was lingerie. It's not your typical cheap-o materials.
When I pull the fabric, it feels only a bit stretchy, but it's so flowy and baggy that you don't have to worry about the fabric needing to stretch. It'll flow around your body, not cling to it.
Hand wash cold, do not bleaching or ironing. Hang to dry.
Experience
Packaging
This babydoll made me one proud moma! When I open lingerie, I always have to get rid of nude, trashy photos. I believe this is the first piece I've bought from Eden that didn't have a stitch of nudity on it!
Since it isn't an overly sexual piece, it's totally gift-worthy and I can actually say, for once, this would make a nice gift!
It came on a hanger, wrapped in cellophane.
How Does it Fit Me? The main reasons I'm so happy with this babydoll is the back, the great quality and how pretty it is.
It has so many body types to flatter. I don't feel my absolute best or most sexy in it. I love it, but there's something about the fit on my body that looks less than beautiful. I think it's the overall frumpiness due to their being no real cinch to show much figure. I'm sure it's going to be a regular piece for me though.
I loved my lovie's reaction to this! He's always loved kissing on my entire back, but he really got into it when I put this on, and we had an irresistably hot evening. He kissed all up and down my back, but I will leave it there before I turn this review into an erotica story.
The flowy cut means this doesn't cling to the body in the least, but flows all around it. This is going to be a good choice for someone's first piece of lingerie, or someone who wants casual, but sexy. Those who like simplicity, comfort and coverage will love this. Also, I'm holding out hope that I may be able to pair this with leggings and some type of bra for coverage (maybe the foamies from a swimsuit top since the back of a bra would be exposed!) so that I can wear it as a summery top. I'm not totally sure it'll do as that though.
I wish this would've came with a nice pair of panties. It fits, but isn't special. It's plain off-white and cheap. I wear a sexy blue pair with this.
This doesn't say bridal lingerie to me at all. It more looks like a sheer top that you wear with a bandeau bra. It's lovely as lingerie and I love it. Some, especially those who like simple, will like this as a bridal piece, but my idea of bridal is Coquette's white bustier. This is pretty versatile since I'll likely be able to wear it as a flowy summer top with bandeau underneath as well as lingerie. It could even be worn to bed since it's so comfortable and lightweight, but still sexy.
This content is the opinion of the submitting contributor and is not endorsed by EdenFantasys.com

Thank you for viewing
Charlotte Bridal babydoll and g-string
– babydoll and panty set review page!